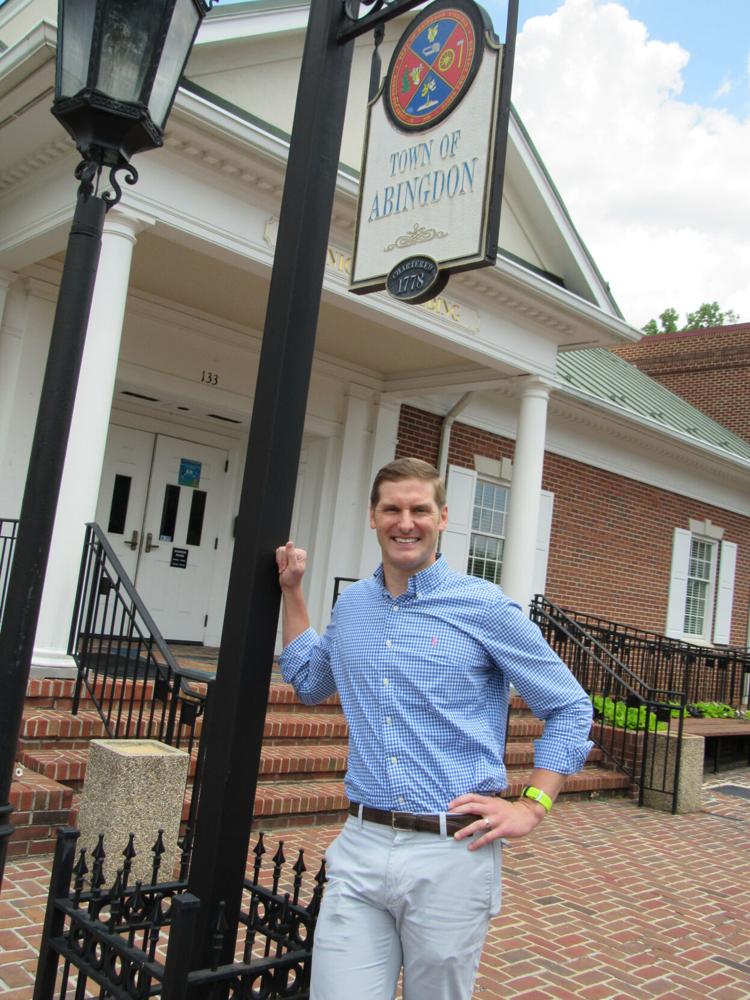 ABINGDON, Va. — Derek Webb made history earlier this month when members of the Abingdon Town Council appointed the 36-year-old as the town's mayor, making him the youngest person to hold the office.
"I don't think my age makes a whole lot of difference," said Webb, who has worked 13 years as a pharmacist at Food City in Abingdon.
"But I do think being young lends itself toward relating to and networking with the younger generation and their families. I think I have a pretty good understanding of what the citizens of this town want."
Webb joined the Abingdon Town Council in 2018, along with Donna Quetsch and Al Bradley, the top three vote-getters of the eight candidates. James "Scabbo" Anderson and Amanda Pillion were elected this May.
This month, he replaced Wayne Craig, who had held the mayor's post since 2016.
The new mayor compared his role as a pharmacist with his mission as town mayor.
"People are looking for an honest, neutral, rational person who cares about his customers — someone who is willing to listen and do the right thing.
"It's the same with holding office.
"I try hard to be transparent and accessible — someone who puts the work in and represents everyone as best as he can.
"I guess you can say that my career as a pharmacist has spilled over to being the mayor," Webb said with a smile.
The Abingdon native, who likes to call himself an "Abingdonian," said he is excited about the town's future and what can be accomplished with a community working together.
"Honestly, I decided to run for office because I felt Abingdon was in a place where we have great potential. My goal always has been like the Boy Scouts' Golden Rule: to leave it better than you found it," he said.
"I just want the town to be prosperous and to attract businesses. That's why I've been an advocate for the sports complex at The Meadows. If you want to attract young families to settle in Abingdon, you have to build venues for them to keep them here. If we're going to have a place where all generations want to live, then we must have a lot to offer.
"We're making strides in that direction, for sure."
Moving forward
First, Webb wants to focus on diversification and attracting more people to town.
"For a long time, we've put our eggs in one basket, which is tourism," he said. "Don't misunderstand me. I think tourism is vital to the town's success, but we have to diversify and find other ways to attract people."
The mayor said the new Interstate 81 exchange at Exit 14 will help pave the way for more business opportunities.
"Eventually, you'll see that part of town blossom and grow. A lot of travelers like to see an attractive exit. We want to lure people off the interstate who don't usually come through here," he said.
According to him, the town will also have new interstate exchanges at Exits 19 and 17.
"These projects are fully funded by the Virginia Department of Transportation. The project at Exit 19 could start any time now, and the redo for Exit 17 is scheduled for early next year.
"How many towns can say they have all three entrances into town redone?" he asked.
The new mayor will continue work initiated by the former mayor.
"A lot of his emphasis was put on infrastructure work — making sure we have an attractive town," Webb said.
He will pick up with overseeing the Parks Street Project, an extensive project that involves the construction of sidewalks, landscaping and storm drains.
"The million-dollar project will bring a lot to the area as far as attractive landscaping and accessibility.
"One thing I'd like to see is having sidewalks all the way from one end of town to the other so that people who don't have transportation or those who choose to walk or bike would have that availability.
"We've also tossed around the idea for a mountain bike park and have been researching ways to make that happen."
Speaking candidly, Webb said his new responsibilities will help him learn and grow as a leader.
But he confessed that he's not striving for a political career.
"I'm happy being a pharmacist. I think I impact a lot of people's lives in a positive way. There are not a lot of people who can say that about their careers."
Be the first to know
Get local news delivered to your inbox!