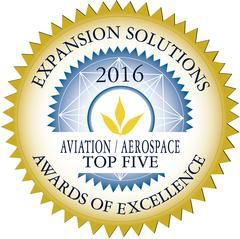 BLOUNTVILLE, Tenn. — NETWORKS Sullivan Partnership garnered international attention earlier this year when it was recognized as Expansion Solutions Magazine's Top Five Awards of Excellence in the Aerospace sector for 2016.
The award recognizes economic development organizations that have shown exceptional progress in development by successfully recruiting, retaining and/or assisting growing businesses.
NETWORKS CEO Clay Walker said being in the magazine helps economic development in the Tri-Cities.
"And it certainly helps to be put on the list as one of the top five in a key industry sector," he said.
Tri-Cities Airport Executive Director Patrick Wilson added that most of the aerospace sites in the top five are big names.
"The Tri-Cities region is competing against other states," he said. "We're getting out there and making a name for ourselves and competing against places like Wichita [Kansas], which is probably the U.S. capital of aerospace development. That's a pretty significant step in marketing Aerospace Park."
Last year, NETWORKS joined forces with the airport to exhibit at the MRO Americas in Dallas, Texas, and worked together on potential projects and coordinated marketing strategies, which earned the distinction. MRO Americas is the international trade fair for maintenance, repair and overhaul in the aerospace industry.
"The magazine recognizes economic development organizations," Walker said. "But we never would have been recognized if we didn't have Aerospace Park in Sullivan County."
Aerospace Park is 160 acres adjacent to the airport. About 21 acres of the site have already been certified by the Tennessee Department of Economic and Community Development as a Tennessee select site. The remaining acreage could provide unique development opportunities if developed, according to Walker.