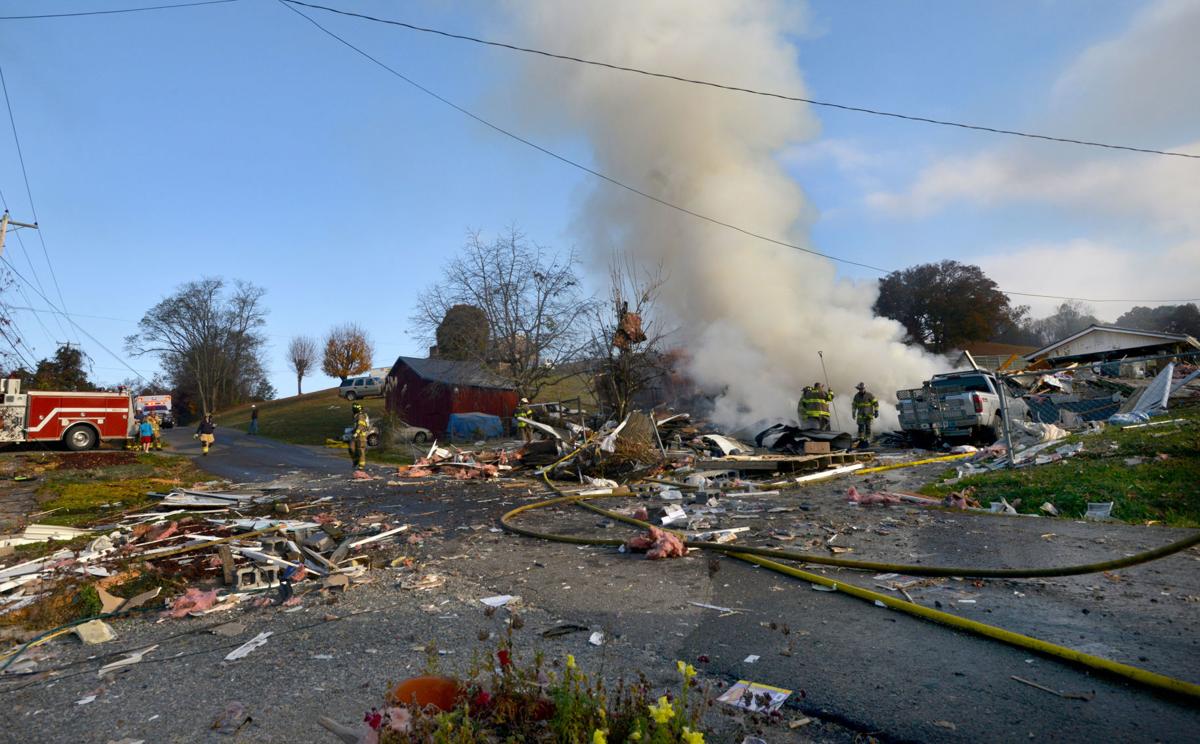 BRISTOL, Va. – When their neighbor's house exploded Thursday morning on Campground Road in Washington County, Virginia, Robert and Beth Swiney had a short amount of time to react.
The couple said they thought gunshots were ringing out around their quiet, rural home.
" It felt like the world was coming to an end," Robert Swiney said. "We first checked around our house and when we opened the front door, we saw a fire down the road. We got in the car and went in that direction, unsure of what we were even going to be finding when we got up there."
The explosion – which investigators said more than likely started from propane that built up in the basement – leveled the home of Carl and Sandra Johnson and sent everything from personal items and pink insulations to shingles and siding across neighboring yards and into the roadway.
" When we got up there, people were frantically screaming to get them out," Robert Swiney said. "The adrenaline rush was so high, I knew we had to find whoever was trapped inside and get them out as fast as we could. I didn't want to watch someone burn up inside their home."
With the minutes ticking by, both Carl Johnson, 69, and Sandra Johnson, 55 were still trapped.
Through the midst of thick smoke, Robert Swiney and his neighbors were able to locate Mr. Johnson, who was buried under debris and lying close to the small fire Swiney spotted earlier.
The plan went unspoken and Swiney said they had to do what needed to be done.
" We were able to get Mr. Johnson to the corner of the driveway," Robert Swiney said. "Having worked as a volunteer first responder, I know that you're not supposed to move someone in a situation like that, but it was either move him or watch him burn up before your very own eyes."
At the corner of the driveway stood Robert's wife, Beth Swiney who tended to Mr. Johnson.
" I did what I could to keep him comfortable," Beth Swiney said. "We were able to find him some blankets and I started wrapping them around him and checking his heart rate and pulse."
Beth Swiney said Carl Johnson spoke very few words except "My wife, my wife, my wife."
Hearing that plea, Robert Swiney knew he had to go in and find Sandra Johnson.
" I can't even begin to tell you how I found Mrs. Johnson," Robert Swiney said. "All that I'm able to remember is that I picked the debris off her and leaned her up against my legs. She kept begging me not to leave her and I covered her up, because she wasn't wearing a stitch of clothes."
The husband and wife were airlifted to Bristol Regional Medical Center where they remain hospitalized. Carl Johnson is in fair condition, while Sandra Johnson is in critical condition.
The couple's 33 year-old son, Jason was also inside the home at the time of the explosion and was injured. He was taken to BRMC and was treated and released on Thursday afternoon. He is currently staying with family members while Carl and Sandra Johnson are in the hospital.
Back at the explosion site on Campground Road, the smell of smoke and fire lingers. In the days following the explosion, both Robert and Beth Swiney said they're remembering one thing.
" From now on, we're one big family on this road," Beth Swiney said. "When somebody needs us, we're going to be there for each other. Living out there, it's a rural area and usually you don't see each other that much – but we need to rally and hold hands for the entire Johnson family."
But it's not just the residents on Campground Road who are rallying and praying for Carl, Sandra, and Jason Johnson – the entire community is showing their support for the family too.
Longtime family friend Morgan Whitaker has set up a GoFundMe account for the family.
" I feel like I owe it to them for always being so gracious to me," Whitaker said. "In the past, they have always opened their home and hearts to me. They are like my second family and the first thing that I wanted to do when I heard about the explosion was offer to help them out."
All the money raised from the GoFundMe campaign will be going directly to the Johnson family to help with medical bills, medication, living expenses, and other immediate needs.
" I set the goal initially at $5,000 to get something started," Whitaker said. "Jason has informed me that the total cost to replace his medications along will be around $6,000 and insurance will not cover it. I'm considering raising the goal to possibly $10,000 or higher in the coming days."
If you would like to make a donation to help support the Johnson family, visit their GoFundMe page at www.gofundme.com/johnsonfamilydonations. The Mountain Empire chapter of the American Red Cross is also accepting monetary and clothing donations for the family – those can be dropped at the American Red Cross office located at 14298 Lee Highway, Bristol, VA 24202.
Be the first to know
Get local news delivered to your inbox!