ABINGDON, Va. — Visiting Nancy Johnson's art studio is like taking a visual journey.
For nearly 20 years, Johnson has been a resident artist at The Arts Depot in Abingdon, where she shares stories from the past — heart-warming family stories she heard as a child from the lap of her mother and stories of slavery that sometimes make her uncomfortable to tell.
The African American folk artist captures a gamut of emotions on canvas — love, struggles and survival. The multi-media artwork of different shapes and sizes occupy nearly every inch of wall space in her Abingdon studio.
Johnson, 83, will close a chapter in her life and retire as a resident artist in March. During that time, she welcomes the community to view the artwork that represents who she is and what she believes.
She will conduct sales of her art from 10 a.m. to 4 p.m. every Saturday in March at The Arts Depot.
"My parents introduced hard work and culture to me at an early age," said Johnson of Glade Spring. "Through my art, I have tried to pass these strengths to the next generation, letting them know how important they are to people of color."
The self-taught artist describes herself as a "humble person." She likes to think her expressive artwork comes from the "little girl that's still in me."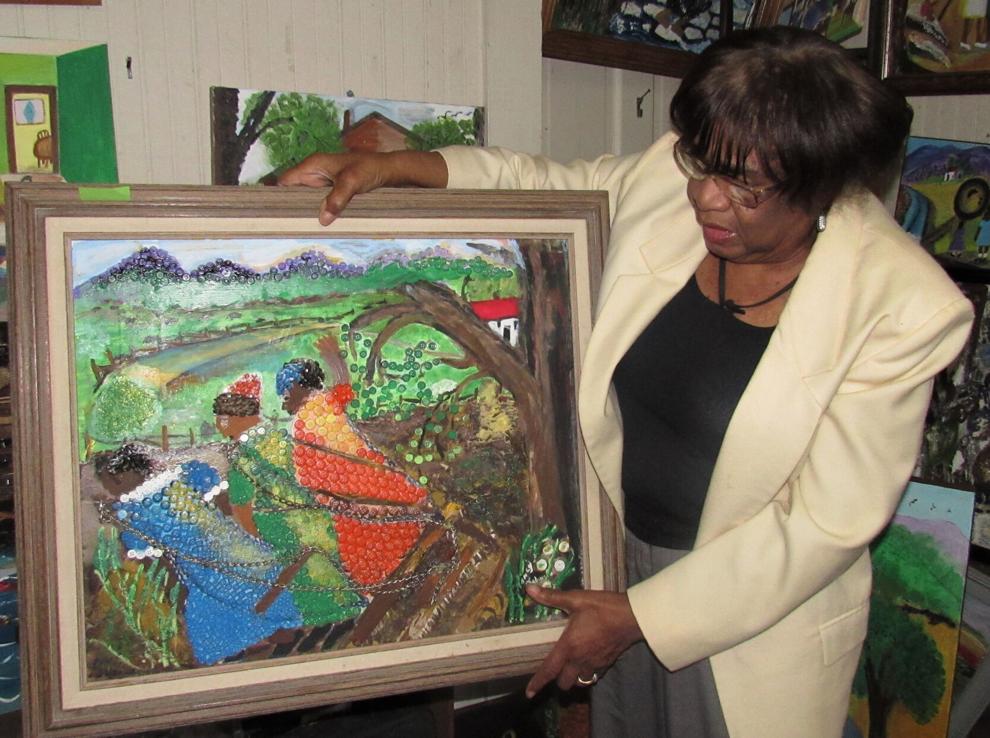 Johnson believes that art is a vision of the mind, not of the hands.
And, there's nothing she likes better than to tell the meaning behind the colorful and vivid artwork that cover the walls of her studio.
It's almost like a history lesson, too.
Johnson uses her art to depict the beauty and strength of black culture, exposing stories of slavery that are part of her ancestry. The self-taught artist began painting in 1989 after working as a nurse for 17 years.
"I think it's important to document this history because I want my grandchildren and other young people to know what happened."
One of her most dramatic pieces "Slave Ship" is a painting that represents a large cargo ship that transported slaves from Africa as early as the 17th century.
"I've read that the living conditions on the ships were horrible," said Johnson, reflecting on the work. "There were no conveniences on board and hundreds of captives were packed like sardines. Many of them were pitched overboard when they became sick. Others committed suicide and jumped.
"These are not pretty sights, but they are true stories."
According to her, slavery was never accurately portrayed in her history books when she attended school as a young girl.
"Our history comes from our parents and the older people in the community."
The artist said the slave ship painting brought tears to a mother and her child when they studied the artwork in her studio.
Her multi-media artwork has attracted attention outside of the Southwest Virginia region.
On her studio wall is a framed letter written in 2018 by U.S. Sen. Tim Kaine. The letter applauds Johnson for an earlier version of her multi-media painting "Slave Ship" becoming a permanent display at the Missouri African American Cultural Center.
She's never seen art done like this before, which makes her grateful for the way the public has accepted her unique style.
"I haven't gotten rich, but I've done well," she said.
She has sold her work to customers throughout the country and even some abroad. Her best customer in California has purchased nine pieces of her artwork, she said.
Another piece of historical art on the wall depicts the Underground Railroad, a network of secret routes and safe houses established during the early to mid-19th century to help slaves escape into free states.
"Harriet Tubman was the leader and she risked her life to free hundreds of slaves," said Johnson.
She has painted her mother, who wore an artificial leg, hanging clothes on a line. One painting reveals her grandmother being used like a work horse to pull a plow. Johnson's great, great grandfather was born into slavery and the son of a slave master. Her painting, "Cotton Field" depicts slaves working in the fields.
In the past few years, Johnson has modernized her craft by embellishing her paintings with a variety of materials. Scanning her studio, she named the different ways she has brought life to her work.
"I try to make my art look like reality. I use clothes pins for people, paper and buttons for dresses, and shells and pasta for hair. I don't let anything go to waste."
While making the slave ship artwork, Johnson even retrieved a small remnant of materials she had spotted hanging from under the red caboose outside The Arts Depot.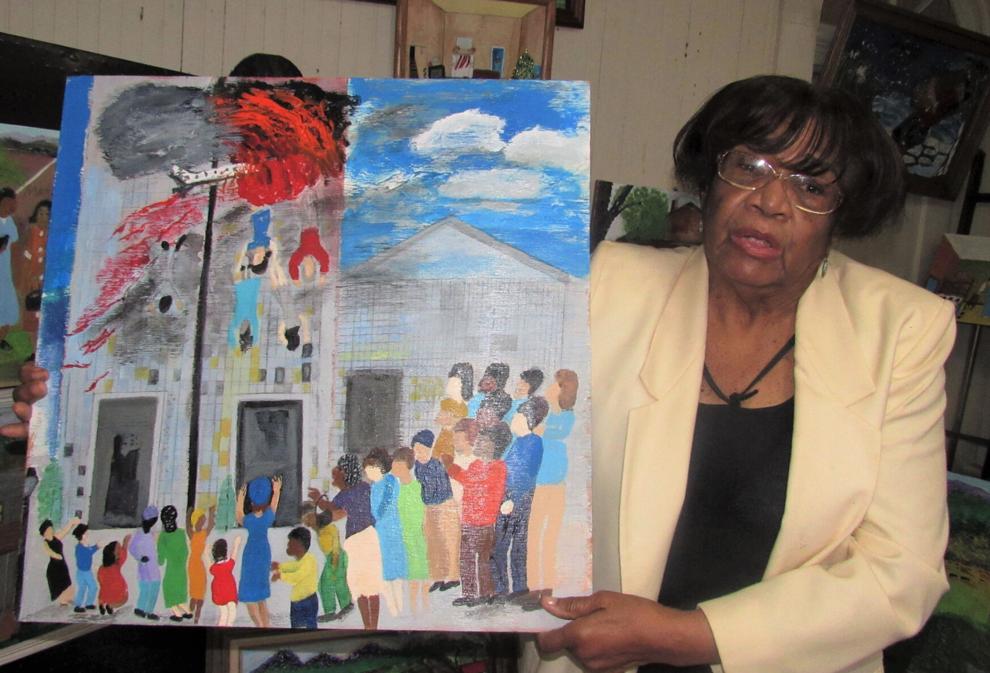 Some of her artwork represents more recent historical events.
The trauma of Sept. 11, 2001, inspired Johnson to create a painting in honor of the people who lost their lives in the attacks on the Pentagon and the World Trade Center in New York. Johnson said she has friends who narrowly escaped the collapsing building and survived.
Another painting named "Caged In" depicts the recent immigration crisis that separated children from their parents.
Her paintings also tell about the light-hearted side of life growing up as a black child in a family of 11 children during the 1930s and 1940s.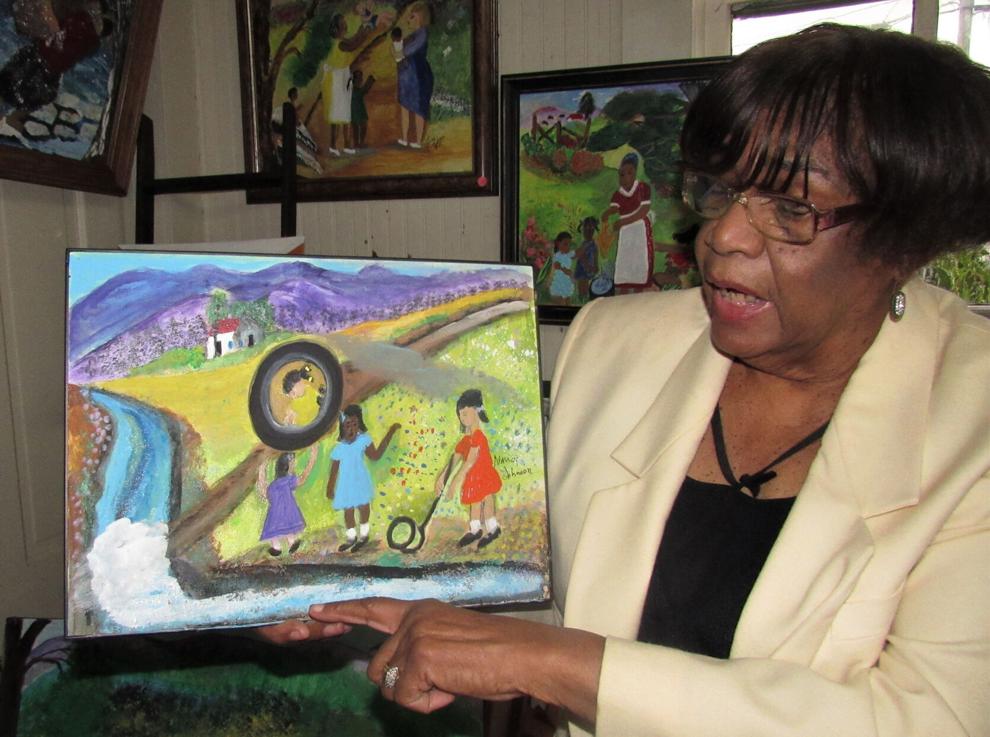 "One of my favorite paintings shows us children playing games back then. We didn't have modern toys so we made everything. We would get inside an old tire and roll down the hill. We loved it when the creek water splashed in our faces."
Some of her paintings depict a family of women caring for the farm while their husbands are at war. Other paintings show women gathered to wash clothes.
In addition to painting, the artist has authored two books. In her first book, "The Right Prescription," she shares her experiences as a nurse. Her second book, "Raised by Flesh, Wood, and Plastic," Johnson tells the story of her mother, Carrie Lena Hoard Hill, who suffered the loss of a leg at age 12. Her mother shared many stories of how slavery affected her ancestors.
The artist said she may continue to create folk art at home, but for now, she's focusing on trying her hand at writing poetry.
"As long as the elevator of my mind still goes to the top, I'm going to continue to create," said Johnson with a laugh.