BRISTOL, Va. — Southwest Virginia's newest rail-trail project added 3.1 miles to its proposed 12.5-mile length with a ribbon-cutting ceremony Friday morning in Bristol, Virginia.
More than 100 trail supporters flocked to a parking area off Island Road to check out the new section of the Mendota Trail, which slips beneath Interstate 81 on an abandoned railroad grade and heads north through Washington County, Virginia, near Haskell Station, to reach Reedy Creek Road.
"We did have to overcome a significant challenge in that we have a missing trestle," said trail volunteer Ellen Mueller. "And we worked with VDOT and Washington County, and we established a detour route. That does mean you do have a little bit of a challenge to get back up the hill to the railroad bed."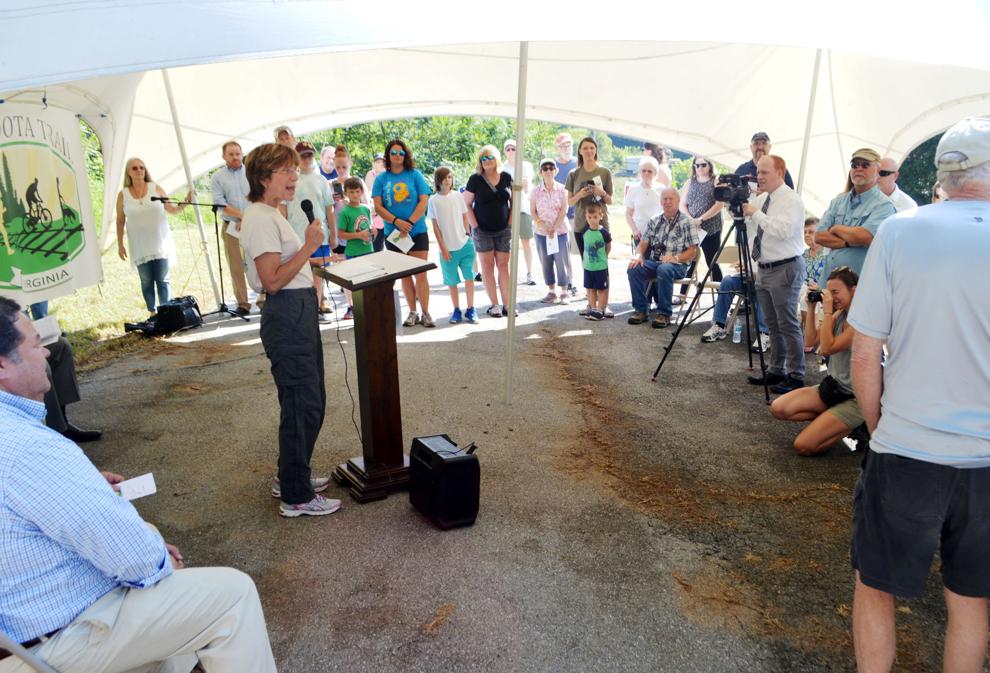 Still, the rest of this trail section follows an easy path, Mueller said.
"This is truly a work in progress," she added as she described plans for bathrooms, a picnic area and improvements to the trail surface.
Trail-builders opened a not-yet-connected section of the Mendota Trail, spanning one mile, in 2017 at remote Mendota, Virginia.
"And we have already seen some of the economic benefits that a trail can bring to a community," said Eva Beaule, owner of Adventure Mendota, a kayaking business with plans to add a bicycle shop.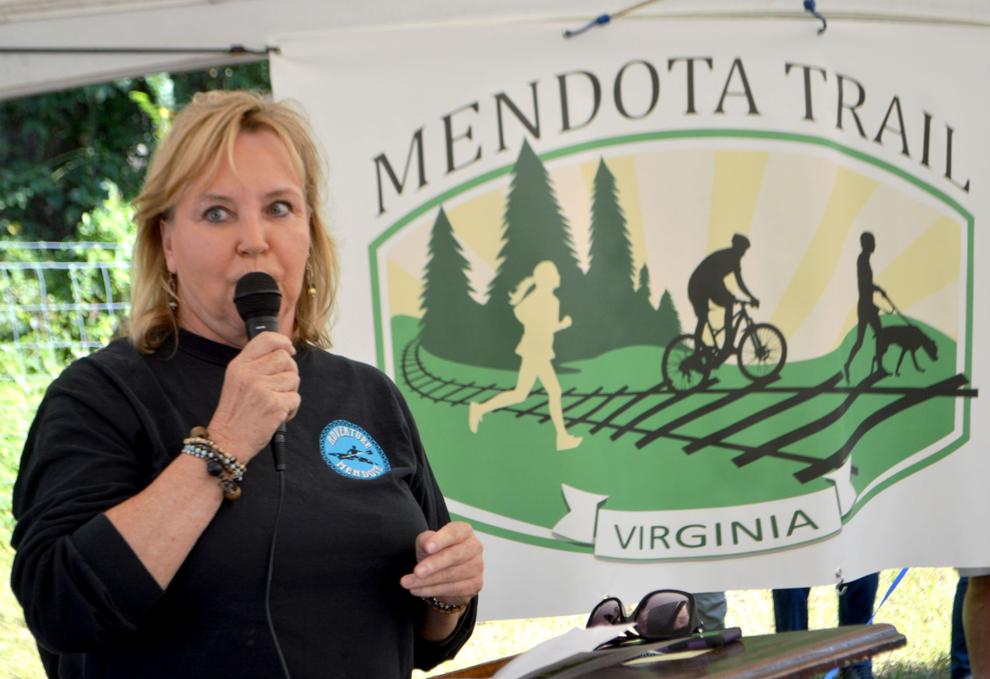 Turning rails to trails is nothing new in Virginia. Some of the oldest rail-trail projects date to the 1970s at Falls Church and Lexington.
Today, the Mendota Trail is one of about 50 rail-to-trail projects across the Old Dominion, including the Virginia Creeper Trail, Salt Trail, Guest River Gorge Trail and New River Trail State Park.
"Initially, there was a lot of uncertainty," said Saul Hernandez, chairman of the Washington County Board of Supervisors, at Friday's event.
The Mendota Trail hit resistance as seemingly strong as the force of the locomotives that once ran on its path, connecting Bristol to rail stops at Benhams and Mendota.
For years, landowners claimed that the skinny, linear trail property was actually a right-of-way that reverted to them when trains stopped running.
The city of Bristol, Virginia, made plans to build a trail on this property more than a decade ago but ultimately put the brakes on the project when faced with resistance from landowners and mounting legal costs.
About three years ago, the trail became the property of Mountain Heritage, which began working to turn the old railbed into a trail, said Frank Kilgore, legal counsel for Mountain Heritage.
"We have changed a lot of people who were skeptical or who opposed the trail to not only neutral, but some of them are actual supporters and help us watch out for what goes on the trail," Kilgore said at Friday's ceremony.
This story of resistance is also not unique. Many of even the most popular rail trails in Virginia have faced the same sticky situations.
The Virginia Creeper Trail, for one, met considerable opposition when it was in the planning stages during the late 1970s and early 1980s — including vandalism of at least one trestle along its 34-mile route.
Today, however, the Virginia Creeper Trail is essentially the economic lifeblood of Damascus, Virginia — once a failing factory town that now bustles most months of the year with bike shuttles serving eastern Washington County.
In western Washington County, plans now call for building another eight miles of the Mendota Trail, Kilgore said.
A two-mile span from Reedy Creek Road to Benhams is slated to be complete next spring, he added.
"And once we get there, we'll have half the trail completed. But, we won't stop there. We will work hard to connect Mendota to that section in Benhams," Mueller said.
In all, the Mendota Trail is slated to feature 17 trestles, including a crossing on the North Fork of the Holston River.
"This is the kind of project that has a major impact on economic development and tourism," said Bristol Virginia Mayor Neal Osborne at Friday's ceremony.
"Tourism is one of our big selling points for quality of life here," Osborne said. "And outdoor beauty and this kind of nature stuff is what people look for when they want to relocate. And it's what people look for when they want to travel."