ABINGDON, Va. — Max Hermann may have sold the business, but he has no plans on leaving The Tavern in Abingdon, Virginia.
"For the next year or two, my face is not going to go away. It's going to be around here — maybe not six days a week, maybe four days a week," said Hermann, 67.
In 1994, this U.S. Air Force veteran launched a restaurant business at The Tavern, a storied and allegedly haunted building that's been standing on Abingdon's Main Street since 1779. Over the centuries, that building has served as a hospital, a barber shop, a post office and a tavern.
Today, while Hermann says he's "retired," he still plans to remain at the restaurant.
"I just come in," he said. "I walk around. I talk to customers. I drink wine, and I eat. But I have no other position anymore."
Hermann entered this restaurant business at age 42, though a local lawyer had advised him "not to touch" The Tavern, which had seen four restaurants fail in a 13-year period, he said.
Still, Hermann would not hear of such talk.
"Failure is not an option for me," he said.
So he persisted in creating a menu that was heavy on steak, duck and even some German cuisine, reflecting Hermann's early years, growing up in Germany.
At one time, Hermann says he worked as many as 90 hours a week here, when the restaurant served lunch and dinner day after day.
"It's a tough business," Hermann said. "You have to dedicate your life to the restaurant if you want it to succeed."
Eventually, Hermann decided to discard the lunch offerings. He shut the doors on Sundays. And he tried to relax — a little.
On May 1, Hermann sold the restaurant business to his longtime manager, 30-year-old Josh Fuller, who grew up in Abingdon and attended Patrick Henry High School in Glade Spring, Virginia.
Fuller remembered coming to The Tavern for his first time at a high school prom in 2005.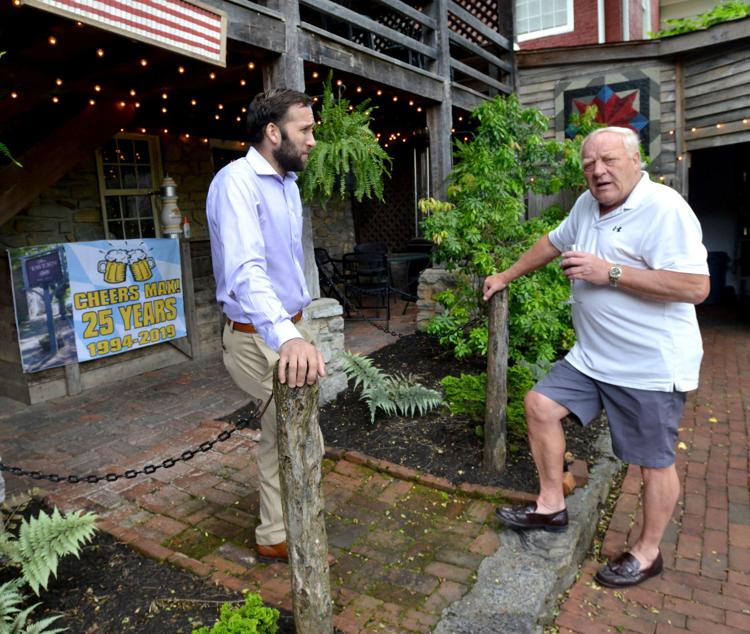 Years later, Fuller's wife, Celia, a server at the restaurant, helped him get a job at The Tavern. That was in 2012.
For the first six months, Fuller bused tables. But he soon moved into a management position, ultimately taking the top spot as The Tavern's general manager.
"I have a big passion about the history of the place," Fuller said. "I really care about the legacy that's been built up. This place has such an amazing reputation. And, you know, Max built all that. And I just couldn't stand the thought of the possibility of this building and everything that was done here being changed and being different. For me, it would just be a shame."
Likewise, the way Hermann talks, you might figure that he hand-picked Fuller to succeed him.
"I figured it was time to turn it over to somebody who wanted to continue what I started," Hermann said. "This is not a business you just sell and step away. I built this business, so I have an interest in making sure he succeeds in it, which I have no doubt he will."
Today, Fuller calls Hermann his "wine and food taster, quality-control advisor."
"Twenty-five years ago, this was my dream to open up a restaurant," Hermann said. "And I really have enjoyed the last 25 years. I enjoyed my staff, my customers. I appreciate everybody. But, you know, a dream has to come to an end at one point in time."
Be the first to know
Get local news delivered to your inbox!