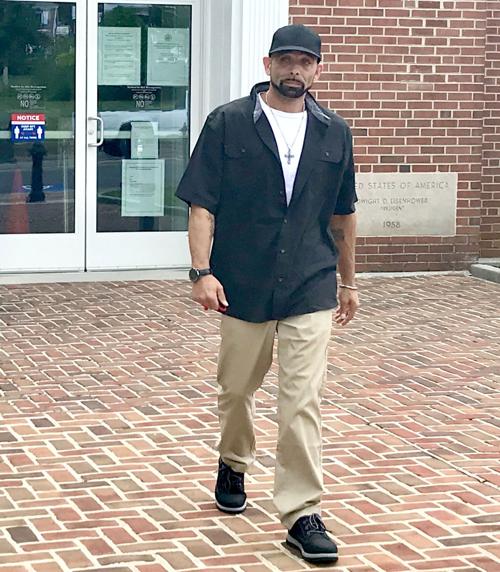 ABINGDON, Va. — A Marion man pleaded not guilty Wednesday to a number of charges filed in connection to a cross burning in the yard of a neighbor who led a Black Lives Matter rally in their town.
James Brown, 40, was arraigned Wednesday in U.S. District Court in Abingdon. He was indicted by a grand jury last week on charges of lying to federal agents, criminal interference with fair housing based on the victim's race and using fire in commission of a felony. He was also charged with possessing firearms while unlawfully using a controlled substance.
At Wednesday's hearing, Magistrate Judge Pamela Sargent set a trial date of Feb. 8-12.
The case stems from a cross burning in the early morning hours of June 14 outside the home of Travon Brown, an African American 17-year-old who organized a Black Lives Matter demonstration in Marion the previous day. James Brown and Travon Brown are not related.
At a preliminary hearing June 30, Sargent granted bail at $25,000. Sargent said Wednesday that Brown can continue on bail with the same conditions she previously set, including that he stay away from Travon Brown's family and witnesses in the case.
During the 15-minute hearing, James Brown answered a few questions from the judge, saying he understood the charges against him and he pleads not guilty. Public defender Nancy Combs Dickenson-Vicars represented him.
Assistant U.S. Attorney Zachary Lee said that, if found guilty, Brown could face up to an eight-year sentence and/or a $250,000 fine for the false statements charge and up to 10 years and/or a $250,000 fine for each of the other three charges.
Speaking through a black face covering with an eagle design on it, Brown declined comment following the hearing. Face masks are currently required in the courthouse due to the COVID-19 pandemic.
No other new information about the case was shared in court Wednesday.
At the June 30 hearing, FBI Special Agent Chad Potter told the court that Brown admitted to witnesses that he burned the cross.
Cross burnings "have historically been used to specifically target and intimidate African Americans," Potter noted in a criminal affidavit filed with the court in June.
The affidavit — which was submitted to establish probable cause for a search warrant — cites a confidential witness who said James Brown admitted to burning the cross.
Another witness told authorities that on the night of the cross burning, he heard a bang and walked toward the fire, where he "observed a white, skinny man walking away from the victim's residence" toward James Brown's house across the street, the affidavit states.
And a different witness claimed that on June 15, James Brown laughed and used a racist slur when asked about the incident, according to the affidavit.
Potter wrote that in a June 15 interview with FBI agents, Brown denied having anything to do with the cross burning and said he did not know who did it.
The new weapons charge is related to Brown possessing a revolver and a shotgun between June 26 and July 2 "while knowingly being an unlawful user of a controlled substance," according to the grand jury indictment.
A few of James Brown's friends and family attended the hearing. Two of them told the Bristol Herald Courier outside the courthouse afterward that they believe Brown is innocent.
Dennis Franco, 28, said he met Brown when they lived in Long Island, New York, and he helped him when he experienced homelessness.
"In New York, it's a melting pot, we all get along," said Franco, who now lives in the Bronx and is a person of color. He said he identifies as Black, Puerto Rican and Indian.
"If the man was racist, I'd say it straight out, 'That man is racist,'" Franco said. "That man's not racist. That man helped me with everything. … That man took me in — him and his kids and his wife took me in."
Brown is a "straight shooter" and would not have lit a cross on fire, said 78-year-old Marion resident Dean Coe, who said he has worked with Brown in construction in the past couple of years.
"He had no idea what a cross burning was," said Coe, who is white. "It's nothing you hear of in New York. You hear more of it in Mississippi."
Be the first to know
Get local news delivered to your inbox!