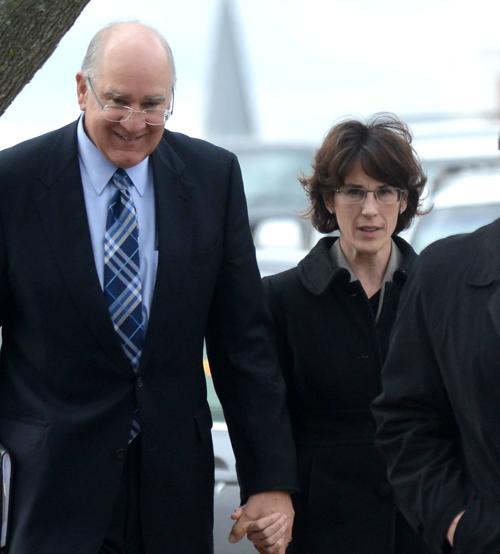 ABINGDON, Va. — A former BVU Authority executive and her husband, a former judge, each pleaded guilty Friday to a single charge of conspiracy to defraud the federal government.
Stacey Pomrenke, 48, and Kurt Pomrenke, 67, both of Abingdon, each entered plea agreements in U.S. District Court in Abingdon. The charge stems from Stacy Pomrenke entering a residential drug treatment program for federal inmates under false pretenses while serving what was originally a 34-month sentence at a federal facility in Alderson, West Virginia, according to the terms of the agreement.
Completing that program ultimately shortened her prison sentence by seven months and one day.
She is the former chief financial officer of BVU Authority who was convicted in February 2016 on multiple charges, including tax fraud, conspiracy and bribery, following a three-year federal corruption investigation into her former employer. That probe resulted in eight other former executives, board members and contractors being sentenced to prison.
On Friday, both Kurt and Stacey Pomrenke waived their right to indictment and pleaded guilty to a federal information.
"This is a fraud upon a fraud," acting U.S. Attorney for the Western District of Virginia Daniel Bubar said after the 50-minute hearing. "This is an individual in the process of reporting to prison for a fraud — a very well-known fraud that she committed with other people. To go in and try to scam the system and this important program — RDAP — to help people actually addicted to drugs or alcohol and need substantial help; to go in and make false statements to the Bureau of Prisons, to lie to her doctor — it's a horrible situation."
Bubar called this an "important case" because the program exists to help people with addiction issues, not to facilitate those seeking shorter sentences.
The Pomrenkes contracted with RDAP Law Consultants LLC, a Michigan-based business that promotes itself as helping people get reduced prison sentences by applying for and qualifying for residential substance abuse treatment programs. The firm's website is currently not displayed.
Neither Bubar nor Assistant U.S. Attorney Zach Lee would comment on whether the consulting firm or anyone else could also face prosecution or if additional investigations were underway.
"This case began after Stacey Pomrenke was sentenced, but that's really all we can say," Lee said.
Kurt Pomrenke's attorney declined comment upon leaving the courthouse.
Stacy Pomrenke could face up to 30 months in prison and a $10,500 fine as part of her plea agreement. Kurt Pomrenke could face up to 18 months in prison and a $7,500 fine under terms of his plea agreement. Her range is higher because this occurred while she was on release prior to reporting to prison. Under terms of the agreements, Kurt Pomrenke is to serve his sentence first as the couple has children from her prior marriage.
U.S. District Judge James P. Jones called their actions a "partnership in crime" and noted that he isn't required to accept the terms of their agreements. The maximum sentence for Stacey Pomrenke is five years plus a special enhancement of 10 years, served consecutively, plus a $250,000 fine. The maximum sentence for Kurt Pomrenke is five years and a $250,000 fine.
Kurt Pomrenke was previously sentenced to two months in federal prison in 2018 after pleading guilty to a contempt charge stemming from his contacting potential witnesses in his wife's trial. Following that guilty plea, the Supreme Court of Virginia removed Kurt Pomrenke from his position as a city juvenile court judge and his license to practice law was suspended for nine months.
Jones also presided over Stacey Pomrenke's 2016 trial, the sentencing of both plus the cases of all other former BVU Authority executives, board members and contractors.
During the hearing, Lee detailed a timeline of how the events transpired.
Stacey Pomrenke was originally arrested Oct. 27, 2015 and twice — before and after her trial — told probation officers with the U.S. District Court she had no history of substance abuse.
She was convicted in February 2016 and sentenced to prison on Aug. 11, 2016, court documents show.
On Aug. 19, 2016, the Pomrenkes were contacted by Tony Pham, also known as Anh Nguyen, the operator of RDAP Law Consultants, LLC.
For a fee, RDAP Law Consultants coached and advised prospective and current inmates on how to gain admission to residential drug abuse programs by lying to the Bureau of Prisons about the "existence, duration, and extent of a qualifying substance abuse disorder," according to information presented during Friday's hearing.
On Aug. 22, 2016, the couple paid RDAP Law Consultants $7,500 with their mutual credit card and company representatives began coaching Stacey Pomrenke on how to gain admission to the substance abuse program.
"In one of the first discussions with Nguyen, Stacey and Kurt Pomrenke made it clear that Stacey Pomrenke only drank a glass or two of wine a week and did not have an alcohol abuse problem or addiction," Lee said during the hearing.
Based on the advice of Nguyen, on Aug. 31, 2016, she made an appointment with her physician and falsely stated that over the last three years she had been drinking more and going from one glass of wine up to three glasses of wine at night. As a result of the false statements, Stacey Pomrenke's physician prescribed Ativan to prevent physical complications from alcohol withdrawal when she reported to prison, Lee said.
"On Sept. 26, 2016, Stacey and Kurt Pomrenke traveled to the Bureau of Prisons facility at Alderson, West Virginia," Lee said. "When Stacey Pomrenke reported to the facility, she was intoxicated and under the influence of alcohol."
During her initial health screen, she told prison officials she "had been drinking at least a bottle of wine daily since 2008."
On Sept. 29, Oct. 31 and Nov. 2, she falsely claimed to a prison employee that she "had a long history of alcohol abuse," court documents show.
On Sept. 29, Kurt Pomrenke emailed an employee of RDAP Law Consultants that both "said the right things," court documents show.
She was admitted to the prison's substance abuse program on Nov. 2, 2016, began the program on Dec. 2, 2016, and completed it Sept. 22, 2017, court documents show.
After she was admitted to the program, Kurt Pomrenke agreed to discuss Nguyen's assistance with other "high profile potential clients," documents show.
She was released to a residential halfway house in August 2018, about six months ahead of her final release date.
Both are free on $25,000 bond and their sentencing is scheduled for Jan. 26.
Get local news delivered to your inbox!
Subscribe to our Daily Headlines newsletter.