BRISTOL, Va. — Two prominent leaders best known for business acumen and benevolence teamed to deliver a transformational project to the city and region and — for their efforts — have been named co-Bristolians of the Year for 2020.
James W. McGlothlin, CEO and executive chairman of The United Company and Clyde Stacy, president of Par Ventures, LLC, are receiving the second annual award, which is presented by the Bristol Herald Courier. It is awarded by a panel of editors and given to an individual or individuals having the greatest positive impact on the largest number of people within the newspaper's primary circulation area, according to Managing Editor Rob Walters.
McGlothlin and Stacy were selected for envisioning and funding the planned Hard Rock Bristol Resort and Casino at the Bristol Mall — an effort that required changing state law and winning a public referendum.
The two long-time coal barons assembled the team and invested some two years convincing state lawmakers to allow casino gaming in Virginia by building a coalition that shepherded the enabling legislation through the General Assembly and onto the November ballot where local voters responded with an overwhelming 71% majority approval.
"It's quite an honor," McGlothlin said of the award. "I'm not sure we deserve it but we're happy this all worked out as planned that we can leave a long-term benefit to the city of Bristol and the surrounding area."
In September 2018, when the project was initially unveiled, McGlothlin called it the "moonshot" the region needed, referring to a Herald Courier editorial that called for big ideas in the wake of a continuing series of job losses.
The casino resort, which is expected to open in late 2022, is forecast to employ up to 2,000 people, offer good salaries and benefits, generate millions of dollars in tax revenues for the city, region and state and attract millions to the region for gaming, entertainment and other events. It can't proceed until the Virginia Lottery Board finalizes the rules to govern gaming and approves their license application — a process that could take more than a year.
"We've had a lot of help from a lot of people and we appreciate that. It's something Jim and I believe is going to be long-lasting and make a mark on Bristol," Stacy said.
Both admit their horse was a longshot.
Virginia voters approved a state lottery in 1987, and a group of eastern Virginia lawmakers have tried unsuccessfully for about 20 years to get the General Assembly to OK casino gaming.
When approached about a potential Bristol casino project in 2018, Alan Diamonstein — a powerful lobbyist, attorney and former Democrat state lawmaker — estimated they had no more than a 15% chance of getting the legislation passed, McGlothlin said.
They pressed on despite those odds.
Stacy gets credit for initially envisioning a casino after acquiring the Bristol Mall but coming up empty on efforts to lure businesses or industries to operate there.
"We looked at a lot of different things. We even tried to buy into some companies to get them to come here, and we were never able to attract any," Stacy said. "We got to a point that everybody we looked at might be 30 jobs or 50 jobs. We looked at one company that had 250 jobs, but that's just a drop in the bucket for what we needed.
"That's what brought us to the casino [concept] because you're talking about a lot of different jobs. We did our first study and, after looking at that, we were convinced it would work very well," Stacy said.
Across central Appalachia, casinos weren't allowed in Virginia, Tennessee or Kentucky. Only two operate in North Carolina, and there are a couple in West Virginia.
"When we first started thinking about this, I knew it would be very difficult," Stacy said. "I didn't think there was any way to ever get it approved unless I could get Jim involved. We talked about it a lot and, when Jim agreed to work with the project, at that point I was pretty convinced we could make it work."
McGlothlin and Stacy have been friends since high school and worked together on many occasions.
McGlothlin cited three reasons for getting involved.
"The first thing is Clyde's always been such a great partner," McGlothlin said. "We've always gotten along really well. I don't think we ever had a piece of paper between us until we needed it with this. The mall seemed to be the perfect place, and we needed a 'moonshot' like the newspaper said. It was worth a try."
Their first step was convincing conservative former state Sen. Bill Carrico, R-Galax, to introduce the legislation.
"Sen. Carrico told me 'I'm against gaming and against the casino' when I first went to see him," McGlothlin said. "I told him we understand that, but you represent the people. Wouldn't it be better for us to have a vote and see if the people in Bristol want it or not? He thought about it and called me and said we were right, and the people of Bristol were entitled to a vote to decide for themselves. Then we thought we might get a shot at it."
In retrospect, their nearly 2.5-year journey was "pretty quick" given gaming's failure over the previous two decades, McGlothlin said.
Once the bill got into the General Assembly, McGlothlin said, it took the efforts of United Company President and Chief Operating Officer Martin Kent and Vice President and General Counsel Jason Eige to assemble the coalition of Republican and Democrat lawmakers from across the state needed to achieve passage.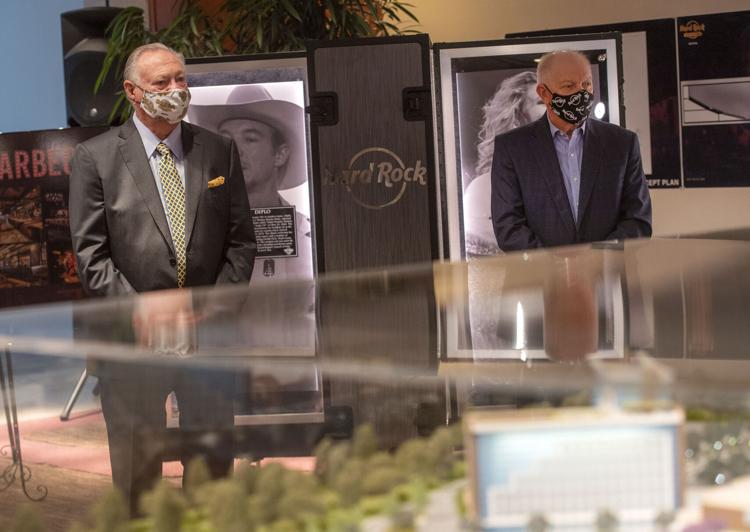 The alliance joined five economically challenged cities — Bristol, Danville, Norfolk, Portsmouth and Richmond — that collectively petitioned to host referendums so the residents of each city could decide the fate of a proposed casino.
In its first year the legislation resulted in an in-depth study by the Joint Legislative Audit and Review Commission. Delivered in December 2019, that study projected each of the five casino resort projects, plus one in northern Virginia, could prosper, generate jobs, tax revenues and attract visitors to each area.
Prior to the report's release, McGlothlin and Stacy were the first to announce an operational partner, signing Hard Rock International to manage the casino resort and hotel.
It took until the last day of the 2020 legislative session but the legislation generated two-thirds majority approval in the Virginia House and Senate. The bill was ultimately signed by Gov. Ralph Northam and the referendums completed Nov. 3. In Bristol, 5,490 voters said yes and 2,227 said no — the largest margin of the four cities that conducted referendums.
Referendum front and center
Putting the casino question before the voters was at the heart of the legislation and the only way the pair would proceed.
"Early on, Jim said if we're going to do this we've got to make sure we've got the support of the people so we need to do a referendum," Stacy said. "The legislators didn't come up with the referendum. Jim actually came up with that. The only way we would build a casino here or anywhere is with the support of the people."
Looking back, McGlothlin said he would have been disappointed if the margin had been close.
"The important thing to Clyde and I was that 71% of the people in Bristol wanted this to happen. It makes us feel a lot better that we've done the right thing with that kind of support," McGlothlin said. "We never expected 100% but 71% shows we're on the right path and we know, if we can execute correctly, this is going to be a good thing. Neither one of us have to do this so it's great to be supported by that many people."
Before the legislation was re-introduced for the 2020 session, a rumor, coinciding with Sen. Carrico's retirement, circulated that the referendum provision might be removed. Martin Kent confirmed some people wanted the provision struck.
"Between the first year and the second year, there were folks that approached us — not in Bristol but in Richmond — that said 'maybe we don't need this referendum. We might be able to get this legislation passed without this referendum'," Kent said.
"We knew that was a non-starter but we broached the issue with these two [McGlothlin and Stacy] and they were emphatic. 'Do not come back to us again and ask about not proposing a referendum.' They, one, made a commitment to Bill Carrico and, two, said 'we want the citizens of Bristol to want this.' They gave us a clear direction, and that was never spoken again, and we proceeded forward with the referendum an essential component," Kent said.
The project now awaits the Lottery Board completing its regulations and accepting a license application — which is expected in April.
Stacy said the biggest question he's received is when will jobs become available because the region's need is so great.
"The Lottery Board is going to do everything they can to get this thing moving and help to bring jobs to Bristol and the other areas as well. We feel good about everything. It's just a matter of getting all our ducks in a row and getting the license approved," Stacy said.
McGlothlin said the soup kitchen provided by The United Company currently feeds between 800 and 1,000 residents daily, and he hopes the process can move swiftly so those families will be better able to fend for themselves.
In the meantime, Hard Rock International is already working with many local businesses and purchasing their products.
"Together we're creating something that should last a long, long time. You can't move this to China and you can't move it to Mexico. This is going to be here," McGlothlin said. "We've seen lots of plants disappear, lots of businesses disappear. This is the only one I know that won't move.
"We hope, together with Hard Rock, we can run this in a way the city will be so proud of it and — for years to come — we can be a shining spot for people to come to for entertainment, the lakes, the country music, the NASCAR races. You could come here six to eight weekends and still have a lot left to do. We see that plus people moving here and this being a real opportunity for the area."