JOHNSON CITY, Tenn. — Driven by a rapid increase in COVID-19 patients, Ballad Health System hospitals are nearing capacity as officials continue developing surge plans that include asking the National Guard for help.
Since July 4, Ballad's cases have grown a "staggering" 1,250% which is "not sustainable," according to Ballad Chief Operating Officer Eric Deaton.
Ballad experienced a 26% increase in inpatients in just the past week, rising to 201 Wednesday with another 113 being treated and monitored at home — the highest levels since January. He and other system officials outlined the situation during a weekly media briefing.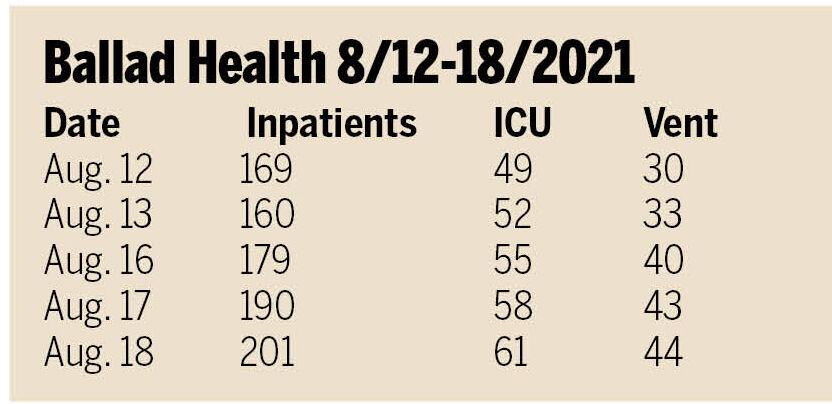 "Our modeling shows us getting to 300 COVID inpatients by the end of next week, and we could get beyond 500 patients at some point in the next two to three weeks," Deaton said. "Based on what we're seeing, the delta variant is pretty widespread — across the Southeast something like 95% of the cases we're seeing are the delta variant. It's more aggressive, more contagious and spreads much quicker that what we saw before. Within the next 30 days, it is really important that we continue to focus on capacity, and that's why we're looking for help from the outside, particularly the National Guard."
Deaton said the system is in the process of applying for assistance from the National Guard due to the sharp rise in cases and the strain it's putting on Ballad's nursing staff.
"Last December, we had 330 patients in the hospital with 48 on ventilators so, as a percentage, you have a much higher number of patients on ventilators than during the first surge," Deaton said. "Our ICUs are getting very full. We had 10 to 12 ICU beds available at midnight last night. Our ICU beds were at 95% capacity last night so that is very concerning because we're seeing more and more patients with the new variant needing more life-sustaining measures than we did before."
System officials continued to implore the public to get vaccinated against the virus and to wear masks in groups of people and in schools as the best ways to reduce the spread.
Of Ballad's inpatients, 180 of 201, or 89.5%, are unvaccinated. Fifty-seven of 61 patients in ICUs and 41 of 44 on ventilators — 93% — have not been vaccinated, according to Dr. Clay Runnells, Ballad's chief physician executive.
"Vaccination doesn't prevent infection completely — it reduces the risk. But it drastically reduces your risk of being hospitalized or dying from COVID-19," Runnels said.
"One of the things we noted during this most recent surge, we're seeing more 30s, 40s and 50s on ventilators with severe illness," Runnels said. "For our unvaccinated, hospitalized patients, the average age is 61. For our vaccinated, hospitalized patients, the average age is 76. There is about a 15-year difference between those two groups right now."
Breakthrough cases — patients who are vaccinated — tend to be older and have more co-morbidities, Runnels said in response to a question.
"We're definitely seeing a difference. The unvaccinated population in the hospital is definitely younger with less co-morbidities than the vaccinated population. I think that's an important point. We are seeing a number of breakthrough infections in the region; we knew that was coming with delta … but there is a clear difference in the outcome. Vaccinated people are very unlikely, particularly if they're younger, to be hospitalized and die from the infection."
Three pediatric COVID patients were being treated at Niswonger Children's Hospital on Tuesday, which had just two of 10 ICU beds available, Runnels said.
Ballad's increase is borne out by the region, which reported 3,300 new cases over the past seven days in Northeast Tennessee and Southwest Virginia, where the seven-day testing positivity average is 15.2%.
Ten Northeast Tennessee counties diagnosed over 2,500 new cases over the past seven days, and there are over 4,300 active, infectious cases in those counties, according to the Tennessee Department of Health.
Sullivan County had nearly 600 new cases in the past week and has over 1,000 active cases. Over the past 14 days, Sullivan has added an average of 82 new cases per day — nearly triple the rate of the previous two weeks, health department figures show.
Washington County, Tennessee, added 57 new cases per day over the past 14 days while Hawkins County added over 31 new cases daily.
Totals are lower but still growing dramatically in less populated Southwest Virginia, which added 756 new cases during the past seven days. Virginia doesn't track active cases, but 1,140 were diagnosed during the past 10 days, which is the average amount of time a person is considered contagious.
The Mount Rogers Health District has a 13.2% positivity rate, higher than LENOWISCO at 9.8% and Cumberland Plateau at 7.2%, compared to 8.6% statewide in Virginia.
About a third of new cases Ballad is seeing are children under the age of 18. There were 10 children in Ballad emergency rooms Tuesday.
"We haven't seen a large number of hospitalizations of children, yet. It could happen," Deaton said. "The risk is, if the child gets it, they take it home to someone who may be at higher risk or someone older like a grandparent. It's not to be punitive to children, it's to protect children at school and to protect the people at home. We're really trying to stop the spread wherever it is — in the school, the supermarket, wherever it happens to be," Deaton said.
This week, Ballad stopped some elective procedures and will look to make other changes in the coming weeks, Deaton said.
"We did stop the first level of elective surgeries that created overnight stays. It includes a wide range of procedures — a hernia operation, or removing kidney stones or joint replacement. It can also mean cosmetic-type surgeries; it would require stays overnight and attention from our nursing teams so we have to utilize those resources in other ways at this point," Deaton said.
Ballad hospitals might have about 1,200 combined patients on an average day, meaning 200 COVID patients would be about 16%. If that total rises to 500, that represents over 40%, and COVID patients typically require much more care, attention and staffing resources, Deaton said.
"This is not sustainable. On top of the growth in cases, we have the nursing shortage happening across our region. We're concerned about that, we're concerned about the burnout we're seeing from many of our team members," Deaton said.
These factors are combining to cause longer wait times in hospital emergency departments.
"Right now, if it's not life- or limb-threatening, you'll have to wait awhile," Runnels said.