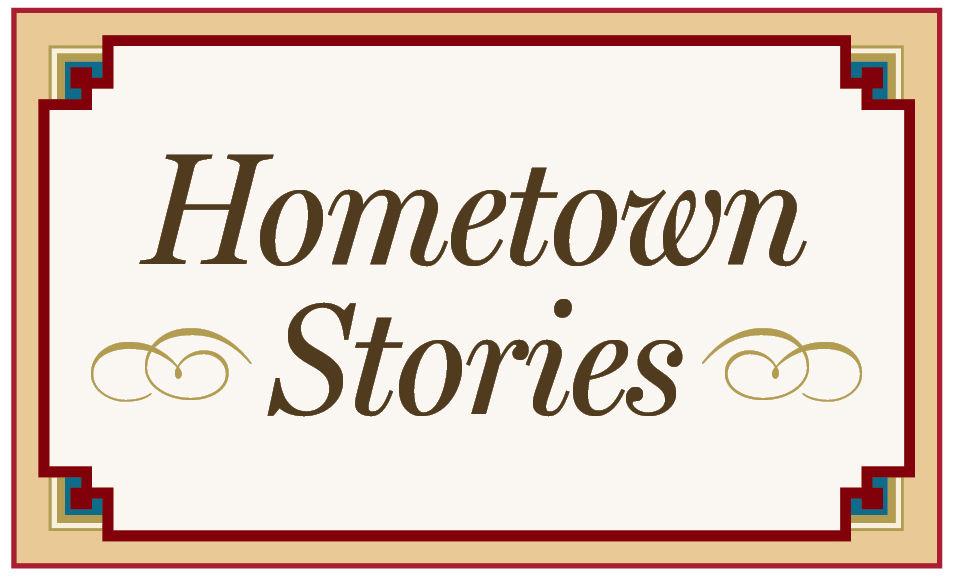 ABINGDON, Va. — Jennifer Berry Blankenship said it all started with a guitar.
The Abingdon resident didn't set out to become a volunteer with the Washington County Fair after she graduated from college. It just happened, she said.
It all began when she won a guitar along with an all-expense-paid trip to Las Vegas for the 40th annual Academy of Country Music Awards in November 2005.
"I remember that year Jason Aldean won new vocalist of the year at the awards," she said.
When the Washington County Fair came around the next year, it just so happened the fair booked Aldean as a performing artist.
The late Sammy Campbell, a family friend and coordinator of entertainment at the fair at the time, gave Blankenship permission to get her guitar autographed by the country music singer.
"That pretty much started my volunteer career at the fair and becoming interested in the entertainment part," said Blankenship, who coordinates the lineup of entertainment each year and also serves on the board of directors for the fair.
After a year lost to the pandemic, the Washington County Fair is rolling into town for the 2021 season.
The fair runs today through Saturday at the fairgrounds in Abingdon with the theme "Race on Down to the Washington County Fair," a name appropriately chosen because this year's fair falls on the same week as the Bristol Motor Speedway races.
Right behind the scenes of it all is Blankenship, 39, of Abingdon, who balances family life and a full-time job with her volunteer commitments to a county fair that, she says, would never happen without the help of community involvement.
"It truly takes a village to put on such a large event, and we are blessed with a great team," said Blankenship.
Her goal is to preserve the county fair so that youth can continue to enjoy it in the future.
"I grew up in a family where service is very important. We're giving our youth good memories and helping them build relationships. I want my kids to experience the things I experienced growing up in Abingdon, and going to the county fair is one of them," she said.
The county fair may look at little different this year, but, most importantly, Blankenship wants visitors to feel safe while attending the events, most of which will be held outdoors.
"This has been a challenging year for all nonprofits across the country," she said.
While most county fairs around the country are making a triumphant comeback this year, she fears some may be forced to close due to loss of funds during the pandemic last year.
Blankenship reported that the Abingdon fair did financially well a few years before the pandemic hit.
"Had we not done well, we may not be around," said Blankenship, who credits the support received from the community and local businesses for keeping the county fair strong.
She said making plans for this year's fair were put on hold until Gov. Ralph Northam rolled back some COVID restrictions on outdoor events this spring.
"Normally, we start looking for entertainment in January for the next fair. It often takes two to three months to finalize plans," she said. "That put us in a bind since we couldn't do anything until June. Actually, we signed our last contract just two to three days before releasing the entertainment lineup. As a result, we were two months behind making our official fair announcement."
Blankenship may not realize it, but she is the face of county fairs across the country today, representing a younger generation of small-town leaders who are excited about making improvements while building on the traditions that keep the locals coming back each year.
During the early 2000s, Campbell took Blankenship under his wing, grooming her for a job that he hoped would one day be her responsibility.
She continued to work with Campbell for years, learning how to read contracts with entertainers.
Irene Meade, who has helped organize the fair for more than 50 years, said the event would never get off the ground without the help of many volunteers.
"Jennifer is one of those volunteers who works hard to make the fair successful each year. Volunteers don't get paid — they dedicate their time and talents every day," she said.
For Blankenship, volunteering is a no-brainer. There's always something to contribute, she said.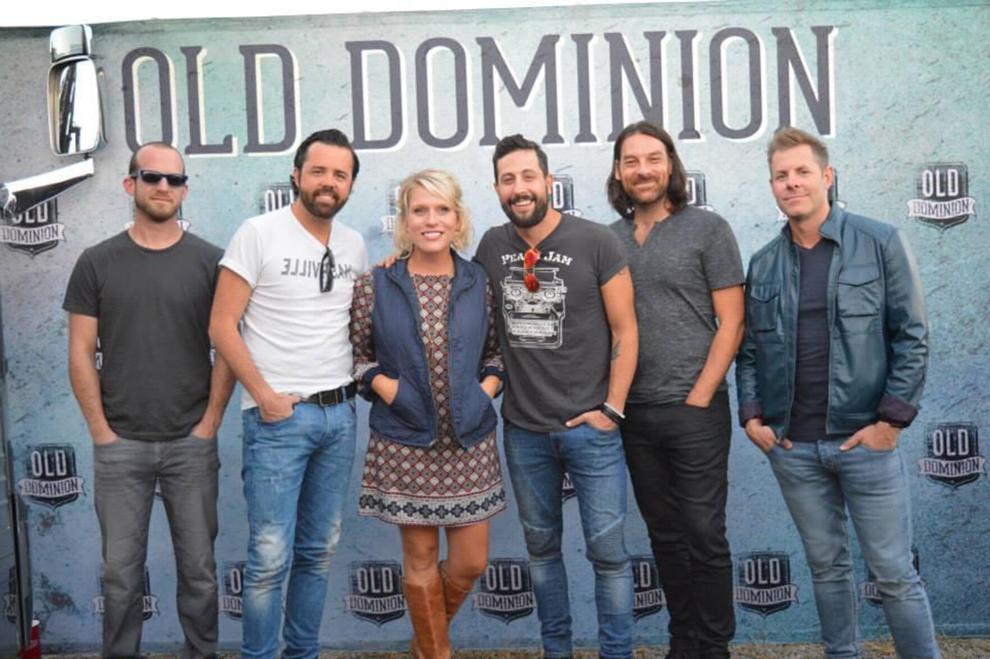 "The county fair is more than just amusement rides and funnel cakes. It's important we preserve the history of the fair. The older volunteers are the backbone — they've made it what it is today. But, it's also important to take these young ideas and move forward and grow it," she said.
Her first task as a young volunteer — and she still volunteers with it — was serving as a runner, transporting artists to and from the fairgrounds.
A few humorous stories linger in her memories, like the time when she was asked to transport a rock band from the Tri-Cities Airport to the fairgrounds in a 15-passenger van.
Since money was tight with the nonprofit organization, Blankenship resorted to asking an Abingdon church if she could use its church van.
"The first stop the band requested was a liquor store," said Blankenship with laughter. "There was no way I was going to drive the church van into the Abingdon liquor store parking lot. We stopped at the store in Bristol."
Her favorite artist to transport was country singer and songwriter John Pardi.
"He was very down to earth. While visiting, he asked to be transported to a trail where he could run. Chubby Checkers requested to stay at the Martha Washington Inn. Most artists stay in their own buses while visiting the fair," she said.
Blankenship makes a point to take the artists to downtown Abingdon.
"Most of them say they never get to see the towns and countryside when visiting county fairs," she said.
For nearly 20 years, Blankenship has been learning the ropes of a job that's as intricate as the people it serves.
"Each year is a learning experience. The industry is constantly changing, and we hope we can continue to offer quality entertainment at an affordable price," she said.
She's seen the costs of entertainment for the fair escalate over the years.
"Entertainment is so much more expensive today than it was a decade or more ago. To get an up-and-coming artist who no one knows, you're easily spending $20,000. To bring in an artist that everyone knows will cost over $100,000 for just the one performance. When you charge a $10 ticket, you just can't do that," Blankenship said.
"I always tell people that you may as well pay the $10 fee and watch the up-and-coming artists because by next year they'll probably win awards and be too expensive to book."
She continues to learn as a board member, making decisions that always put the county fair a step ahead.
Along with other board members, Blankenship has been instrumental in adopting online concert ticket sales.
"It's called rain insurance. We get the money regardless if someone shows up or not. It also helps to have extra income before the fair starts," she said.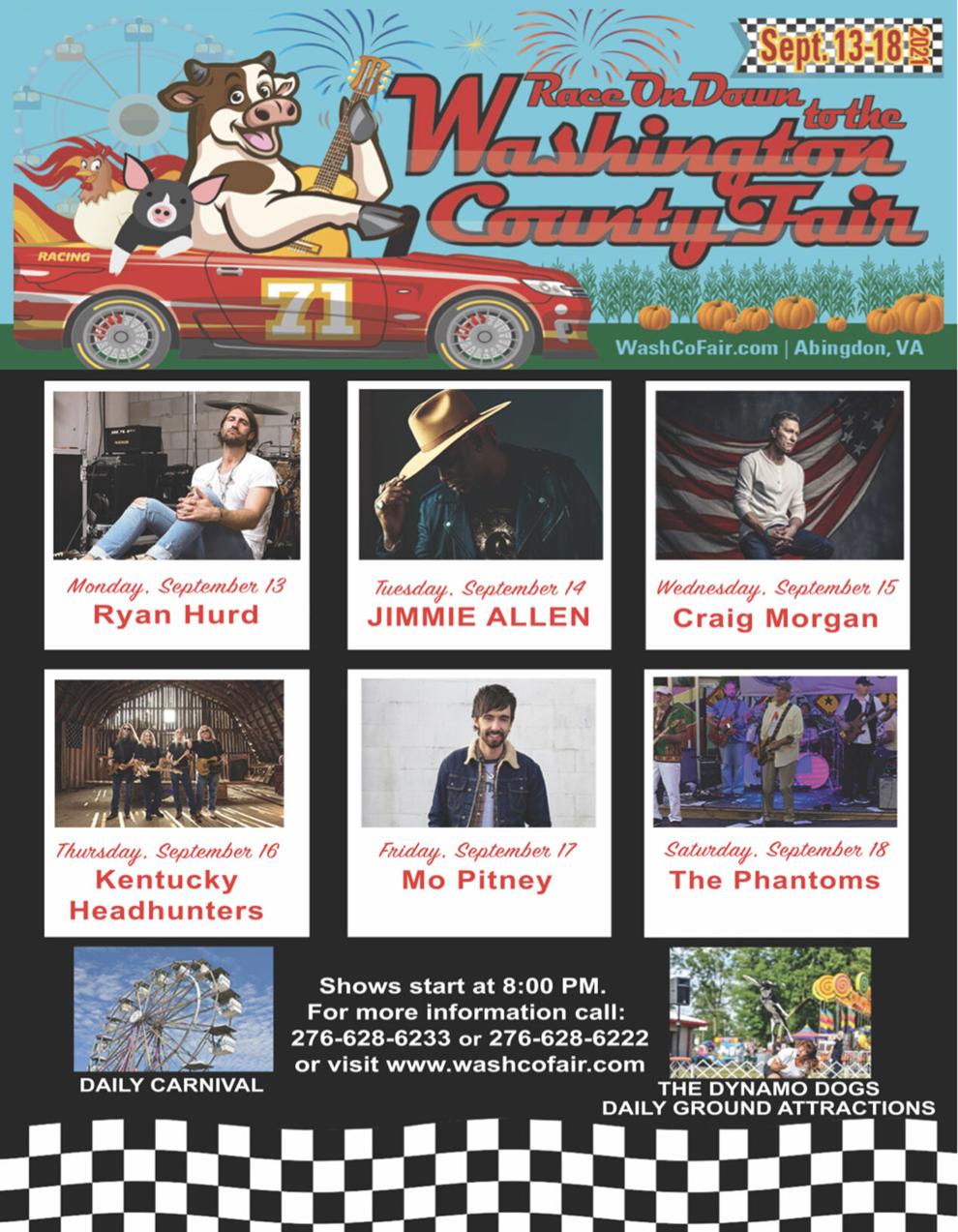 Many favorites are making a comeback, including the Junior Miss and Miss Washington County Pageant, an antique tractor pull, a truck pull and horse show. The fair will feature traditional livestock shows, and 4-H events. A Senior Citizen Day is being held Tuesday from 10 a.m. to 2 p.m., featuring entertainment, exhibits, contests and prizes. Admission is free.
This year's entertainers are Ryan Hurd today; Colt Ford on Tuesday; Craig Morgan on Wednesday; the Kentucky Headhunters on Thursday; Mo Pitney on Friday; and Phantoms on Saturday.
New events this year include Race Night at the Fair scheduled for 6-7:30 p.m. Wednesday. Local race car drivers will be set up with race cars and their haulers for people to enjoy. If interested in participating in the event, contact jennifer@wholesalevinyl.net.
A Big Pet Show, sponsored by VCA Highlands Animal Hospital in Abingdon, is at noon Saturday. Ribbons will be given to all participants, and prizes will be awarded to winners of classes. The show will include a costume class for pets.
Walker Sauls, customer service manager at Rural King in Bristol, Virginia, is coordinating a petting zoo featuring a duck slide, peacocks, long-horned bulls, goats, sheep, miniature ponies, rabbits and chickens. The petting zoo is open each day of the fair.
The second annual Washington County's Got Talent Contest is 3 p.m. Saturday on the main stage outdoors. Cash prizes will be available.
The gates at the Washington County Fair open at 4 p.m. Monday through Thursday; 1 p.m. on Friday; and noon Saturday.