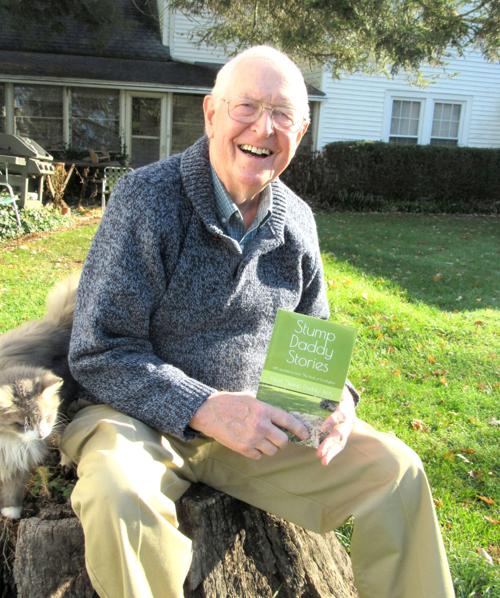 EMORY, Va. — At 88, Neel Rich is a thankful man.
He drives his car to church every Sunday, plays golf and cards with his friends, and even facilitates a weekly Bible study group in his Emory home — the same house he's lived in for 51 years.
On top of that, Rich is a storyteller.
He sometimes is a "story embellisher" as expressed by his daughter Ann Ledgerwood in the foreward of a book her father recently authored.
His book of memories, "Stump Daddy Stories," is a compilation of 55 individual stories, some dating back to his childhood, some about farm life, and some about his work as a local county extension agent.
Organized by his family and co-sponsored by the Friends of Smyth Chapel, a book presentation and signing by the new author will be held at 3 p.m. Saturday, Nov. 27, at Smyth Chapel at 30119 Smyth Chapel Road in Meadowview. Books will be available for purchase, but there is no obligation to purchase.
Rich said many of his memories were put on paper years ago after his daughter Cathy, with added support from his other daughters Carol and Ann, encouraged him to record the family stories they had grown up hearing. As the short pieces began to accumulate, the idea emerged of possibly assembling them into a book, he said.
"Dad has been telling stories to us as long as I can remember. It means a lot to us as his family to have these wonderful, familiar stories recorded. I shed a few tears as I read through and helped with editing. It's a treasure for me," said Ledgerwood of Emory.
While deciding on a name for the book, Rich, who is known by family as "Stump Daddy," settled on the humorous nickname he was dubbed after pulling a prank on a family member. Hence, "Stump Daddy Stories" was born.
Rich described his book of stories as "an end-table book."
Each story is complete on its own and can be read and understood without reading the entire book which documents events of his life from preschool to retirement.
"You can pick up the book, read a story or two, lay it down, and take a nap," he said with laughter.
Perhaps, it's his keen sense of humor that keeps the man young at heart. He demonstrated that light-hearted spirit by reaching back into his memory to tell some funny, some witty, and some serious stories of his past.
Rich was born in Emporia, Virginia, later moving with his family to Bluefield, Virginia, as an elementary student. He graduated from Virginia Tech in 1954 with a degree in agriculture. After being drafted to the U.S. Army in 1957, he returned home to a wife and daughter in Bluefield, later going to work for the Virginia Cooperative Extension Service where he retired in 1990.
Rich writes in the introduction to the book, "Maybe you will get a laugh or two. Maybe you'll find some wisdom or philosophy of interest. Hopefully, you'll be entertained, at least a little bit."
Most of the stories are real and true, with some minor embellishments, he said. The stories were chosen because of their uniqueness or human interest appeal.
Rich, cleverly added quotations from "The Book of Eucalyptus," his pseudo-scriptural creation he uses throughout the book to emphasize a moral lesson from each story.
"The eucalyptus plant has many uses," explained Rich. "It can be used for a fuel. The oil of the plant has healing powers. The tree has such big roots that it's used to drain swamps. It also has a scriptural sound."
The book is divided into six sections, highlighting events and people throughout his life.
One of life's greatest lessons occurred when Rich was just a child. In section one entitled "Lessons from Childhood," the author related a story about the gifts of cap pistols he and his brother Ervin received from an employee at a hardware store.
"What a great thrill this was — our very own bright shiny, almost real looking cap pistol," Rich wrote in the book. Rich's temper flared one day when he became angry with his brother and threw his brother's cap pistol into a slab pile and broke it. His punishment was the worst he could imagine. His father simply handed Rich's cap pistol to Ervin in place of the one that broke, leaving Rich without his own toy.
At the beginning of the story, Rich writes "Eucalyptus 1:15, "There is great joy in receiving a gift."
The end of the story is "Eucalyptus 1:16 which reads "Uncontrolled temper fits may be costly."
The author concludes his book with a story about his grandfather, Big Daddy, and a piece of land called "Tater Knob," that had grown up in weeds. As kids, Rich and his brother Ervin got a bright idea to plow the land and grow popcorn which they planned to sell to the movie theater in town. After snagging the plow twice on a stump root, the popcorn finally got planted, but there was no harvest and no profit after "giving it very little attention."
Rich begins the story with Eucalyptus 13:13 that says, "The path of life is often strewn with stumps of various kinds. Deal with each according to its uniqueness."
He leaves readers with a message from Eucalyptus 13:14 where he wrote, "When dealing with the 'stumps of life,' try to avoid letting the same one snag you twice."
In addition to the book signing on Nov. 27, "Stump Daddy Stories" can be purchased on Amazon.