Visits to hot spots and failing to follow health guidelines are blamed for sharp increases of COVID-19 cases across Northeast Tennessee and Southwest Virginia.
A total of 369 new cases of the novel coronavirus were confirmed in the 10 counties of Northeast Tennessee during the two-week period from June 17 to July 1, a 43.7% increase in total cases since the pandemic began, according to the Tennessee Department of Health.
Sixty new cases have been reported across the 10 counties and two cities of Southwest Virginia during the past 14 days, an uptick of 21.8%.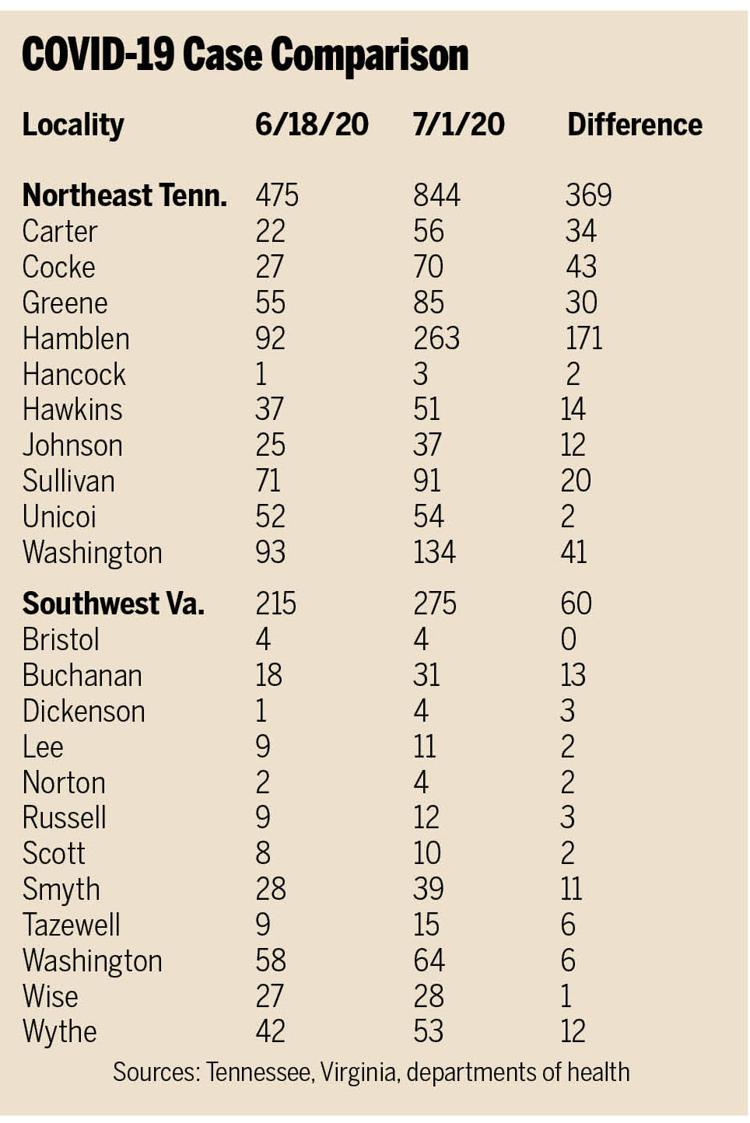 People already have the tools to reverse that trend, according to Jamie Swift, Ballad Health's corporate director of infection prevention.
"The only advice is social distancing, wearing a mask and hand washing. I know people are really tired of hearing that, but that is truly the thing that is going to help us slow this down, keep our most vulnerable safe and hopefully slow these infections down," Swift said during a Wednesday interview with the Bristol Herald Courier.
Hamblen County accounts for nearly a third of Northeast Tennessee's total cases and reported the greatest increase since June 17, a 65% jump from 92 to 263 cases — nearly half of Northeast Tennessee's total increase.
Carter County has experienced a 60% increase, rising from 22 to 66 cases over the past two weeks while Washington County, Tennessee reported a 30% jump with 41 new cases during the period. Sullivan County marked a 21.9% increase, registering 20 new cases.
Among Southwest Virginia's 60 new cases, the largest jumps occurred in Buchanan County — up 41.9% with 13 new cases — Tazewell County, which rose 40% with six new cases and Smyth County, which rose 28% with 11 new cases.
The city of Bristol, Virginia was the region's only locality that reported no new cases during the past two weeks.
The nation has seen a 46% increase in new cases during the past week, with some traditional travel destinations including California, Florida and Texas among the hardest hit, according to the Centers for Disease Control. Tennessee reported more than 7,100 new cases over the past seven days while Virginia reported more than 4,300 new cases.
Over the past two weeks, 70% of cases Ballad is treating were travel-related, Swift said. Confirmed area cases include people who traveled to Myrtle Beach, Charleston and Hilton Head, South Carolina; various places in Florida, Charlotte, Atlanta, Nashville and Gatlinburg.
"As people start to plan vacations, I really want to encourage them to think about where they're going, look ahead, see what it like in the area where they're going and understand the risks they may be taking," she said. "It's getting closer and closer as hot spots keep popping up around us. It's no longer just one area. We know all of these places are hot spots."
Basic guidelines including social distancing, hand washing and face coverings apply while traveling as well as close to home, Swift said.
"We fully support reopening the economy but, where I think we got lost, was reopening was supposed to be with these measures in place," Swift said. "It wasn't supposed to be everyone acting like the pandemic is over because it's not. I think we can keep the economy open, personally, if we social distance and wear a mask every time we're out. The CDC still says travel should be limited."
Ballad treated 11 COVID positive patients in its hospitals Wednesday, which is more than twice its average in recent weeks. One Ballad health care worker is quarantined at home with an active case.
"Hospitalizations are going to lag behind the cases," Swift said. "Some people may be diagnosed but they show up a week or two after their initial diagnosis because their symptoms progress. We know those hospitalization numbers are always going to be behind an increase in new cases."
Officials of the Mount Rogers Health District have also documented some travel-related community spread and urge anyone planning to travel to exercise caution.
"While there is not a formal quarantine for travelers at this time, when you return from travel, you are at increased risk of getting sick. To protect your community, we ask that upon your return you self-monitor for 14 days — take your temperature, be aware of symptoms and stay home if you feel sick," said Dr. Karen Shelton, director of the Mount Rogers Health District. "If you must go out locally or return to work during this 14-day period, please protect your coworkers and community by wearing a mask, washing hands and socially distancing."
Symptoms to watch for include fever, chills, cough, wheezing, shortness of breath, difficulty breathing, fatigue, muscle aches, body aches, runny nose, abdominal pain, nausea, vomiting, diarrhea, congestion, headache and loss of taste or smell.
"I know that many of you are weary of restrictions on normal life, and are ready to be done with COVID-19," Shelton said. "Unfortunately, COVID-19 is not done with us. We continue to see new cases across the region, the state, and the country."
Concerned about COVID-19?
Sign up now to get the most recent coronavirus headlines and other important local and national news sent to your email inbox daily.