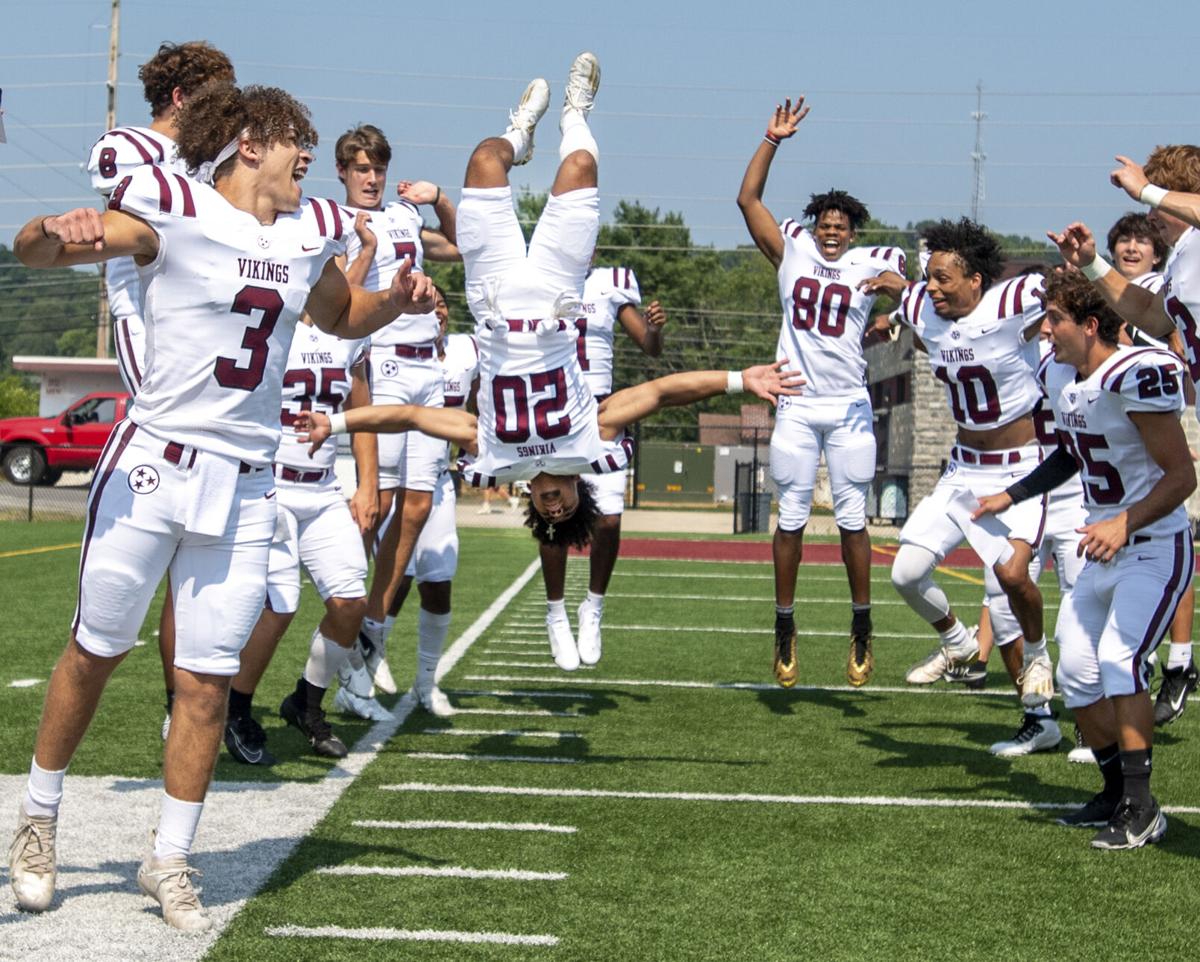 Those who knew him best say that Tennessee High junior Micah Montgomery always aimed to bring smiles to people's faces, and he did just that Friday night.
There was the 67-yard touchdown run on the first play of the second quarter that sent the crowd at the Stone Castle into a frenzy and was a key moment as THS earned a 33-31 win over Karns, the first football victory of the season for the Vikings.
As the team huddled together on the artificial turf following the game and head coach Matt Chandler finished addressing the team, Montgomery made his teammates and coaches grin once again.
"Micah always loved doing backflips, and after the game, he went up to Coach Chandler and asked him if he could do a backflip, and Coach C said, 'Your backflip will be better than anything I say, so let's do it after me,'" THS senior quarterback Steven Johnson said. "So after Coach Chandler's talk, he did his backflip, and we all went crazy."
That triumph turned to tragedy and those laughs turned to sobs Sunday as the 16-year-old Montgomery died.
According to the Sullivan County Sheriff's Office, police received a call just after 4 p.m. Sunday regarding a possible drowning near the U.S. Highway 421 bridge on South Holston Lake. Montgomery's body was recovered from the water by the Sheriff's Office's dive team after a search.
Tennessee High's football team did not practice Monday but did hold a team meeting, and the Vikings plan to play their regularly scheduled game at David Crockett on Friday, according to athletic director Barry Wade.
Micah's older brother, Levon, is a senior for the Vikings.
"We are all just sticking together," Johnson said. "We are just really focused on being with Levon and helping him through this."
That touchdown run Friday was Micah Montgomery's first score at the varsity level.
"Micah was ecstatic," said Tennessee High senior lineman Justice Musser.
A running back and defensive back, Montgomery was a spark plug for the Vikings.
"Micah Montgomery brought a contagious amount of energy," said Tennessee High senior Micah Kennedy. "He's the definition of an all-heart player that made everyone around him better."
That infectious personality was present in the hallways as well.
"Micah got along with every kid at this school," Wade said. "I don't know a kid that could say anything negative. He always had something positive to say. I think his goal was to make people laugh, and he would do that."
Montgomery was the third student-athlete at Tennessee High to die in the last 12 months, according to Wade, and longtime coaches at the school, Harky Johnston and Dale Burns, also passed away recently.
"It's just been a tough time," Wade said.
The football team will play with heavy hearts for the remainder of the season.
"The only thing we can do is be the best for each other," Kennedy said. "We plan to live this season in Micah's honor how he would want it — with everything we have to give."