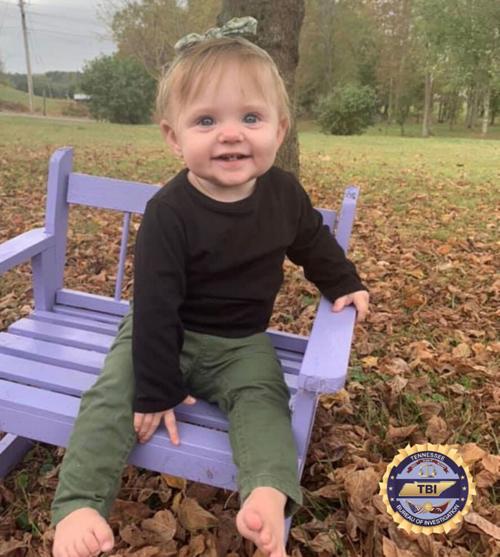 BLOUNTVILLE, Tenn. — Remains found Friday on property in Blountville are those of 15-month-old Evelyn Boswell, the Tennessee Bureau of Investigation confirmed Wednesday.
Human remains were found late Friday in the 500 block of Muddy Creek Road on property belonging to a family member of Evelyn's mother, Megan Boswell. Evelyn was the focus of a statewide Amber Alert when she was reported missing Feb. 18. She had been missing since early December, authorities said.
"As we feared, the remains have now been positively identified and are in, fact, those of the 15-month-old girl," TBI spokeswoman Leslie Earhart said in a short video statement.
After the remains were located Friday, they were taken to East Tennessee State University for an autopsy. The autopsy results are under seal, as are other court documents in the case, according to a court order.
"We understand that Evelyn captured your hearts," Earhart said. "She captured ours as well. But due to the fact that this is an ongoing investigation, we're limited to what details can be released."
Sullivan County Sheriff Jeff Cassidy conferred, saying that cases like this are highly sensitive.
"Certain aspects of the case can't be released to protect the integrity of the case; however, I assure you certain and swift justice will be administered to anybody involved in baby Evelyn's death."
The TBI, Sheriff's Office and FBI are "working diligently to find out what happened to Evelyn," Earhart said.
The family of Evelyn's father, Ethan Perry, who is on active duty with the Army and stationed in Louisiana, issued a statement Wednesday to the Bristol Herald Courier, saying family members are asking for privacy as they grieve this "terrible tragedy."
The family notes that various unauthorized fundraising efforts have been established, and people on social media are claiming to speak for the family.
"These are false," the Perry family said.
The family added, "Our focus has always been Evelyn and now on the investigation and bringing all of those responsible to justice. We have complete faith and confidence in law enforcement to do just that."
Evelyn's mother, Megan Boswell, remains incarcerated on $150,000 bail at the Sullivan County jail. She has been charged with filing false reports in regard to statements made during the investigation.
Get local news delivered to your inbox!
Subscribe to our Daily Headlines newsletter.