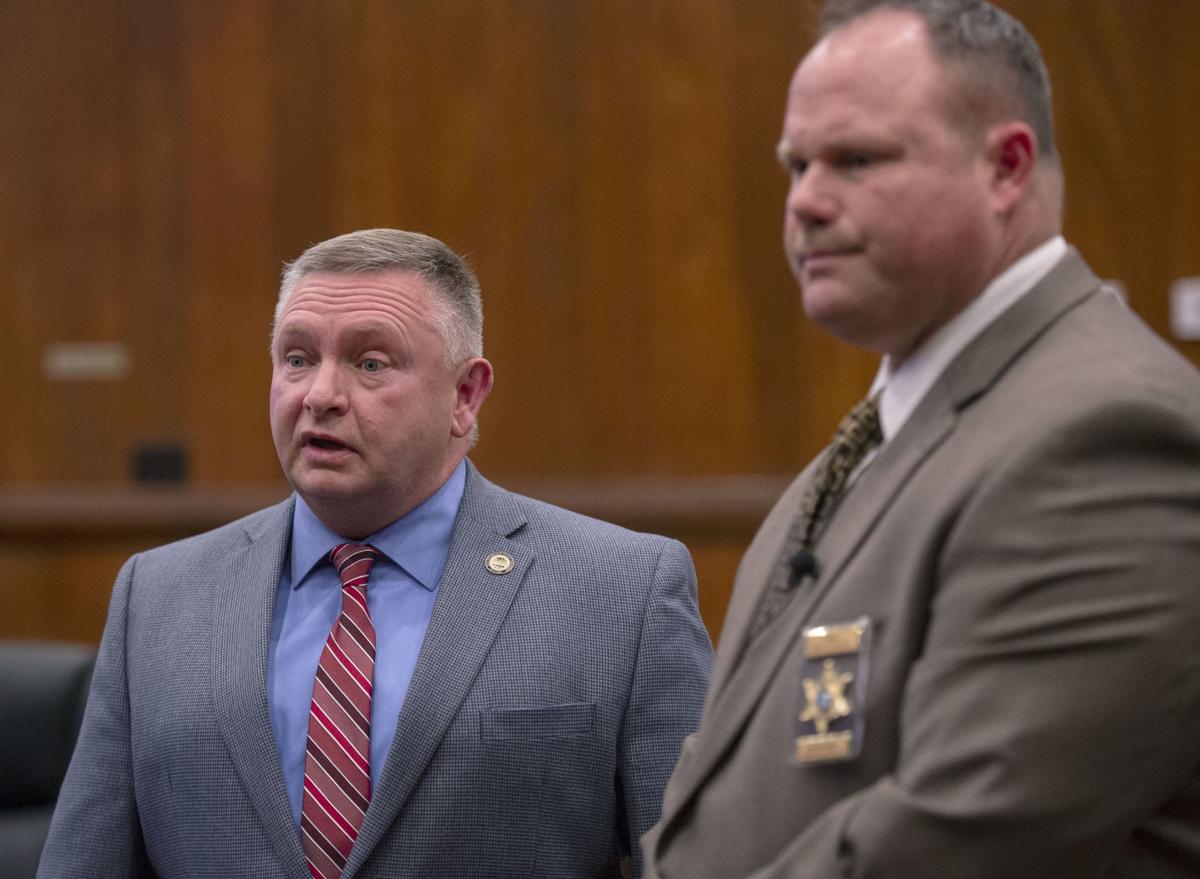 BLOUNTVILLE, Tenn. — The Sullivan County Commission voted unanimously Thursday to oppose a state bill that would prevent people who have had protective orders filed against them from owning guns and ammunition.
The resolution states that Sullivan County is a Second Amendment Sanctuary county. It claims passage of the bill would infringe on the Second Amendment right to bear arms and states that such legislation is known as a "red flag law."
The bill was introduced during the General Assembly's 2019 session and was left in committee. It will be considered again during the 2020 session, which begins in January.
Commissioner Gary Stidham, a primary sponsor of the resolution, and Sheriff Jeff Cassidy said during a news conference before the commission's meeting that the law would allow property to be taken away from people who haven't been convicted of a crime.
"We have the right to bear arms and protect ourselves, and then all of a sudden due to accusations being made, someone could actually end up having to get an attorney and get their weapons back, and it could be a year before it's all settled out," Stidham said.
Many cases, especially domestic violence cases, are just accusations, and the proposed law would also violate the Fourteenth Amendment right to due process, Cassidy said.
"I'm in full support of the Second Amendment Sanctuary," Cassidy said. "As law enforcement officers, we are sworn to uphold and protect the laws of Tennessee, but also the Constitution, and when we do that, we enforce these laws fairly and impartially. It'll be up to the judges' orders."
"Red flag" laws don't prevent active shooter situations and mass shootings, Cassidy said.
"There's more guns in the United States than there are human beings," he said. "It's just like anything that's illegal — it's still accessible."
The resolution was introduced because residents have asked commissioners to oppose a potential "red flag" law, Stidham said.
In Virginia, local officials in a handful of Virginia counties have voted to honor and defend gun rights by declaring their counties Second Amendment Sanctuaries. On Tuesday, the Washington County Board of Supervisors will consider a resolution creating a Second Amendment Sanctuary county.
"It's not necessarily, 'Hey, we care more about the guns than what's going on in this country,'" Stidham said. 'But the minute you start impeding on someone's constitutional rights — you start chipping those away — where does it stop? … Everyone is appalled with the violence across this country. That violence is not because of gun laws. Criminals do not obey laws — that's why they're criminals so just to enact another law just to make you feel better like you're doing something is not fixing the problem."
Mass shootings in the U.S. aren't caused by gun laws — they're a result of mental health problems not being treated, he added.
"Until we face those problems and take care of those problems we're not going to get anything fixed on these acts across the country," he said. "These type of laws are knee-jerk reactions."
Stidham hopes the commission's opposition to the bill will send a message to the state legislature. Cassidy said he doesn't think the law will be approved, and Stidham said he hopes it isn't.
There was no opposition to the resolution from commissioners or residents.
Now that the resolution is approved, Stidham said a copy will be sent to state House representatives, Sen. Jon Lundberg, House Speaker Cameron Sexton, Gov. Bill Lee and U.S. Rep. Phil Roe.