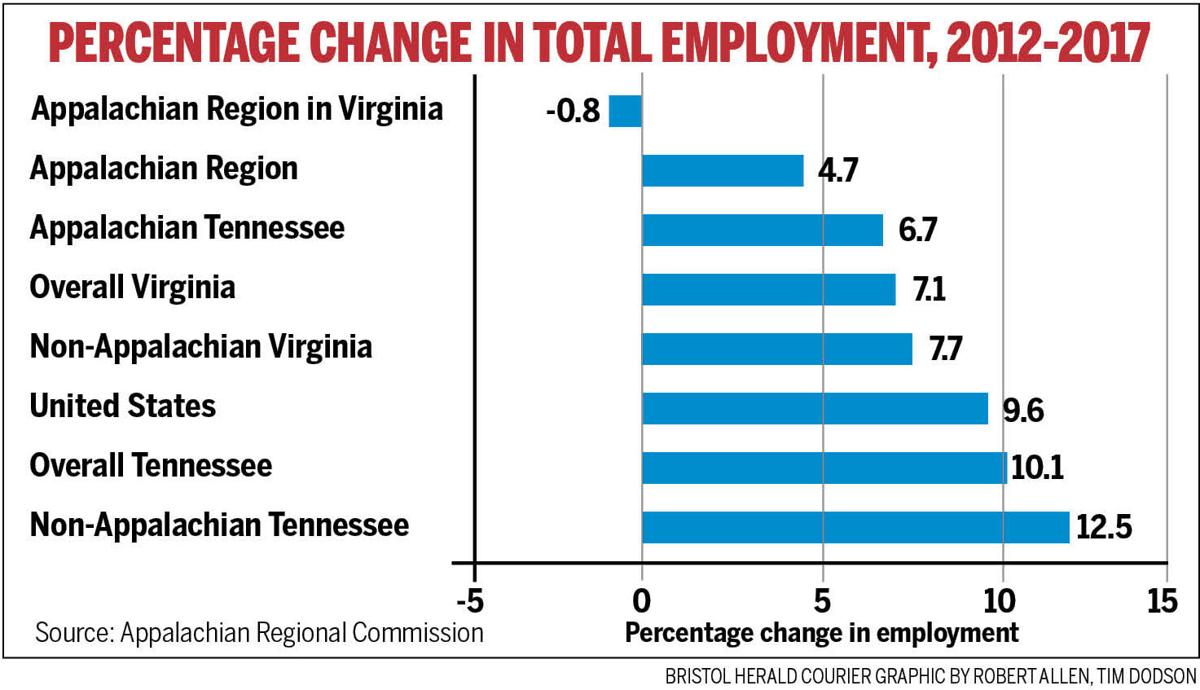 Although Virginia experienced statewide employment growth in the years after the Great Recession, the state's portion of the federally designated Appalachian Region lagged behind the rest of the state, and there was a slight decline in employment between 2012 and 2017, according to recently released research.
This finding was part of a nearly 200-page report the Appalachian Regional Commission (ARC) published last week that examined employment and earnings across 15 broad industrial categories in the Appalachian Region. This territory includes 420 counties in 13 states, including parts of Virginia and Tennessee.
"Understanding where we are seeing growth and in which sectors helps guide our investments toward a resilient and strong Appalachian economy," ARC Co-Chairman Tim Thomas said in a news release about the report, which looked at trends from 2002-2017.
Between 2012 and 2017, Virginia's Appalachian counties had a 0.8% decrease in employment, compared to 7.7% positive growth in the state's non-Appalachian counties, according to the report. Overall, Virginia saw a 7.1% rise in employment in 2012-2017. The Appalachian region of Virginia includes 25 counties and eight cities, from Lee County in the far southwest corner extending east to Henry County and north to Highland County.
Tennessee also saw a disparity between its Appalachian counties and the rest of the state, but its portion of the Appalachian region experienced positive employment growth. Between 2012 and 2017, Appalachian Tennessee experienced 6.7% growth, and the rest of the state saw a 12.5% increase in employment, according to a statewide snapshot from ARC.
The entire Appalachian Region experienced 4.7% employment growth over this time period, trailing the country as a whole, which had a 9.6% increase. Across the region, employment has been shifting toward sectors like professional and technical services, health and social services and tourism-related jobs, ARC noted in its news release.
In Virginia's Appalachia counties, professional and technical services saw the most positive change among the sectors the report analyzed, with 5% growth between 2012 and 2017, according to a statewide summary ARC published. But the state's Appalachian counties also experienced a 37% drop in "coal, gas, and other mining" jobs, from nearly 8,000 to 5,000 jobs over the five-year period.
A report ARC published last year identified competition from lower natural gas prices and regulations that have increased the cost of burning coal for electricity as some of the factors driving down coal demand.
In a recent interview, the leader of the state agency in charge of administering Virginia's ARC program did not seem surprised by the latest findings that Appalachian counties lag behind the rest of the state.
"There is a rural growth challenge and a rural economic development challenge," said Erik Johnston, director of the Virginia Department of Housing and Community Development. "I think Virginia, though, and especially the ARC region of Virginia, has some positive signs that it is trying to tackle that challenge."
Johnston cited the work of GO Virginia, a bipartisan economic development initiative with a focus on creating more high-paying jobs throughout the state.
A more recent slight employment decline was similarly reported in a growth and diversification plan published in August by GO Virginia Region One, which covers 13 counties and three cities in the southwest corner of the state. That report cited data showing a 0.2% drop in employment over the four quarters ending in December 2018.
But this report also highlighted employment growth in 2017 and 2018 in advanced manufacturing, food and beverage manufacturing and energy and minerals, which are three of the four key target industries the initiative identified for Region One. The fourth, information technology, saw a small decline in employment.
"Overall, the region is being really diligent in focusing on those target sectors," Johnston said.
A number of other efforts are also focused on economic development across the region. Marketing initiative InvestSWVA is working to attract more high-tech jobs to the area. Local and state leaders hope that the arrival of Amazon's second headquarters in Northern Virginia may also benefit the southwest region of the state, which company executives visited in October. And the federal government's Abandoned Mine Land Pilot Program is slated to award $10 million in grants to projects that would redevelop former coal sites in Virginia with new uses.
Diversifying the region's industries and employment opportunities is a key part of ongoing economic development efforts, said Amanda Love, public relations director for the Virginia Department of Housing and Community Development.
"Everybody together is working across agencies, across federal, state and local [government] — it's really a combination effort all the way through," she said.
Get local news delivered to your inbox!
Subscribe to our Daily Headlines newsletter.