BENHAMS, Va. — Nearly another mile is slated to be added to the Mendota Trail this week.
The Benhams Crossing Trestle has been completed in this Washington County agricultural community, once the site of regular train stops — and its own Benhams Depot.
Today, Benhams stands along the ever-growing Mendota Trail, a project to convert what had been the property of the Southern Railway into a recreation route for hikers and bikers.
Trains stopped running in 1972. Decades later, trail proponents tried to turn this old rail into a trail. But adjacent property owners fought back, arguing that the property now belonged to them — after the railroad's demise.
Court officials said otherwise. And, in 2016, new work began to complete the 12.5-mile-long Mendota Trail.
The line links Bristol, Virginia, to Mendota, a riverside community at the foot of Clinch Mountain.
The first mile of the Mendota Trail was completed in 2017, linking Mendota Road to a trestle crossing the North Fork of the Holston River. This summer, that trestle is under construction and is slated to be open by year's end, said Jim Lapis, 75, president of the Mendota Trail Conservancy.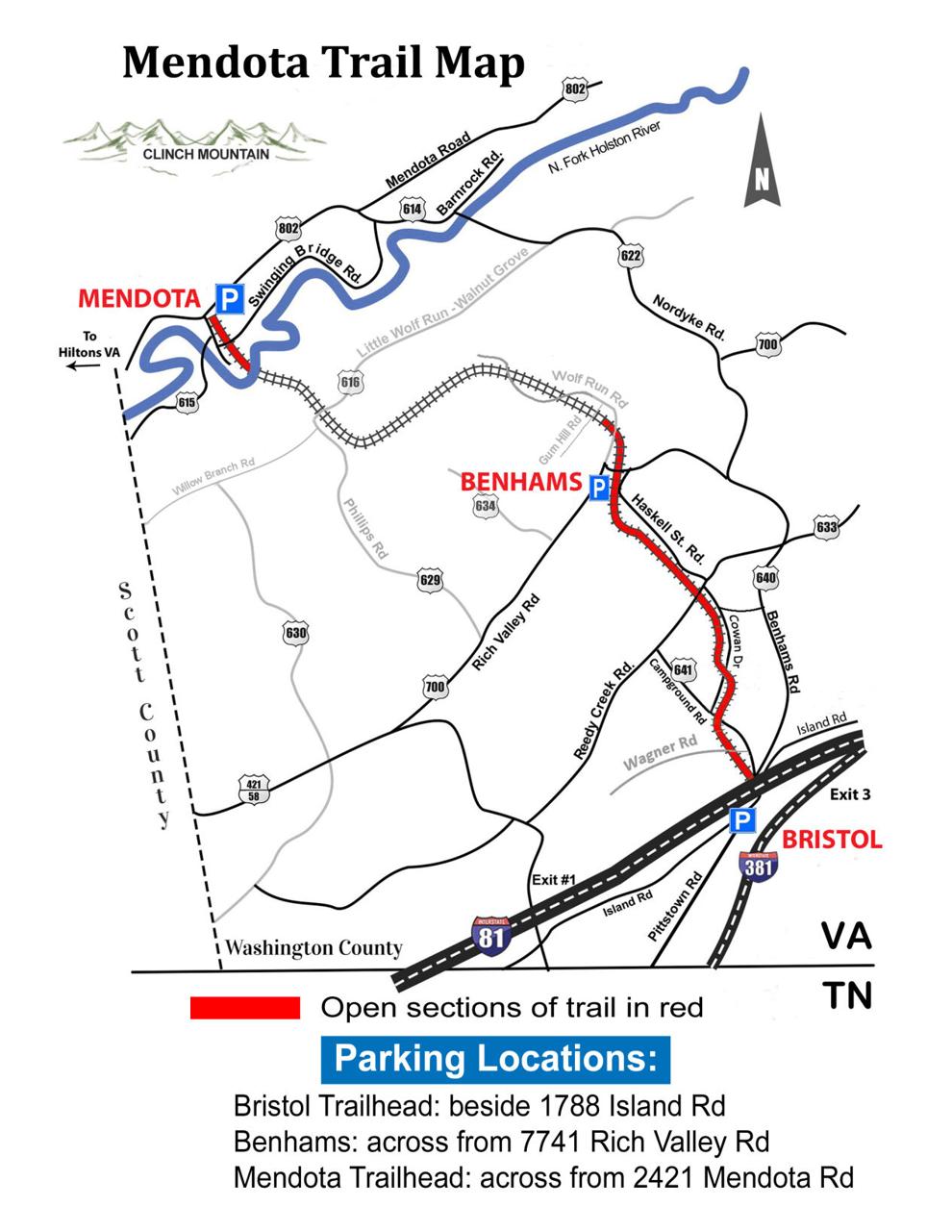 Back in Benhams, what's officially opening Friday is a trestle standing 17 feet above Benhams Road. This span stretches 122 feet long.
According to Lapis, the trestle was substantially remodeled with steel beams to make a bigger passageway for cars several years ago.
"We don't know the exact history. The steel is at least 40 years old," Lapis said.
Benhams Crossing is the most visible trestle on the trail, since it can be seen from the road, Lapis said.
At least part of the trestle is more than 100 years old, he estimated.
It was restored with a $100,000 gift to the trail by Rick and Doreen Heppert, Lapis said.
This trestle, also, ranks as Trestle No. 4 out of 19 crossings on the 12.5-mile-long trail.
Completing this section will now give the trail just a bit more than seven completed miles, Lapis said.
The Friday ribbon-cutting ceremony starts at 11 a.m. at the trail's crossing on Benhams Road. The event includes a ceremony featuring political dignitaries announcing additional funding for the trail, Lapis said.
Mendota Trail Conservancy Treasurer Bob Mueller, 71, anticipates a mix of state and local money coming to help complete more of the trail.
"We have state, local and private dollars, and that has been a working formula for our success," Mueller said.
Beyond the trestle, this event also marks opening an additional section of trail that spans nearly a mile, Lapis said.
"The trestle has been completed, but the trail beyond that still needs some further work," Mueller said.
The new section will go through the "Summit Cut," which Mueller describes as a "tunnel with the roof cut out."
In this section, sheer rock walls stand on both sides of the trail; this was constructed for railroad cars to pass.
Such cuts are not unusual on Virginia's rail trails. More can be seen on the Salt Trail between Glade Spring and Saltville. The Virginia Creeper Trail, also, has similar sections along its 34 miles between Abingdon and Whitetop Station.
Still, Lapis touts the beauty of this section of the Mendota Trail.
"It's very shady with an archway of trees," he said. "It stays cave-like temperatures. It's cooler."
Getting this section dug out required much work, Lapis added.
"It was so full of junk that it took many days of digging and dozing," Lapis said. "It took a solid month to get it mossy instead of junky."
Trash pulled out of this section included dozens of tires, an automobile axle, household plastic debris, glass, cans, bottles and milk jugs, Lapis said.
"People thought it was going to be filled in, since the railroad was gone," Lapis said. "And nobody had any use for that. It was a low point that was left for 50 years unattended."
Now, Lapis said, "It's pretty. It's likely to be one of your favorite walking areas. It is mine."