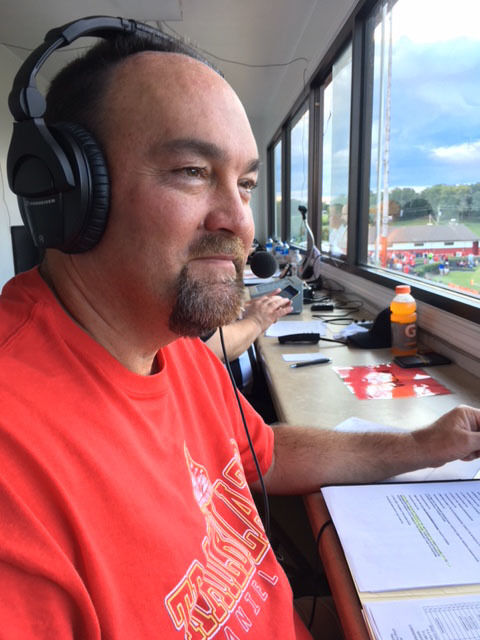 Former Bristol Herald Courier columnist and TV personality Tim Cable has died of COVID-19 complications at age 60.
Cable, who grew up in Carter County, Tennessee, was best known in the Tri-Cities for his award-winning "Cable Country" segments on WJHL-TV for 20 years.
For those feature profiles, Cable traveled as far as Hawaii and across Virginia to the Chesapeake Bay Bridge-Tunnel. He traveled the path of The Crooked Road: Virginia's Heritage Music Trail and the Blue Ridge Parkway and extensively reported on Dollywood in Pigeon Forge, Tennessee.
Mostly, though, he profiled hometown heroes and colorful characters, like collectors, farmers, musicians, chefs and dancers.
WJHL-TV News anchor Josh Smith worked with Cable for 15 years.
"Tim saw the good in life. And he was determined to use the time he had on the air to shine the light on great people and great places to make people smile and to bring a little joy," Smith said.
Cable's most memorable segments included stories on "The Hogman" of Watts Barr Lake in Tennessee; Big Tom Buchanan of "Survivor" fame; and moonshiner Popcorn Sutton of Maggie Valley, North Carolina.
"He felt this deep mission of reminding people that there was good in the world," Smith said. "If he thought you were genuine, then he wanted other people to know about you."
Cable joined the morning show on WJCW-AM at Gray, Tennessee, in August 2014. Earlier that year, he served a five-month stint as a reporter for WCYB-TV in Bristol, Virginia.
Cable spent more than 25 years on WJHL — from 1987 to 2013.
While there, he also wrote a column for the Bristol Herald Courier for about four years — until 2012 — in the Sunday Community section.
Born in Bluefield, West Virginia, Cable earned a degree in mass communications from East Tennessee State University in Johnson City.
He was married and the father of four children, three of whom survived his passing.
On the air, Cable fancied himself as "The Poor Man's Charles Kuralt."
"Working with Tim was great," said Craig Distl, the owner of a public relations firm that represents North Carolina destinations.
Distl applauded Cable's humor and his poignancy for telling the story of Betty Lynn, the actress who portrayed Thelma Lou on "The Andy Griffith Show."
Many "Cable Country" segments followed Cable's love of "The Andy Griffith Show."
"He was such an easygoing, nice guy, and he would always roll with the punches," Distl said. "And he had that Charles Kuralt ability to see a story to tell."
Cable would use self-deprecating humor.
"And he threw in little witty things," Distl said. "He was always using little witty terms."
For years, Cable was recognized easily across the mountains of Southwest Virginia, Northeast Tennessee and the North Carolina High Country.
While at WJHL, Cable served as reporter, weatherman, sports reporter and anchor.
In the end, he returned to his first love: radio.
"Radio is what he really liked to do — talk radio and play-by-play for sports," said Doug Counts, a digital journalist for WJHL.
"I've known Tim for over 30 years," Counts said. "He was always smiling, always laughing,"