Step into the long, linear jail cell so overcrowded there is scant room to sit or sleep, save for a few unoccupied patches of concrete floor.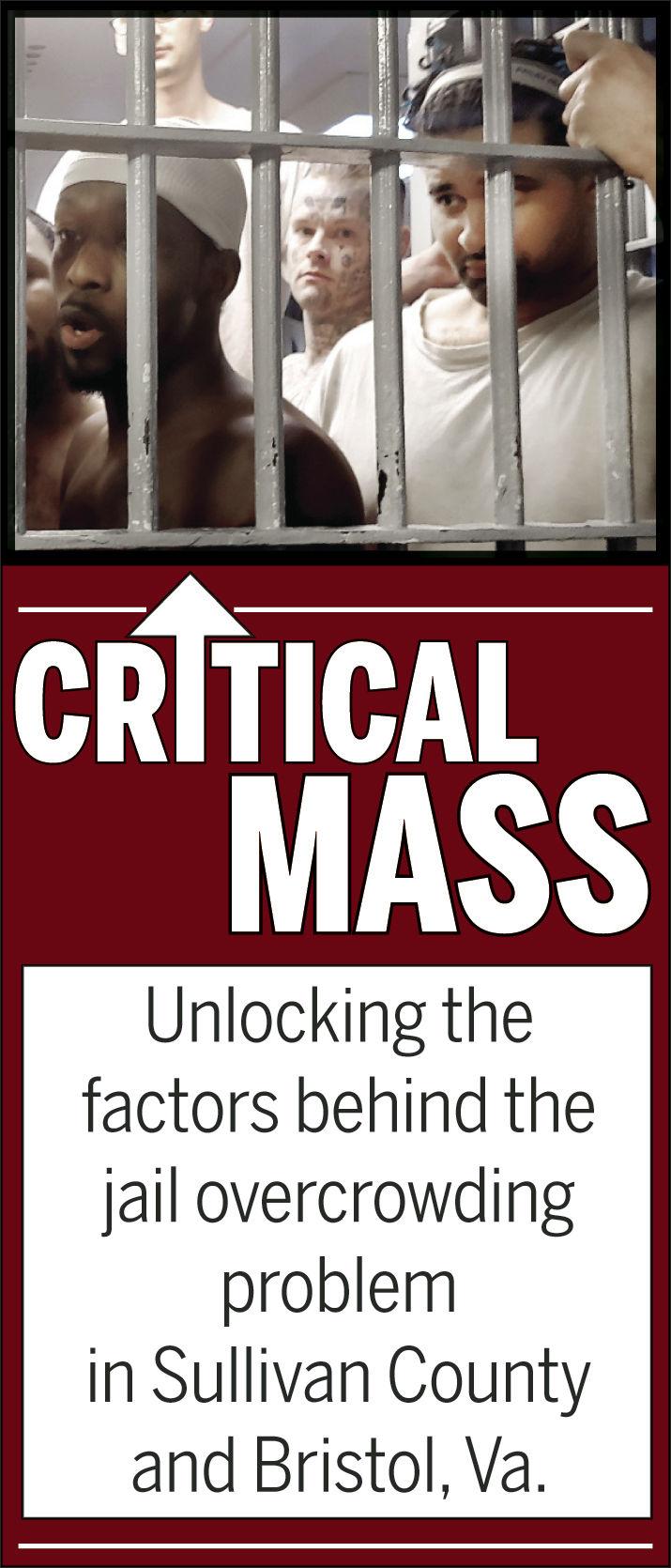 Inmates wearing faded jumpsuits with black-and-white stripes and bright orange Crocs stare back blankly as the large door of gray metal bars slams shut. Welcome to the general population at Tennessee's most overcrowded jail.
A 1980s-era, two-story lockup originally designed to house 200-plus inmates, the main Sullivan County jail typically holds more than 650. Cells designed for 16 people often contain as many as 50, who must share a single shower and two toilets. Bedding is at a premium. Many sleep on towels on the concrete floor; some snuggle up near the toilets.
Sardines may have more space.
In 2017 — with a daily average of about 730 prisoners — Sullivan County Criminal Court Judge Jim Goodwin warned a county committee the grossly overcrowded jail had achieved "critical mass" and should be addressed immediately.
At that same meeting, county District Attorney General Barry Staubus termed the overcrowding a "crisis."
In the two years since those warnings, the numbers have only increased. On Aug. 31, 2019, Sullivan's main jail held 746 prisoners, 196.8% of its rated capacity of 379 beds, Tennessee Corrections Institute records show. That 367-bed deficit made it the state's most overcrowded jail for that month for facilities with more than 350 inmates.
Just up the hill, another nearly 300 prisoners were squeezed into the "extension," a single-story cinderblock building constructed to house minimum security, non-violent day workers. Thanks to the ongoing overcrowding crisis, many current occupants have lengthy felony records. There are locked doors but no fence topped with razor wire encircling the structure, and a serene neighborhood lies just a few steps from the back door.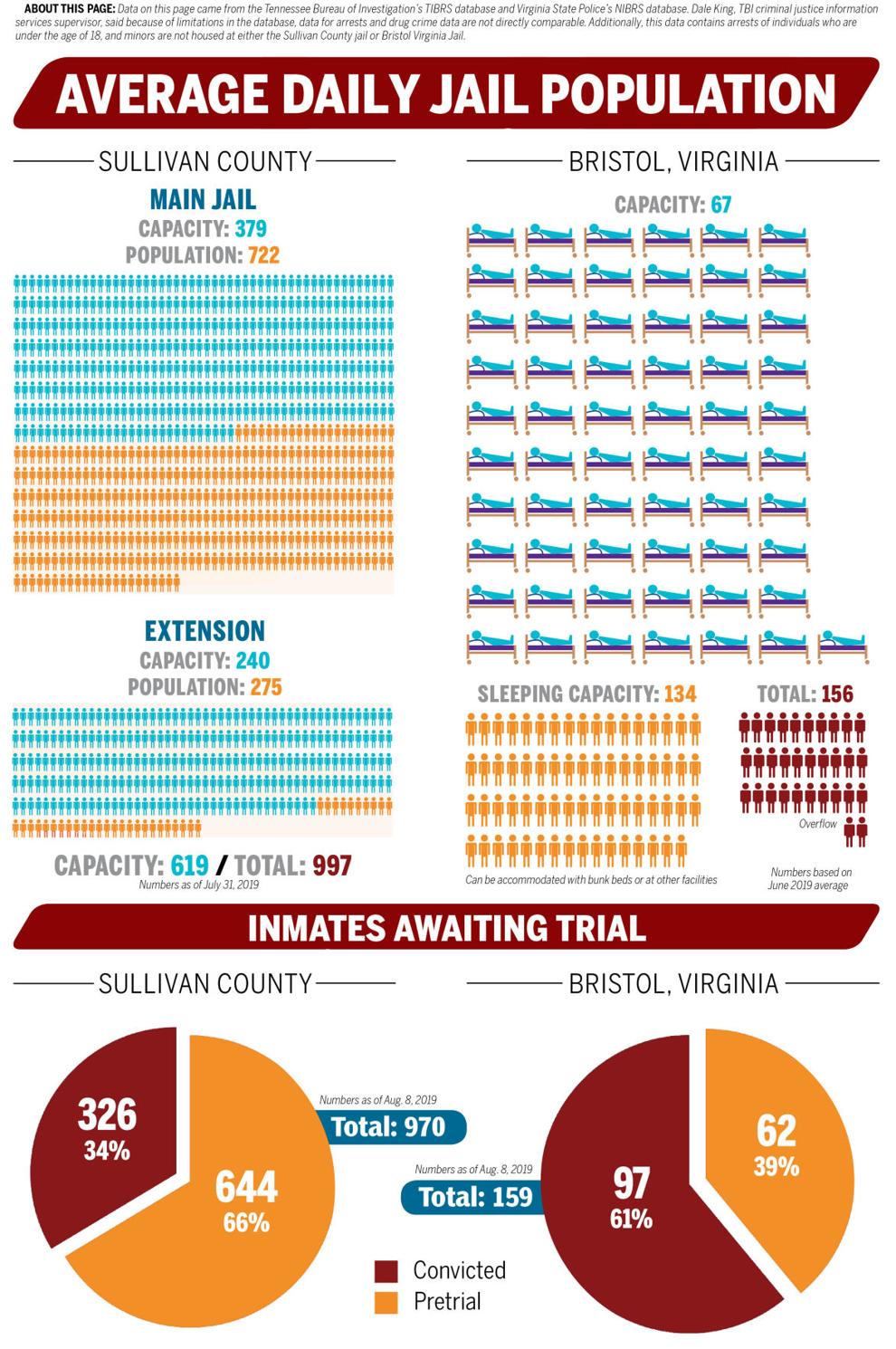 On Aug. 31, 2019, the extension held 274 prisoners, or 114% of its capacity of 240 beds. Combined, the two facilities had 1,020 prisoners in spaces certified for 619. Totals have hovered slightly around 1,000 since the April report's total of 1,024 inmates, including 722 in the main jail and 302 in the extension.
For the first eight months of 2019, Sullivan's average monthly total head count was 976.
What do you think is the answer to local jail overcrowding?
Inmates are released every day — sometimes 25 or 30 — but just as many are typically booked in around the clock like a never-ending merry-go-round.
Inmates once nicknamed Sullivan's bulging jail the "Thunder Dome," after the post-apocalyptic movie "Mad Max Beyond Thunderdome," with its cast of psychotic characters.
Hollywood comparisons aside, it is dangerous inside these walls.
Incidents of inmate-on-inmate violence are common — almost daily. Sometimes, guards are assault victims.
With such overcrowding, jailers admit it is harder than ever to separate predator from prey.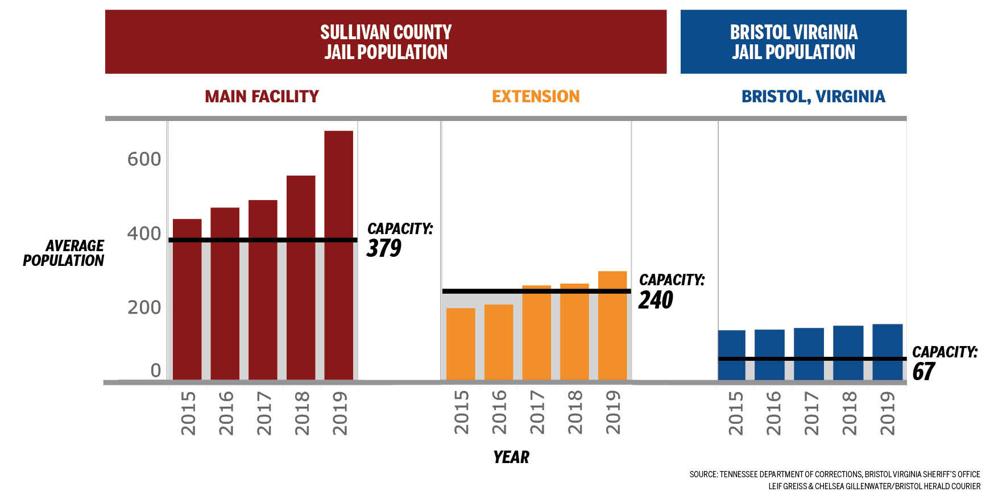 There is also a commonly held public misconception that a majority of those inmates face marijuana possession, check kiting or other minor charges, Sheriff Jeff Cassidy said. In truth, the maximum security section includes a dozen men charged with murder. More than 66% of inmates are convicted of or charged with felonies including attempted murder, aggravated assault, rape, kidnapping, aggravated burglary and a litany of other violence.
Besides being desperately overcrowded, Sullivan's jail is minimally staffed, and senior jail officials use words like "crisis" and "tragedy" in describing conditions and what could potentially occur there.
An average 12-hour shift is supposed to have 21 officers watching over roughly 1,000 inmates. Many times it's 19, and all too often it's only 17 — an average of one officer for nearly 60 prisoners. Overtime is standard procedure. Employees get called in to work constantly; staff burnout and turnover are epidemic, according to Chief Jail Administrator Lee Carswell.

Up to 10 prisoners at any given time may be segregated on suicide watch, and many others have significant medical needs. Two LPNs are assigned to each 12-hour shift.
Monday through Friday, six transportation officers shuttle prisoners to courthouses in Bristol, Kingsport and the adjacent county justice center. Many days, up to 80 must be driven the roughly hourlong round trip to Kingsport. Vans hold 16 prisoners and no more than two guards. Often, one guard makes the return trip to Blountville while the other remains in Kingsport to oversee those who will return later.

There are treks to prisons on the other side of the state, transports for mental health evaluations and trips to other states to pick up prisoners. Vehicle transmissions are rarely left in park.
Earlier this year, the sheriff begged the Sullivan County Commission to fund 32 more positions, including guards and medical personnel, to help relieve security and overtime concerns. The commission responded with funding for just 10.
Capt. Brian Dillard oversees day-to-day jail operations and calls it a miracle that one of his officers hasn't been seriously injured or worse.
The Sullivan County jail's operating budget for fiscal 2019-20 is $9 million, and the county has the capacity — if needed — to borrow the money to replace or expand the facility. Discussions are underway among elected county commissioners, but taxpayers are already on the hook for a $94 million building spree to construct new consolidated middle and high schools. Estimates show expanding could cost more than $80 million, and a new jail could cost $110 million.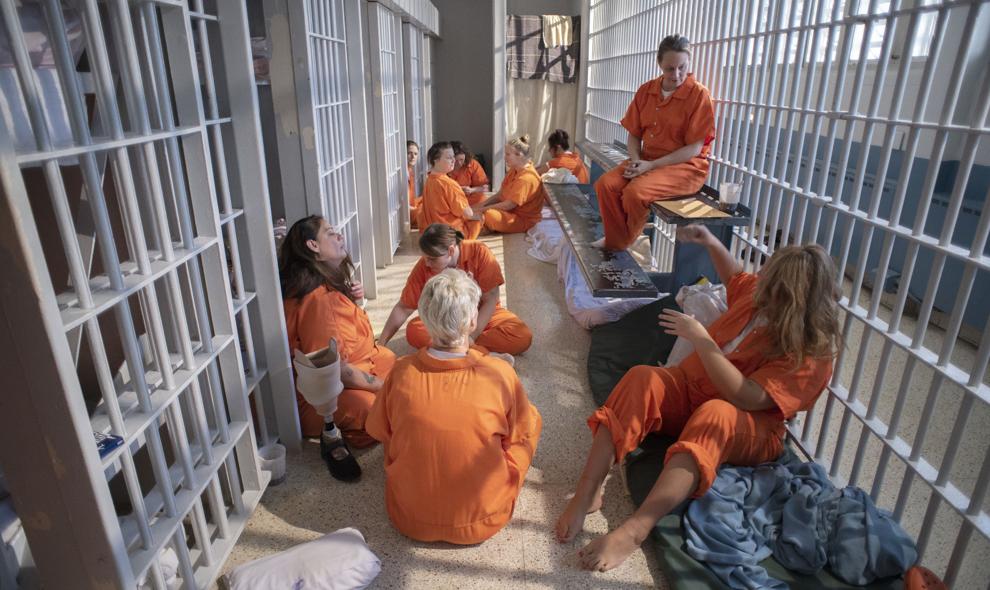 Crisis on a smaller scale
Some 10 miles away in Bristol and 500 yards across the state line in Virginia, a smaller scale crisis plays out in the city-run Bristol Virginia jail.
Constructed in 1969-70 with a capacity of 67 inmates, its daily census has continually exceeded 150 for many years. Fitted with bunk beds, this two-story, 21,000-square-foot jail has a sleeping capacity of 134, meaning the remainder must sleep on the floor.
Bristol's culture appears a bit calmer than Sullivan; there are fewer violent offenders, but it is still jail, and forcing 160 people to share a small space is far from ideal.
The plumbing is old — sometimes showers are scalding hot, other times cold. Water pipes leak; so do the toilets. Sixteen people are typically housed in pods designed for fewer than half that.
And the tiny, overcrowded jail can't begin to hold all the city's prisoners.
That means cash-strapped Bristol pays tens of thousands of dollars each month to keep more than 60 of its prisoners elsewhere — typically in Abingdon's Southwest Virginia Regional Jail. During the past 12 months, taxpayers forked over an additional $600,000 to house, feed and care for the overflow.
Twice in the last decade, city leaders have studied closing the jail, transferring all prisoners to the regional jail and saving operational and some staffing costs. Both times, the average daily rate of housing 200 prisoners at Abingdon exceeded those costs. In November 2014, City Council rejected a regional jail agreement that would have cost the city an additional $1.2 million annually.
Because it is connected to the city courthouse, there are also considerations of getting prisoners from Abingdon or another regional jail facility to and from appearances in the city courthouse.
While Sullivan leaders ponder expanding the current jail or constructing a new one, that isn't in the cards for Bristol. A new jail could cost $40 million, but the city reached it fiscal borrowing limit years ago and is paying down the $50 million it borrowed since 2012 for The Falls, a still half-empty shopping center near Interstate 81's Exit 5.
With prisoner numbers rising despite a series of attempted fixes, the regional jail option again looms large on the city's horizon.
Today and over the coming days, the Bristol Herald Courier undertakes an in-depth examination of the problems facing these two facilities, those who manage them and those who are housed there.
We will look at the impact drugs, pretrial inmates and other factors have on soaring prisoner populations, track the increases and search for some potential solutions. Along the way, the newspaper will introduce readers to some who have come through the system — both male and female — including those who've turned their lives around.