GRUNDY, Va. — Bridging the $2.6 billion funding gap required to complete Virginia's portion of the Coalfields Expressway might seem an impossible task, but don't try telling that to lawmakers around these parts.
First proposed nearly 30 years ago, the expressway — designated U.S. Route 121 — would feature a 50-mile four-lane route linking Pound to Grundy then extend east to the West Virginia line. A corresponding 65 miles planned across southern West Virginia would link this region to Interstates 64 and 77 at Beckley.
In Virginia, some phases of the Corridor Q/U.S. Route 460 project between the Kentucky border and Grundy coincide with about six miles of the proposed route. That work is slated for completion in 2026 and would leave about 44 expressway miles unfunded at an average cost of $59 million per mile, based on updated 2021 estimates from the Virginia Department of Transportation.
A generation of Virginia lawmakers has worked to secure funding for the road, and it still enjoys widespread local support as a means to provide interstate commerce and help rejuvenate the beleaguered coalfields region, according to state Del. Will Morefield, R-N. Tazewell, who regularly negotiates the curvy, mountainous two-lanes it is intended to replace.
"This project has been ongoing since I was in elementary school," Morefield said. "We cannot afford for large sections of this project to be unfunded. The coalfields continue to lose population and the tax revenue we require to maintain basic core services of government."
Morefield said the region's problems ultimately affect the entire state, so lawmakers elsewhere should also care about the project.
"Southwest Virginia's economic decline will increase the burden on the entire commonwealth, and it will continue to rise until we can appropriate the necessary funding to complete these types of large scale projects in some of our most distressed areas," Morefield said.
He praised the progress West Virginia officials have made on their end, where 22 miles are complete, and Gov. Jim Justice this year pledged to "some way, somehow, do everything we can to complete the Coalfields Expressway."
"By providing safe and rapid access to communities along the corridor, it will greatly improve interstate commerce between disadvantaged portions of Virginia, West Virginia and Kentucky. As an area ravaged by economic depression with the exit of much of the coal industry, Southwest Virginia stands to benefit greatly from increased connectivity with our surrounding states," Morefield said.
To that end, Morefield is proposing a collaborative effort between the three states to lobby federal lawmakers for some relief.
"If the expressway project was only completed in Virginia, the economic impact would be minimal until the entire project is constructed. I am confident that if Virginia, West Virginia and Kentucky formed a tristate coalition to promote the completion of the expressway that our chances of securing the necessary funding for the project would be very strong," Morefield said. "Three states lobbying Congress would have a stronger chance of success.
"This past April, I called a meeting with [state] Sen. Travis Hackworth, [R-Richlands] state and federal elected officials from Virginia and West Virginia, and various transportation officials to meet in Charleston, West Virginia. The meeting was a success with West Virginia Secretary of Transportation Byrd White agreeing to join a tristate coalition."
Morefield is now trying to secure similar commitments from Virginia and Kentucky's transportation leadership. Even if that doesn't transpire, Morefield said he is exploring another funding option.
"Over the last few weeks, I believe that I have discovered a solution to secure funding for the entire project by further utilizing public-private coal synergy partnerships paired with a federal program. I will be working with our legislative counsel over the next few weeks to determine if my proposal is viable before making any official announcement," Morefield said. "I cannot stress to our federal and state officials to please make funding for this entire project a priority. The men and women of the coalfields mined the coal that built America, and it is my hope that Democrats and Republicans will unite to help ensure that our region will have a future that we can all be proud of."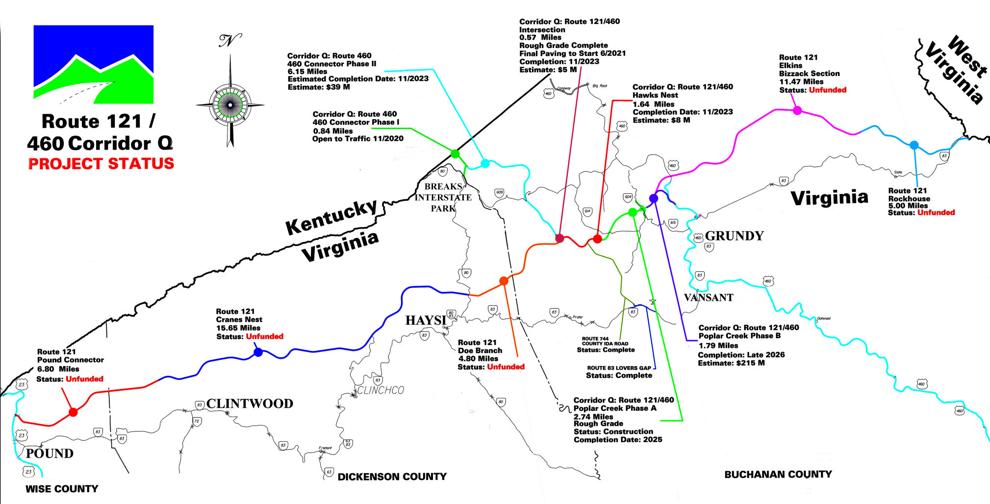 The only federal funding ever dedicated to constructing one inch of the Coalfields Expressway was for those segments coinciding with U.S. Highway 460 — improvements between the Kentucky line near the Breaks Interstate Park and Grundy.
For comparison, the West Virginia Department of Transportation has received more than $140 million in federal funds for its portions of the Coalfields Expressway, according to the agency's website.
Sen. Mark Warner was Virginia's governor from 2002-2006, when the expressway project first appeared in highway funding discussions. He recently termed it one of the state's "top projects" but said it suffers due to high cost and the low traffic volume.
It might, however, find some favor within the bipartisan infrastructure framework proposed by the Biden administration and presently making its way through Congress. As currently structured, the deal includes $110 billion for "roads, bridges and major projects" across the U.S.
"If we do this $580 billion bipartisan infrastructure plan, we will have more money for highway development than we've ever had in my lifetime," Warner recently told the Bristol Herald Courier. "It still will be competitive. But things like a Coalfields Expressway or a bypass around Martinsville are two things that will never be fully competitive on the normal funding path because you always put it [money] where more traffic is. That's one more reason these kinds of so-called projects, it's not just traffic needs to be included in the infrastructure plan."
If ultimately approved, the federal infrastructure program would require states to submit projects for consideration, which means the expressway would first compete for in-state favor against highway projects in more populous areas like Northern Virginia, Richmond and the Tidewater region.
U.S. Rep. Morgan Griffith, R-Salem, declined to speculate on how the Coalfields Expressway might fare in securing those federal funds, but said he is working on some traditional funding to aid with the next phase — connecting Grundy to West Virginia.
"I have requested more than $7 million in federal funding for an engineering component of the Coalfields Expressway — nearly $2 million through the House transportation appropriations legislation and more than $5 million through the House Surface Transportation Reauthorization," Griffith said. "My requests have been included in the legislation passed out of both respective committees. It is my hope these provisions will ultimately become law."
He called the expressway "one of my top transportation priorities," but said transportation funding can be complex, given the state process that includes the Smart Scale grading program, which ranks projects based on a series of priorities — including traffic volume, safety and economic development — and most approvals include full funding.
"The timing of the Coalfields Expressway's completion is contingent upon many factors. The commonwealth of Virginia's prioritization of the project is a significant factor," Griffith said.
Back in April, Griffith told the committee of the value of approving the requested funding.
"The project will define survey alignment data as well as evaluate needed environmental work. This information will then be used to develop a more comprehensive construction planning level estimate for these two segments. The work is needed to better plan and budget for the construction of these two segments, which are critical to the overall U.S. Route 121 project," Griffith told the House committee at that time.
He called it an "appropriate use" of tax dollars because the project would greatly improve access in the Appalachian Mountains.
"By providing safe and rapid access to communities along the corridor, it will greatly improve interstate commerce between disadvantaged portions of Virginia, West Virginia and Kentucky. As an area ravaged by economic depression with the exit of much of the coal industry, Southwest Virginia stands to benefit greatly from increased connectivity with our surrounding states," Griffith told the committee.
The Virginia Coalfields Expressway Authority initially requested the funding Griffith referenced and is working to secure other monies, according to Jonathan Belcher, executive director of the Virginia Coalfields Economic Development Authority and the Expressway Authority.
Belcher is optimistic that elected officials in Virginia and Washington will recognize the progress occurring in West Virginia and Kentucky and respond to provide additional money to Southwest Virginia.
"It's a large project. It's not an inexpensive project in the magnitude of hundreds of millions of dollars. That's not an easy task the way transportation funding is done these days, but it's headed in the right direction," Belcher said. "We're working with our state legislators to try to introduce special legislation in the 2022 regular session to try to get some funding for construction."
Belcher is optimistic the federal infrastructure package could play a role.
"We're hopeful the project could be identified to receive hopefully much larger amounts of funding that could go towards construction," he said.
As highly touted as the Coalfields Expressway was 20 years ago, the road is even more important now, Belcher said, terming it a potential "game changer."
"Back when it was first proposed, the coal industry was still doing relatively well. As we all know, things have become more challenging since the industry went into substantial decline around 2012," Belcher said. "The need to bring in diversified industry and for people to travel into and out of certain, more remote parts of the area, it's even more important. Broadband is a great equalizer, but people still need to physically travel into and out of the region."
Belcher, who oversees regional economic development efforts, said a lack of limited access four-lane highways can kill an area's chances of landing many types of businesses.
"The construction of the Coalfields Expressway would make those communities more competitive with all the other communities across the state and nation competing for those types of projects," Belcher said. "Why would a manufacturing company consider a community that is two hours away from an interstate or an airport when thousands of others are adjacent or within a half-hour [drive]? Site location consultants, most of their criteria you have to be within 60 miles of an airport and interstate to even be considered for a project so that automatically rules out a fairly good part of our region."
Keeping pace with Kentucky
Just north of Virginia, the state of Kentucky is working to complete a "better than interstate quality four-lane highway," Belcher said, between Pikeville and the Virginia line. At the border, motorists will enter or exit Virginia on newly constructed twin bridges near the Breaks Interstate Park, but the Virginia route is presently a narrow, two-lane that is scheduled to be replaced by the new 460 Connector in the coming years.
The four-lane Belcher referenced is a new U.S. 460 — Kentucky's segment of Corridor Q, a $576 million project that began in 2002, according to the Kentucky Department of Highways website. Eight miles opened in 2014 and another section from Kentucky Route 80 at Beaver to the Virginia state line opened in November. The middle section, from Marrowbone to Beaver, is underway and expected to be completed in 2023.
U.S 460 is part of the Appalachian Development Highway System, the primary initiative of the Appalachian Regional Commission when the agency was created in 1965 to "open a historically isolated region to development and commercial markets," according to the ARC website.
Construction work created five excess excavation areas — totaling more than 600 acres — which will be deeded to Pike County and can be used for manufacturing, housing, technology, wholesale and retail development, according to the website.
There are presently about 25 miles of four-lane roads in Buchanan County — U.S. Route 460 between Grundy and the Tazewell County line, no four-lane roads in Dickenson County and the nearest four-lane in Wise County is U.S. 23 west of Pound.
"Virginia needs to look at what our adjacent states like Kentucky and West Virginia are doing and try to do something similar for the region. I don't think our region wants to get left behind and see eastern Kentucky and southern West Virginia become better positioned economically than our region because they decided to make infrastructure improvements and we didn't," Belcher said.
Located just 35 miles north of Grundy, Pikeville is an example of the types of development that can occur in Appalachia.
The city of 6,500 is still recovering from declines in the coal industry, but features commercial sprawl along four-lane U.S. Highway 23, which has served the region for decades. Pikeville University and Pikeville Medical Center campuses dominate its compact downtown and the skyline includes brand name hotels, banks and retailers typically found in larger, more densely populated cities. There are also industries and tourism opportunities.
"I think, as Virginia sees West Virginia make substantial progress on their part of the Coalfields Expressway — and Kentucky has made substantial investments in their highway infrastructure in eastern Kentucky — that there will be pressure on Virginia and the federal government to do transportation improvements including the Coalfields Expressway in Southwest Virginia," Belcher said. "My message to Richmond and others is if they really want to help solve the problems in Southwest Virginia, the Coalfields Expressway has to be at the top of the list."