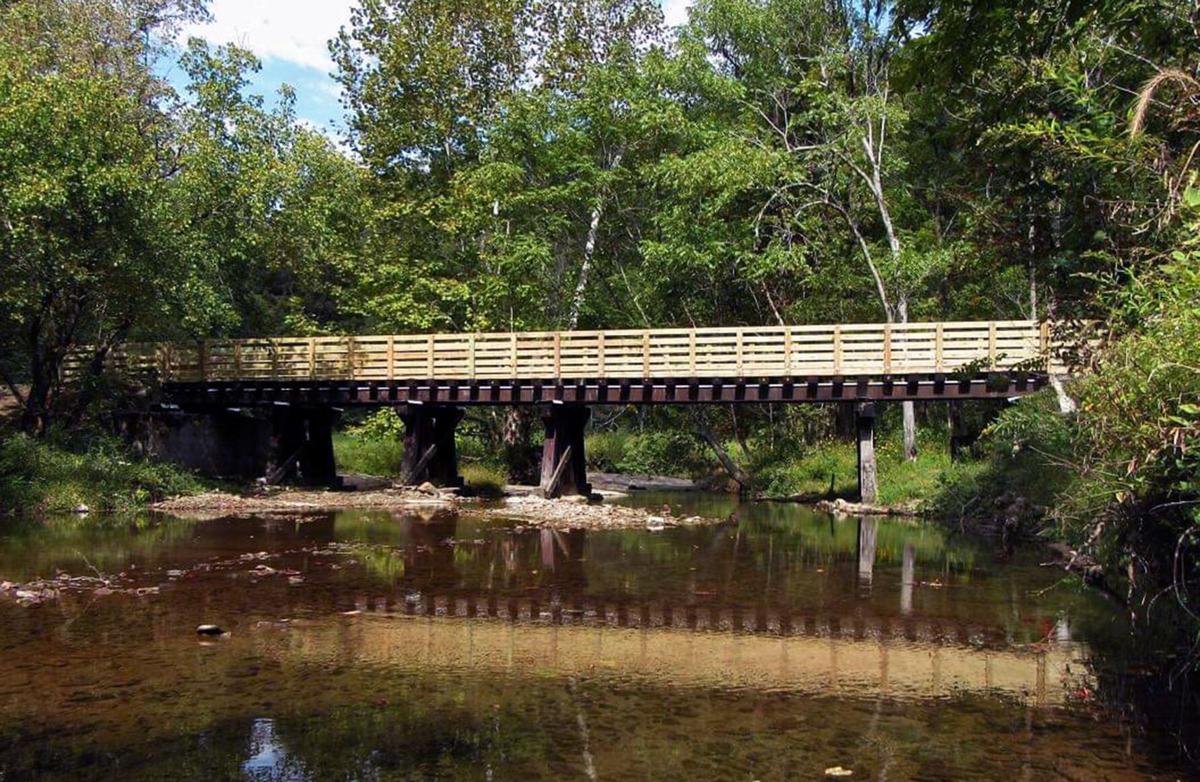 For five summers, Eva Beaule guided kayaks below an old railroad trestle on the North Fork of the Holston River at Mendota, Virginia.
"In my childhood in Mendota, we fished off the trestle. We watched trains on that trestle," said Beaule, 65.
Until a couple of years ago, Beaule operated a kayaking company called Adventure Mendota.
"And kayaking underneath that trestle, I always had a bit of sadness because I wondered what the future would be for that trestle," she said. "It's a landmark."
On Sunday, that landmark is slated to officially open as part of the Mendota Trail.
The North Fork of the Holston River trestle has been nicknamed "Sunnyside" in honor of The Carter Family's "Keep on the Sunny Side" song.
"It was also a metaphor because my community of Mendota would have a sunnier, brighter future because of that trail," Beaule said.
This longtime volunteer for the Mendota Trail Conservancy lives at Mendota — once a railroad stop when trains passed along the path that is now the Mendota Trail.
The 300-foot-long Sunnyside Trestle opens Sunday as part of a new mile added to the trail, linking the community of Mendota to Phillips.
This new mile also contains two more trestles crossing Abrams Creek in the remote woods of western Washington County.
The Abrams Creek Crossing trestle spans 68 feet, said conservancy President Jim Lapis.
"It's my favorite," Beaule said. "The water is so clear and so shallow, you can see minnows. You can sit and count them actually."
The first mile of the Mendota Trail opened in 2017, linking Mendota Road to the Sunnyside Trestle.
But that trestle — on the river — stayed closed until now.
"It was unsafe," said Beaule. "It was in terrible disrepair."
The span was rebuilt — for trail traffic — over this summer and is the longest crossing on the trail.
"Sunnyside is breathtaking," Beaule said.
The Mendota Trail is being built on an old line used by train traffic between Bristol and Big Moccasin Gap. The trains stopped running in 1972.
For years, the city tried and failed to establish the trail, amid lawsuits and opposition from landowners, before donating its land holdings in 2016 to Mountain Heritage — predecessor to the conservancy.
Six miles of the trail are open between Bristol and Benhams.
Ultimately, Lapis said, the trail is slated to span 12.5 miles and will eventually connect the two-mile section at Mendota to the Bristol-oriented section.