After a week-and-a-half of twists and turns, 15-month-old Evelyn Boswell remains missing, her mother, grandmother and grandmother's boyfriend are all in jail, and the community continues to hope for the best.
The disappearance of Evelyn, a Blountville, Tennessee, toddler at the center of an Amber Alert, is complicated, according to the Tennessee Bureau of Investigation and Sullivan County Sheriff's Office.
Sheriff Jeff Cassidy has told the public he believes Evelyn is still alive, and investigators continue to search for her as if she is alive.
SCSO Capt. Andy Seabolt said the case has been difficult for a number of reasons.
"The first reason it has been difficult is due to the time that passed between when Evelyn was last seen and when she was reported missing," Seabolt said.
Evelyn was last seen on Dec. 10 or 11, according to a babysitter, Cassidy said.
"The second reason is the fact that Megan Boswell has changed her story each time that she has spoken regarding the case," Seabolt said.
Megan Boswell was arrested late Feb. 25 on a charge of false reporting after authorities said she provided conflicting statements that "delayed" an "impeded" the investigation.
On Feb. 18, SCSO Detective Tracy Haraz said she received a Tennessee Department of Children's Services referral stating that Evelyn had not been seen since before Christmas, an affidavit filed in Bristol General Sessions Court states. Haraz and a DCS case worker went to a home on Sandy Point Drive to speak with Megan Boswell.
The mother told them that Evelyn was with the child's father, Ethan Perry. She said she was supposed to meet him on Feb. 19 at 4 p.m. at a parking lot in Colonial Heights to exchange custody.
But Haraz said she discovered that Perry, 20, is actively enlisted in the Army, stationed at Fort Polk, Louisiana, and did not have Evelyn.
"I'm currently working with authorities trying to find Evelyn," Perry wrote on his Facebook profile on Feb. 19. "I can't say much more than that at the moment."
An Army public information officer told the Bristol Herald Courier that Perry has been enlisted for almost three years.
"[Perry] will be provided support by his command team and the Army as he confronts this unfortunate situation," the Army spokesperson said.
A DCS spokeswoman confirmed Friday that it has opened an investigation involving the child, but provided no additional details due to state confidentiality laws.
"A third reason that the investigation has been difficult is due to the social media presence that it has had," Seabolt said.
A number of rumors and theories have spread on Facebook, Twitter, Instagram and other social media pages during the investigation.
"Many people have shared posts that were untrue, made their own assumptions, et cetera," Seabolt said. "All of these actions on Facebook create problems not just in this investigation, but any investigation."
Initially, the public became aware of Evelyn on Feb. 19, when the SCSO announced it was looking for information to help it find the girl. Later in the day, the TBI issued a statewide Amber Alert because investigators said they gained information that made them believe Evelyn was in imminent danger.
The following day, the SCSO said it was looking for the occupants of a 2007 BMW. Seabolt said investigators wanted to speak with the individuals because they might have information about Evelyn.
On Feb. 21, a Wilkes County Sheriff's Office detective found the BMW in the Shepherds Crossroads community. The occupants, William McCloud, 33, and Evelyn's grandmother, Angela Boswell, 42, were arrested and charged with a fugitive warrant for theft charges in Tennessee. They have since been extradited to the Sullivan County jail.
Then, on Feb. 26, the WCSO and Sherrills Ford – Terrell Fire & Rescue Department conducted a search related to the Amber Alert at a pond along North Lomax Road—not far from the home of Mary McCloud, McCloud's grandmother. Nothing was found, according to WSCO Capt. Logan Kerr.
Mary McCloud told the Bristol Herald Courier that her grandson stopped by her home the week before to borrow money. She said he had been in the county, along with Angela Boswell, to visit an aunt. She said she did not see Evelyn during the visit.
The TBI has received more than 770 tips since the Amber Alert was issued, but there had been no confirmed sightings by late Saturday.
During an Amber Alert, TBI intelligence analysts work around the clock handling calls coming into 1-800-TBI-FIND. They also manage tips submitted through email, according to spokeswoman Leslie Earhart.
"Tips are then entered into a lead management program and assigned to an agent or detective for follow-up," Earhart said.
About 30 TBI employees have been involved in the case, she said, which includes local agents and analysts, as well as those working at the Fusion Center at TBI Headquarters in Nashville.
"Currently, we are taking it one day at a time," Earhart said. "As long as leads are coming in, we will continue to follow them."
One tip took investigators to the rural Mendota community of Washington County, Virginia. Megan Boswell told local media that her mother had taken Evelyn to a campground there. Seabolt confirmed that investigators received a tip about Mendota.
Officers with the Washington County Sheriff's Office and U.S. Marshals canvassed several campgrounds in Mendota, but didn't find anything, Seabolt said.
Another tip was shared with the Police Department in Yadkinville, North Carolina.
"Those tips have led us to review surveillance video at a variety of businesses, check a number of specific locations, and follow-up with dozens of individuals who thought they spotted Evelyn," the TBI said in a statement Friday. "When we receive a tip that involves another state, we ask authorities in the appropriate jurisdiction for assistance in following up on the information."
Yadkinville Police Chief Dawn Pardue said Thursday that her office was following up on a tip that said Evelyn was seen with her grandmother at a restaurant.
No Amber Alerts have been issued by other states in relation to Evelyn's disappearance and the TBI said it had no information to believe one is needed, Earhart said.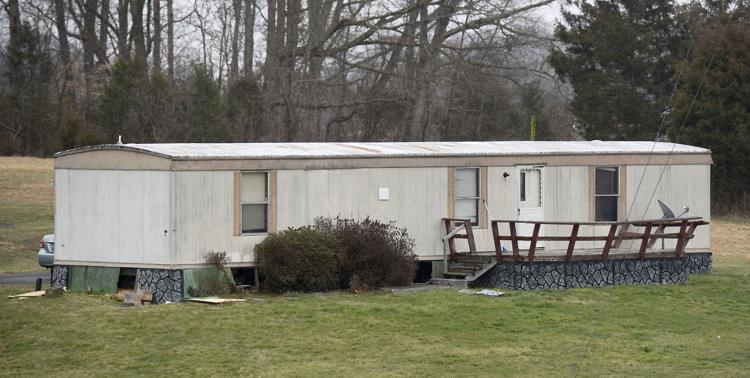 Locally, authorities have written search warrants in the case, but none had been filed in Sullivan County courts by Friday. One on Friday morning occurred at a mobile home on Sugar Hollow Road. The TBI confirmed it executed several search warrants during the investigation.
Megan Boswell sat slouched in a dimly lit isolation cell of the Sullivan County Jail on Friday morning. Law enforcement put her there "for her own protection," according to Chief Jail Administrator Lee Carswell.
The 18-year-old is being held on $25,000 bail. She faces two to four years in jail on a Class D felony, according to Sullivan County District Attorney General Barry Staubus.
Her mother, Angela Boswell, was released from jail Friday after making $8,000 bail, which included $1,000 on a violation of probation, $5,000 on a theft charge and $2,000 on a bond revocation warrant. William McCloud is being held on $10,000 bail.
McCloud called a Knoxville TV station while in jail and said he had only seen Evelyn "twice in my life."
"I just want to help find where the kid is and make sure she's OK," he told WVLT News.
Seabolt said the three individuals can have no contact in jail.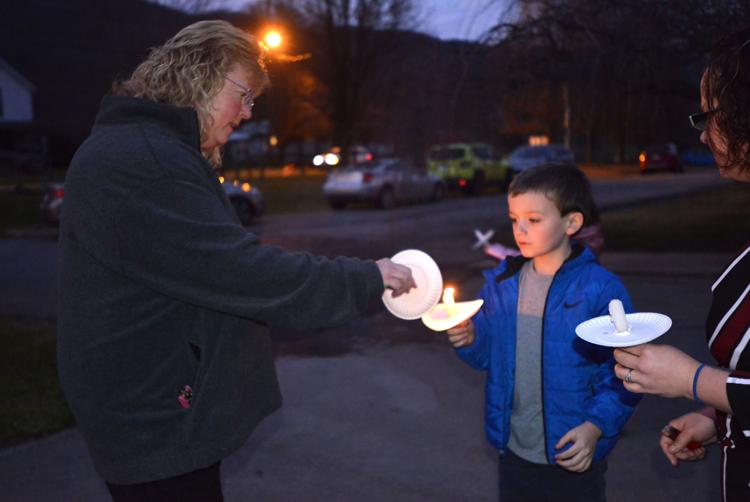 On Feb. 21, Sullivan County Sheriff Jeff Cassidy held a news conference about Evelyn's disappearance. He urged the public for assistance and said he was offering $1,000 of his own money for information leading to Evelyn's return.
Following his urgent message, several organizations, businesses and individuals began offering their own money for the reward. The reward has reached more than $60,000, which includes $10,000 each from Evelyn's grandfather, Tommy Boswell Sr., who made the initial call to DCS, and Tommy Boswell Jr.
Several prayer vigils have also been held in the Tri-Cities, including one Feb. 22 at Cumberland Square Park in Bristol, Virginia. About 40 people attended the event, which was organized by a local mothers group. Another vigil was held in Mendota, Virginia.
The SCSO notes that local Facebook groups began organizing search parties in relation to the case.
"At this time, we are not asking for volunteers to help organize search parties," Seabolt said. "In the event that we reach a point that we need volunteers for search parties, we will make that known."
The SCSO said area residents should also be aware of possible scams, such as unauthorized GoFundMe accounts.
Cassidy has thanked the public for its thoughts and prayers during the investigation.
A case such as Evelyn's disappearance can be stressful and difficult for investigators, many of whom have children.
Seabolt said no counselors have been brought in so far. A chaplain is available every day in the corrections division and the SCSO also has volunteer chaplains that are available when needed.
"This is a difficult situation and everyone has been working hard to locate this child," Seabolt said.
Seabolt, Cassidy and Earhart have said consistently that their goal and focus is to find Evelyn.
Anyone with information is asked to call 1-800-TBI-FIND.
"We are getting a lot of calls regarding rumors and speculation posted on social media," Earhart noted, adding that people should call TBI with relevant information regarding her whereabouts.
Get local news delivered to your inbox!
Subscribe to our Daily Headlines newsletter.