BRISTOL, Tenn. — As an infectious disease specialist, Dr. Kate Molony has experienced the challenges of treating critically ill patients with COVID-19 as that playbook is being developed.
Molony, 34, works at Bristol Regional Medical Center and — since March — has helped treat patients with a range of symptoms from the novel coronavirus. One of three tertiary care hospitals in the Ballad Health system, BRMC has a dedicated COVID treatment unit. Since March, it has treated about 130 COVID-positive inpatients.
Patients are isolated in separate rooms, unable to have supportive visits from family and friends except via video, while facing a phalanx of doctors, nurses and technicians wrapped head to toe in personal protective equipment designed to avoid contracting and spreading the contagion.
Six months in, there are some answers and many questions.
"I think this virus, on a day-to-day basis, makes me reflect on illnesses throughout human history and how different it is before you know what it is," Molony said during an interview with the Bristol Herald Courier.
"I've definitely gained a healthy respect for all those who've come before me. Not just physicians, but every human that's gone through something where the answers are just unknown and the length of time it's going to persist is unknown," she said. "I came into HIV when it was well researched and you had a lot of good therapies for it. I have a greater respect for the people who worked on the front lines, the family members, the patients themselves that had it but didn't know what it was and nobody knew how to attempt to approach it."
Molony cited the 1980s U.S. outbreak of HIV, human immunodeficiency virus, for comparison. HIV is a virus that makes a person more vulnerable to other infections and diseases and, if untreated, can lead to AIDS, or acquired immunodeficiency syndrome. More than 1.1 million people have HIV and more than 700,000 have died in the U.S., according to the Centers for Disease Control.
"In my lifetime, I've not seen pandemics. Physicians I've worked (with) and in my training many people have seen HIV in the 1980s," she said. "Now we have the benefit of knowing what it is, how to care for it, how to treat it. Until you know that, it is very scary. I have a much different take, looking back through history about things we now know well and what their disease process is and how to treat it. But until you know that, until you have the treatment in place, it is a very precarious situation."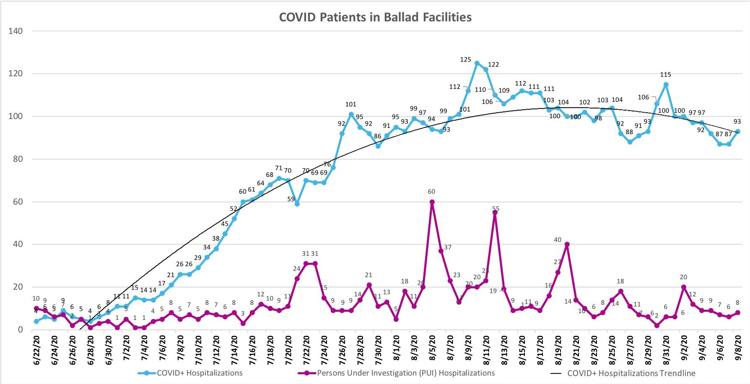 COVID-19 can affect all ages and all types of people, including the otherwise healthy, but it seems to exact its greatest toll on the elderly and those with other health issues, including obesity, diabetes and hypertension.
Its clinical manifestations range from a common cold to more severe diseases such as bronchitis, pneumonia, severe acute respiratory distress syndrome, multi-organ failure, and even death, according to the National Institutes of Health. Some patients are asymptomatic while others may require weeks of hospitalization.
To date, Ballad has treated about 2,500 inpatients ranging from 14 who were younger than 1-year-old to more than 800 over age 60. More than 700 were between ages 21 and 40 while another roughly 700 ranged between ages 41 and 60.
"There are varying degrees of severity. Some of the patients admitted to the hospital are admitted due to concerns they may get sicker due to other concerns like they're already on oxygen at home and may need some additional oxygen or you have the other end of the scope where patients have acute respiratory illness and they're requiring ventilator support for their lungs to get through the infection," Molony said. "I've been consulted to see anybody within that spectrum. I'm not consulted on every patient we have here in the hospital but if they're a more severe case or they have other infections. … I'm involved in care with higher acuity patients on the COVID unit and patients with other reasons for hospitalization."
Systemwide, Ballad's number of COVID-positive inpatients remained below 50 from March through mid-July, but that number shot up to more than 100 for the first time July 26. To date, the peak was 125 in early August and that number has generally remained around or slightly below 100 since mid-August. During the past week, less than 20% were treated in intensive care units, but the majority of them were on ventilators.
"The patients on the ventilators are quite sick. Their bodies cannot continue to breathe on its own without the assistance of the ventilator," Molony said. "Their liver may not function as well; their kidneys may be functioning less robustly or they have other organs showing signs of insufficiency or even shutting down.
"In general, most of the patients on ventilators do tend to be older. That just speaks that their lungs are not as young and robust as someone in their 20s, 30s or 40s. That being said, we have had some young people in their 30s or 40s who required a ventilator who were otherwise healthy," she said. "We've seen young people who may have some underlying autoimmune disorders that may also require a ventilator but — for the most part — it does tend to be patients who are older with more extensive comorbidities (who) have had more severe cases."
Often, Molony said, severely ill patients may need blood or platelet transfusions — the virus affects more than just the lungs.
"We see people here for a few weeks. They may have cleared the virus, but their body needs more therapy, some more assistance after the acute illness. Some people may come in and be on high-flow oxygen for a few days — that may be the highest level they need — and they may be able to be discharged after four to five days," Molony said.
Predicting how each patient will fare with the virus also presents a challenge for physicians deciding when or whether to admit them and the best treatment options.
"Some people may have underlying disorders. Perhaps the admitting doc in the ER said they may be stable but given their background — given their medical history — they could be the ones we see have an acute change in status and then need the services of the hospital. If those patients get admitted, then they may remain stable. It's a difficult decision on the admitting end to try to predict who will need. … There are really no good scorecards or algorithms at this time that can help predict."
Ballad now employs rapid testing technology to help health care workers and patients quickly learn if they have COVID-19 but, early on, traditional test results required days or sometimes more than a week to get results. That proved challenging, Molony said.
"Apart from patient care, it also made logistics challenging because your dilemma was where to place the patient in the hospital," Molony said. "We didn't have a full COVID unit then. If the status was unknown, where to place the patient, what type of room, what type of nursing services. That's something the Ballad system as a whole worked on extensively. At Bristol and several other hospitals, we now have a dedicated COVID unit which came into fruition within a month of the first few cases being seen here.
"Between having a dedicated place to house patients within the hospital and getting the rapid testing has helped immensely from the admitting end in the ER all the way through hospitalization because there is the end of admission where the patient has clinically improved and may need to go on to a facility before they go home," she said.
A prominent addition to Ballad's treatment arsenal is convalescent plasma donated by recovered COVID-19 sufferers that contains antibodies that aid patients in fighting the disease. Ballad joined a Mayo Clinic study in the spring and, as of this week, has given more than 360 units of the locally donated plasma to its seriously and moderately ill patients, according to Dr. Clay Runnels, Ballad's chief physician executive. More than 470 units have been donated.
"We continue to ask that all of our recovered patients in the region step forward and consider donating plasma," Runnels said last week during Ballad's weekly media briefing. "This includes people who have been asymptomatic with a COVID-19 infection can still donate. One donation can make an enormous difference for a local patient and give them the strength and the ability to fight off the disease,"
Molony has treated a number of patients who experienced positive results from the plasma.
"One of the first few people treated with plasma said first receiving it they broke out into a sweat during the infusion but told me within a few hours after receiving the infusion they felt their body had turned 180 degrees. They had been having fever and aching up until that time and felt there was finally some relief for their symptoms," she said. "I have seen several who had been running a fever and, the day after they receive the plasma, their temperatures drop."
As someone who specializes in treating patients with acute, atypical or stubborn infections, Molony was already well versed in the precautions and equipment now commonplace among those treating COVID patients. But she is ever-mindful of the potential consequences of not following the rules.
"I have an awareness the people who come see me — whether they're outpatients or they've had a lot of chronic symptoms — this is another type of infectious disease I have to have a healthy respect for. I need to obey the precautions we have in place," she said. "It's something I deal with, having the mindset that I'm walking into a room where there may be something infectious. As long as I'm careful about what precautions we have — all the parts and pieces. You make sure you do the right things as you come in and go out."
While she may visit patients in the COVID unit, she said the onus is on the nursing staff.
"Nurses are going in and out of the rooms multiple times a day, all day every day. Nurses absolutely are bearing the burden of the stresses that come with caring for those patients," she said.
And it is taxing for all.
"You have to don and doff the PPE — more than gowns and gloves we wear for other isolations — it involves the helmet, the N95 [mask] in some rooms. When you come out, you have to make sure you do everything correctly. No one has cut corners. We're very good to wipe down everything. I see a lot of very good compliance with all the staff and keeping the equipment clean for each other."
To accommodate all the circumstances, Molony has modified her schedule.
"What I've done — unless there is an urgent need for me — the days I go to the COVID unit I tend to go at the end of the day," she said. "Where I'm already seeing other patients who already have infections in the hospital, for their benefit, I try to group the COVID unit at the end of my day so I won't be going to other patient rooms."
With all of the PPE changes, especially if it's busy, extra time is required, she said.
"I had seven patients up there one evening and it does wear on you. You become very aware of your physical comfort or discomfort," she said. "It's very hot in the gowns and having to work around steamed up goggles and face shields."
Get local news delivered to your inbox!
Subscribe to our Daily Headlines newsletter.