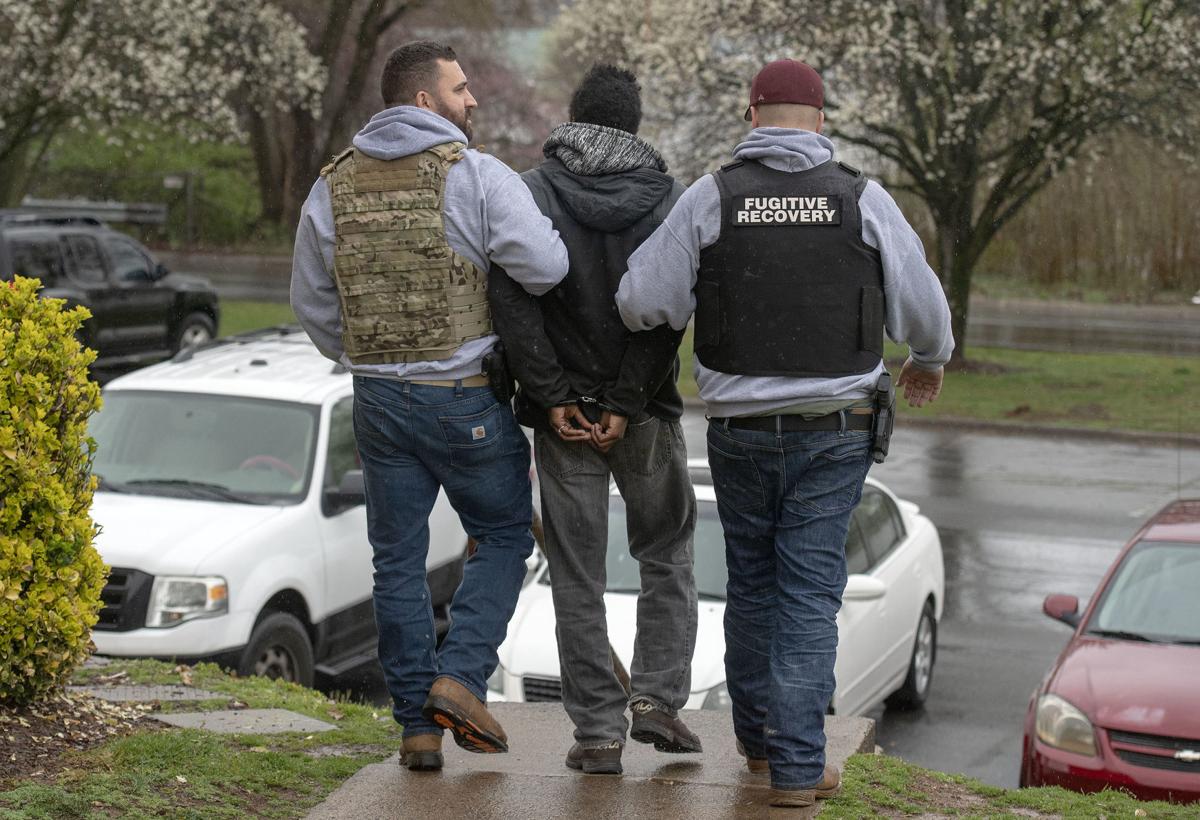 It was just before noon on a gray, sodden Tuesday in March, and the little cul-de-sac in Church Hill would have been quiet if not for one house.
"Open up! Bail bondsmen!" shouted Jon Reed, pounding the front door of a brick-and-wood two-story. From the fenced-in backyard, two fat guard dogs bellowed incessantly at Reed and the three other men positioned around the perimeter.
Reed waited a little before the next round of shouting and door-thumping.
"Let's go, open the door, or we'll kick it in! Quit being a baby!" he yelled.
"You hit it like a little girl," said Allyn Hood, Reed's towering boss, from behind him. Hood walked to the door and hammered it so hard it shook.
"Last chance," he hollered.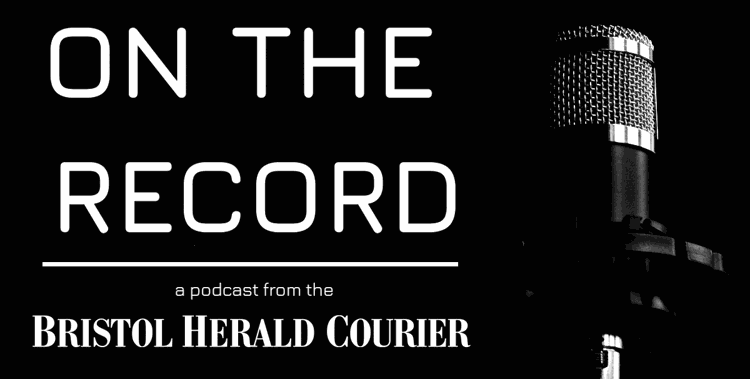 More waiting. As the dogs continued their baying, Hood unlatched the chain from the storm door, propped it open with a lawn chair and nodded to Reed.
The man nudged the welcome mat aside with his boot. He backed up from the main door and steadied himself like a soccer player taking a penalty kick. Then he charged, striking just below the doorknob with his right foot.
Anyone watching the group might have mistaken them for law enforcement. While Hood and one of the other men, Jeremy Judd, wore plain clothes, Reed and the fourth, Derek Bishop, carried guns in their belts and wore bulletproof vests with "FUGITIVE RECOVERY AGENT" stamped across the back. But "fugitive recovery agent" isn't a synonym for "police officer" or "sheriff": It means "bounty hunter."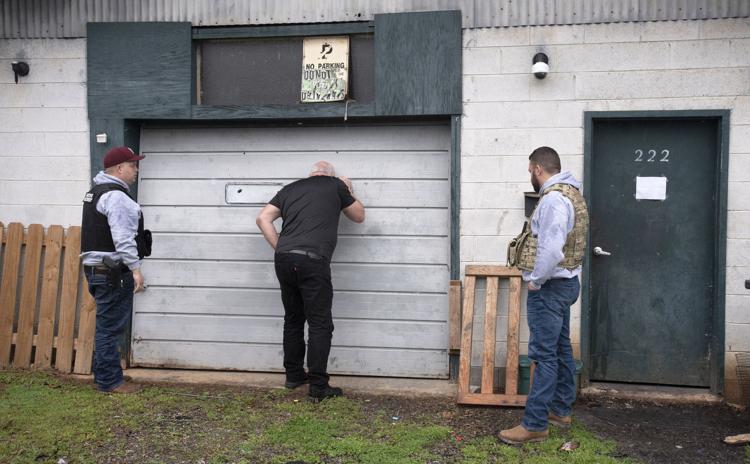 Hood is the owner of A-Hood Bonding, a Kingsport-based company that bails more than 2,000 defendants out of the region's packed jails each year. When those defendants miss their court hearings, which happens frequently, the bail bondsman and his employees — including Reed, Judd and Bishop — hunt them down and turn them in.
Sometimes, Hood said, bounty hunting takes him across the country. But he said it often means simply hopping in his car and cruising some of the poorer neighborhoods in Northeast Tennessee and Southwest Virginia. That's where many of his company's clients live, including the target occupant of the Church Hill house. It's also where Hood is from: He grew up in the low-income sections of Kingsport he and his employees now trawl for bail jumpers, defendants on bail who skip or miss their court hearings.
Knowing those communities well, how their residents live, think and struggle, seems to be at least one of the reasons Hood has forged one of the region's biggest bonding companies. The sheer abundance of potential clients seems to be another. There's always a stream of newcomers. But Hood said quite a few of his clients are repeat customers.
"The majority of them are the ones [for whom] it's just a continuous cycle," Hood said. "In and out of jail is a way of life for them."
Each time they return, he adds their new charges to their folders, which he takes with him when he's "out hunting," as he calls it.
The subject's file was in the pile on Hood's dashboard that Tuesday morning; the 60-year-old had a $750 bond for several driving violations. The men brought him out in handcuffs, protesting that he hadn't heard them. His door had flown open to Reed's kick. According to a police officer one of the bondsmen knew, this wasn't the first time it had been forced open.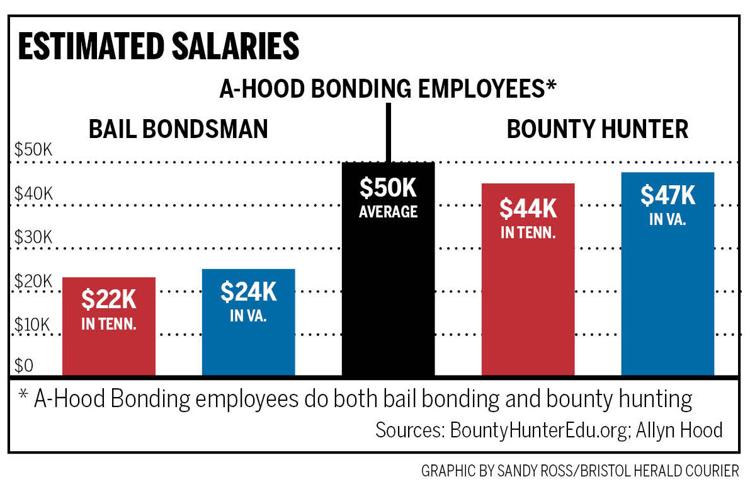 Bail bond and bounty hunting 101
Bounty hunting might sound like a throwback from a bygone era, the stuff of vintage Hollywood westerns and crime thrillers. It isn't. While those who do it today tend to refer to themselves as "bail enforcement agents" or "fugitive recovery agents," the practice of tracking down and arresting bail jumpers is legal (with varying restrictions) in all but four U.S. states.
Research on the industry is scant, and statistics are practically nonexistent. The commercial bail industry that bounty hunters depend on for work isn't much better. In a 2012 report, though, a criminal justice reform group called the Justice Policy Institute estimated that there were roughly 15,000 bail bond agents across the country. The same report estimated that their industry annually netted $2 billion in profits.
That doesn't translate to big bucks for the average bail bondsman or bounty hunter. ("Bondsman" is used for both genders. And yes, there are women in the industry. BountyHunterEdu.org, a resource site for the industry, estimates that the average bail bondsman annual salary is $22,000 in Tennessee and $24,000 in Virginia. For bounty hunters, the estimate is $44,000 in Tennessee and $47,000 in Virginia. Hood said his four employees each make an average of $50,000 a year.
Jeff Winkler, a journalist who worked for a while as a bounty hunter and wrote extensively about it for GQ magazine, put it this way: "The best in the business are able to make a decent living, although breaking six figures is unlikely. Most others make far less but set their own hours, and, in the vast majority of cases, haven't yet quit their day jobs."
To understand how bounty hunting works, you have to start with how bail bonds work.
"Say that you went to a bar or something and had too much to drink, and you got stopped for DUI and they took you to jail," said Hood, explaining the process at his office in early March.
If you wind up in Sullivan County's jail and have a clean record, you might be selected for the county's new pretrial release program; those folks are sent home with an ankle monitor, or just an agreement to check in with their pretrial officer. If your magistrate or judge thinks you're a flight risk or pose significant danger to the community, you could wind up awaiting trial in jail without bail.
But if you fall somewhere in the middle, your court will likely set some type of bail for you. (Setting bail for a defendant means temporarily releasing them with some sort of formal assurance that they'll show up later for their hearing.) Of the several kinds of bail the court can use, the most common is cash: an amount you must pay the court to get out of jail before your hearing. People who can't pay often wind up turning to the most abundant option in Sullivan County: commercial bail bond companies.
"The [jails] have got the list of all the bondsmen around, and you can call whoever," Hood said.
In Tennessee, the established fee for bail bond companies is 10 percent of the total. So if your bond for that DUI charge is $1,500, you'd owe the bonding company $150, plus a flat $25 processing fee and a flat $12 state tax. Your total get-out-of-jail bill would be $187. Virginia rates are a little more variable: Bail bondsmen must charge between a 10%-15% fee. That would mean somewhere between $150 to $225 for your $1,500 bond, along with any "reasonable" administrative fees your bondsman tacks on.
As long as you show up to court when required, whoever posted your bail bond — whether it was you or a family member or a bail bond company — recovers the full amount from the court. In that case, Hood said, "you usually never hear from your bondsman again."
Bounty hunters enter the picture when a defendant misses their court date and the bail bond company can't immediately find them. In Tennessee, bondsmen have at least six months to locate and return bail jumpers to court before they wind up having to pay the full bond amount. Some hire independent bounty hunters to go after their clients. Others, such as Hood, do the hunting themselves. Hood said it's simply less risky.
"In Tennessee, to be a legal bounty hunter, you've got to go to an eight-hour class once a year. There's no test or nothin'," Hood said. "You just pay your $225 and sit there for eight hours and get your certificate. So there's a lot of people that says they're bounty hunters, they've got that piece of paper, but it takes a lot more than that. You've gotta have good people skills."
The bar isn't much higher for bail bondsmen in Tennessee. Anyone who wants to become one simply has to find a bail bond company willing to hire them, have that company file a petition with a local court to license them and pass a criminal background check (no convicted felons allowed). Hood said that after two years of working with an existing company, Tennessee bail bondsmen are free to start their own bail bond companies.
The only other requirement is eight hours of training each year from the Tennessee Association of Professional Bail Agents. That, and having an insurance company's support or your own property — either cash or real estate — to back the bonds. Hood said he prefers the latter. By using his own real estate as collateral, he doesn't have to give a portion of his profits to the insurance companies many other bondsmen use.
"You've got more liability," he said of his method. "But it makes you want to try harder."
Hood stressed that the real challenge for bail bondsmen isn't becoming one: It's staying one.
"A bondsman, to do good, you've gotta have good clerical skills, good organizational skills. You've gotta be an actor."
By "actor," he meant one who persuades. Someone good at getting people to open up, to reveal whatever they're hiding, to come out from wherever they're hiding. Good at knowing when to be polite and when to intimidate, good at oiling the truth with the occasional lie. "Good at gettin' information on people," as Hood summed it up.
It was clear that he was describing himself.
The first thing you notice about Allyn Hood is his size. To say that he's a big man would be inadequate. To say that he's 6 feet, 4 inches tall, weighs 300 pounds and carries his abundance of muscle and paunch on size 14 feet would be technically true.
Scale works best, though: Put Hood in a doorway and look how close his balding head comes to the top. Watch him squeeze into his teal Honda CR-V and notice how tiny the car suddenly looks. Hood's hands are the biggest shock: In addition to being plain huge, they are as meaty and hard and square as boxing gloves.
"I'm actually the biggest baby ever born in Kingsport," said Hood, who is 64 and speaks in a quiet, sandpapery monotone. "I weighed 13 pounds, 14 ounces. I was a surprise to everybody."
Hood's mother had him between marriages; he never met his father. He said his size was a mystery until six years ago, when DNA testing helped him find out his father's identity. (Spoiler: Same physique.) Hood spent his childhood in various working-class sections of Kingsport, moving around a lot "the way poor families did back then," he said.
He took up wrestling in high school before dropping out to join the Army at 17. After three years of service, he came home and got his bachelor's degree in criminal justice from East Tennessee State University. He worked construction a while, then earned a master's degree in teaching and taught at several area high schools. On the side, for a while, Hood was also a fighter in Toughman Contests — amateur boxing matches that had few rules, he said, apart from no biting and no groin kicks.
Hood's entry to the bail bonding industry happened in the early '90s, when a longtime friend got in trouble and wound up in jail with a steep bond. The friend found a bonding company that would cover half of it. By then, Hood had started buying local properties on the cheap — a habit he says has since led him to amass around 200 different land parcels in the area, which he estimates are worth between $8 million and $10 million. His friend asked if he could spare some real estate for the other half of the bond. He agreed.
"So I went up there [to the court], waiting for him to come out, and I'm just sitting there talking to the bondsman, and the bondsman says, 'Heck, with all your collateral, you ought to start your own bonding company,'" Hood recalled. "He started telling me about a bonding company, how it works and everything."
Hood liked his teaching work, but bail bonding sounded like a nice side gig. He took it up in February 1994. But that summer, Hood said, he made more money than he'd made during the whole academic year. Eventually, teaching became the side gig. Then it stopped altogether.
Hood has now been in the bail bonding industry for 26 years. He estimates that in that time, he's bonded 25,000-30,000 people of every stripe — teachers, priests, drug addicts, police officers. Once, an entire family. Various times, members of his own rough-and-tumble family.
Hood said that he's on good terms with many of his clients and works to be flexible with those who can't pay him the full bonding fee up front. As of March, he said, about a fourth of his customers were on payment plans.
"Awesome with working on payment," one client posted to one of A-Hood's Facebook pages.
"You are a very respectful man you got my son out of jail for me and I'm forever so thankful to you your such amazing friend to everyone," a woman posted to Hood's personal Facebook page recently.
Others seem to give the bondsman a wide berth. According to Jeremy Judd, one of Hood's own employees, "In the jails, he's loved or hated."
During the early March interview in his wood-paneled office, Hood said he's careful to stay inside the lines of Tennessee's bail bond laws. Beyond that, he doesn't seem bothered by what people think about him. He knows his size can be a useful intimidation tool and even seems to enjoy some of the colorful stories he said defendants sometimes tell about him.
"I had this kid one time," Hood said of a client who'd skipped court. "We picked him up at Lee Apartments. He was hiding under a bed. We took him up to jail, no problems at all. And he was talking about how nice we was. He said, 'I'm glad you wasn't that Hood guy.' I said, 'Why, what's wrong with him?' He said, 'I heard he's mean. He picked up a guy one time, he hit him in the head with a hatchet. You've gotta watch out for him.' And he was talking to me," he said, grinning a little.
Pressed for more detail about his reputation among defendants, Hood swiveled in his desk chair toward Judd, away from the window displaying a life-size cut-out of President Trump.
"What's my reputation, Jeremy?" he asked.
"Allyn Hood's reputation is: You won't get away. No matter where you go, he will find you, and it doesn't matter what dollar amount, he's still going to make a point to get you," Judd said.
Correction: The story has been updated to reflect that anyone who wants to apply for a bail bond license must have a bail bond company that's willing to hire them file a petition with their local court. 
Get local news delivered to your inbox!
Subscribe to our Daily Headlines newsletter.