HONAKER, Va. — It's twilight on a picturesque mid-October day in the twilight of Doug Hubbard's head-coaching career.
Orange ball cap atop his head, clad in gray Adidas shorts and a T-shirt with the words "Orange Crush" emblazoned across the chest, the sound of a whistle and Hubbard's deep, booming voice echo off the empty bleachers at Fuller Field as Honaker High School's football team prepares for a game that will take place two days later.
"Uh-uh, you're playing run first," he instructs a confused defender.
"Let's go, boys," Hubbard hollers when the intensity level wanes a bit.
"Pay attention," he demands when a player idly chats during a huddle.
"Who didn't block?" Hubbard asks after a running play gets hijacked by the defense.
A few feet away, Casey Dye can't help but harken back to his own playing days as another practice winds down. The 2015 Honaker graduate is in his second season as an assistant coach on Hubbard's staff and has heard those same words on plenty of occasions.
"Those times when he's fussing just remind me of my time playing and getting yelled at," Dye said. "He expects every player to do their part on the field, and if they don't, he doesn't want to hear excuses. His concern was how you were going to correct it."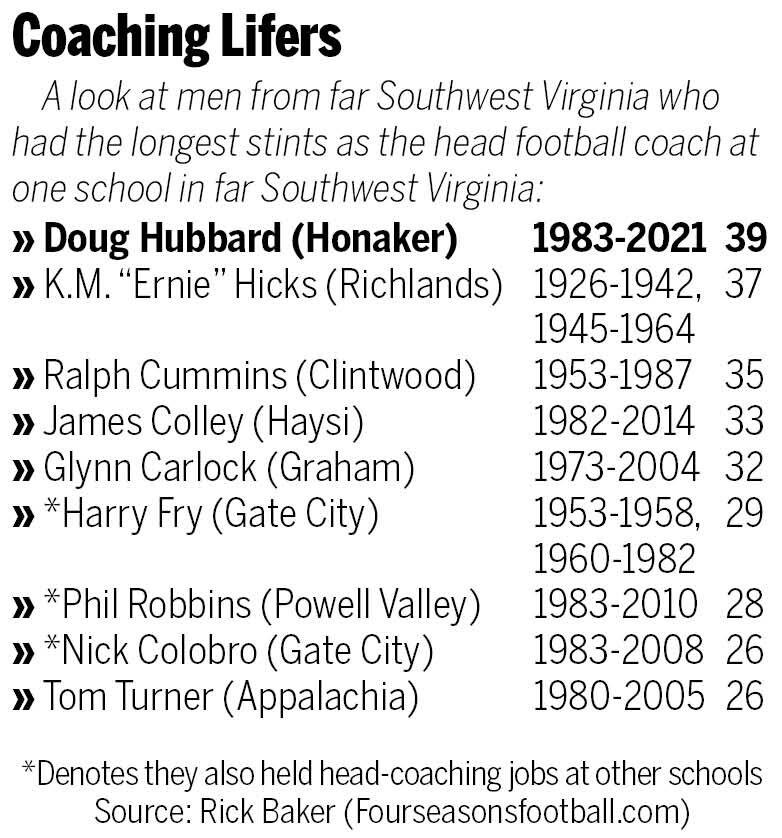 Hubbard, 61, has mentored hundreds of players on the finer points of the game in his 39 seasons as the gridiron boss at his alma mater and made up his mind before another year began in late July that this was going to be his final go-around.
The dean of head football coaches in far Southwest Virginia has guided teams during the administrations of seven U.S. presidents and has worked for six principals.
He's coached fathers and sons, siblings and cousins, bench warmers and future pros, rich kids and poor ones, strong dudes and scrawny ones.
He enjoyed two seasons in which the Tigers finished second in the state, and he's endured years in which he only won a couple of ballgames.
He's stalked the sidelines drenched in sweat in August, called plays in the freezing cold of December and coached games that were played in March due to a global pandemic.
Hubbard has become synonymous with the program he coaches, an institution so to speak, a fixture on fall Friday nights that has stood the test of time as coaches at other schools have come and gone.
His final regular season game occurred this past Wednesday, a 50-36 loss to the Twin Valley Panthers, but a spot in the playoffs is still likely.
"We've worked to make this a good season for him," said Aidan Lowe, the star player on this year's squad, which has a 5-5 record.
As he walked off the field a few weeks ago, the last rays of the setting sun reflected off the banners lining the field advertising everything from churches to pharmacies to car dealerships and one sign positioned near the end zone that simply read, "Thank You Coach Doug Hubbard Forever A Tiger." The coach glanced at the group of teenagers as they filed into the locker room after another day of the grind that is the high school football season while being asked what kept him coming back year after year.
Hubbard mentioned his passion for the game.
He cited the pride he has in the community he grew up in and the deep connection to the school he attended.
Hubbard mentioned the competitive and challenging nature of coaching at a small school — taking the kids you have at your disposal, molding them into a cohesive unit and traveling up the road to tangle with another guy doing the same thing.
There are also the youngsters — including the 24 strong who were in uniform for the most recent game — that call him coach and keep him feeling young beyond his years.
"This is a kid business," Hubbard said. "Sometimes, we get caught up in a lot of other things, but it's still a kid business."
Growing up in the Robinson Ridge section of Swords Creek, Virginia, Doug Hubbard's father, Marion Leonard Hubbard, was a coal miner and his mother, Zeola Hubbard, was the manager of a sewing factory.
As a boy, his young life revolved around the pigskin.
"My mother says when I was a little kid I always wanted to do this," Hubbard said. "Be in football some way as a coach or a player. I can never remember not wanting to be one. … It wasn't just something I fell into. This is what I wanted to be."
First came the playing part and Hubbard was a natural at that, an all-state lineman at Honaker who led the Tigers to the 1979 Region D championship and later had his No. 79 retired. Larry Smith, his head coach in high school, was influential in his eventual career path.
"Doug was so quick that he could get into the offensive backfield before the offensive lineman across from him could attempt to block him," said Berk Artrip, his high school teammate. "He would make the tackle for a loss. He would do this consistently game after game."
That was followed by two years suiting up at Lees-McRae College and two more seasons after that spent with the East Tennessee State University Buccaneers, where his teammates included future NFL running back Earl Ferrell and future NFL head coach Mike Smith.
He came back to Honaker in 1982 to serve as an assistant on head coach John Bartee's staff in what he envisioned to be a brief stopover.
"I thought when I came here, 'I'll be here three or four years, and then I'll move on,' " Hubbard said.
Fresh off playing the game himself, the young Doug Hubbard was intense.
"I remember how tough he was," said Gary Sizemore, a 1984 Honaker graduate who played on Hubbard's first team. "He brought that college experience to us, and it made us tough. He believed in mental toughness and being in shape. He was always fair."
It didn't take long for Hubbard to move up to the top job, taking over the program at the age of 22 in 1983.
"I didn't dream of becoming the head coach that fast or that quick," Hubbard said. "I was non-tenured [as a physical education teacher] and Principal H.G. Musick didn't give me much choice. I needed the job, so I took it."
The Tigers went 2-7-1 in that first season.
"You're young and think you know everything, but you really know nothing," Hubbard said.
He took his squad to the regional finals in 1988, but didn't return again until 11 years later.
At some schools, a drought like that might put a coach on the hot seat, but patience and persistence paid off.
The Tigers won a regional championship in 1999 and have been a perennial contender ever since. They finished as state runner-up in both 2000 and 2012.
"They stuck with me when I was young and when I was learning," Hubbard said. "The community has stayed with us pretty good and supported us. We got a new administration here in the mid-1990s, and they became more invested. … I made a lot of mistakes and learned from 'em. I'd like to think I've matured and gotten a lot better. I hate to think I've stayed the same for 40 years."
Four of the schools Doug Hubbard's team played in 1983 — Haysi, Rich Valley, Saltville and Big Creek (West Virginia) — no longer exist because they were eventually swallowed up by consolidation.
There are head coaches in the area such as Derrick Patterson (Virginia High), Garrett Amburgey (Abingdon), Brad Ricker (John Battle), Keith Warner (Twin Springs) and Jacob Caudill (J.I. Burton) who weren't even born when Hubbard became Honaker's head coach.
Travis Turner is in his 11th season as head coach at Union High School in Big Stone Gap and is the second longest tenured head football coach at one school in far Southwest Virginia. Only 28 more seasons leading the Bears and he'll match Hubbard.
Statewide, Floyd County's Winfred Beale (on the job since 1981) and Lee County, Virginia, native Mike Smith at Hampton on Virginia's Peninsula (he's been there since 1972) have longer tenures than Hubbard.
According to local historian Rick Baker's database at www.fourseasonsfootball.com, Hubbard's 39 seasons as head football coach at one school are the most in far Southwest Virginia. Kenneth McNabb "Ernie" Hicks of Richlands (1926-1942; 1945-1964) spent 37 seasons at the helm of the Blue Tornado.
There have been longtime coaches in other sports — for example, Tom Harding led the baseball program at Honaker from 1971-2016 and also had stints as an assistant football coach — but the gridiron game is different in that there really is no off season.
"I remember Coach Hubbard telling [former Chilhowie head coach Larry Russell] one time that they were like dinosaurs," said current Chilhowie football and baseball boss Jeff Robinson. "A dying breed of a lifer football coach soon to become extinct. The game of football has evolved over the years, but there will always be room for old-school football coaches."
Will there be another coach that matches Hubbard's longevity?
Thirty-nine years consecutively at one stop is hard to fathom in this day and age.
"I think a lot of it is everybody wants a quick fix, even coaches," Hubbard said. "Communities do too sometimes. I think us older guys when we came in we didn't have all the social media and everything, and there wasn't too much noise from the outside.
"A lot of programs don't stay focused in-house on what they should. They want that quick fix and want it now instead of taking the time and effort to develop something. A lot of times it is being impatient and coaches getting frustrated, and they go somewhere else. This is a hard way to make a living, and if you don't have tough skin, you can let too much of the other stuff bother you."
Doug Hubbard could flip on the television set often throughout the years and see some of his former players on the national stage.
Heath Miller went from Honaker (where he was the quarterback of that state runner-up squad in 2000) to the University of Virginia to the Pittsburgh Steelers, where he played from 2005-2015 and won two Super Bowl rings.
"I've always been appreciative of Coach Hubbard for being a great coach and for pushing in me and believing in me and believing that I could be the player that I was," Miller said. "He always had that confidence and trust in me."
Thad Ball was a lineman on Wofford College's 2003 squad that reached the semifinals of the NCAA Division I-AA playoffs.
These days, Jordan Stout is one of the nation's top punters and kickers for the Penn State University Nittany Lions.
"Without Coach Hubbard," Stout said. "I don't even think I would be here."
There are countless others who went on to have success in all walks of life after playing for Hubbard at Honaker.
"I did get a football scholarship at Lees-McRae thanks to him, and it paid for two years of college," Sizemore said.
The game has evolved and so have those playing it since 1983 as Hubbard has seen things change through the generations.
"When I started I had a basic set of rules, and it worked great for several years," Hubbard said. "But you come along where we're at now in society, and you still have to have your basic rules, but you have to understand also that you've got to be a tad more flexible because these kids are coming from different family lifestyles, different worlds than say 20 years ago.
"Your parents may make sure you have everything you need to be here, while another kid has parents that are strung out on drugs who don't care where they are as long as they aren't bothering them. He's a-going to have a little tougher time than this kid, and you have to understand that."
There are also the know-it-all daddies and big-mouth mommies who have made catcalls from the stands throughout the years. Coming up with a big plan to stop a star running back is not as difficult sometimes as dealing with overzealous parents, but Hubbard has approached it with a level-headedness.
"You've got to understand that if a kid's parents don't take up for them, who is going to?" Hubbard said. "Sometimes you have to remember that. I've described this several times to people. When my kids [Chandler and Kaitlen] were younger and I went home, I focused on Chandler and Kaitlen. As a parent setting in the stands you are focused on your child.
"As a football coach, if you have 28 players, you have 28 kids. You can't just focus on one. To me, they are all equally as important. You have to treat them fair and hopefully, out of that comes respect."
Hubbard sits in his office in the spacious fieldhouse that was built in 2006 and looks out the window at the artificial turf surface that was installed a year later, donated by a wealthy businessman.
"He was there when Honaker's field was nothing but a dirt pile, and he was there when it became one of the nicest fields in this part of the country," said 2013 Honaker graduate Payton Ball.
The assistant coaches — many whom played at Honaker for Hubbard — stop by to say goodbye as they head home for the evening. They share a tight bond, almost like brothers.
Game day became a family ritual for Hubbard as his brother, Hubert, kept defensive stats for more than 30 years and his sister, Charlotte Hess, ran the concession stand for more than three decades and was in charge of taking care of the meals for the team for away games.
His son, Chandler, was a star defensive back at Honaker while playing for his father and Hubbard's daughter, Kaitlen, was always in the stands.
"I remember when they were young I sat down one time and told them, 'I think I'm going to quit to spend more time with y'all,'" Hubbard said. "They weren't going to have any of that. They said, 'What are we going to do on Friday nights if you quit?' They enjoyed it so much."
Hubbard's divorced and his two kids are adults, so he's not sure what retirement will hold.
There was a rumor floating around the community that Hubbard might come back.
"No, I think my mind's pretty much made up," Hubbard said. "What will happen two years from now, I have no idea. I may get home, and I don't like the lifestyle, and I'll try something new, but as of right now I don't foresee coming back. I wanted to leave the program better than I found it, and I'd rather get out too soon than too late."
Would Honaker's other favorite son take the job?
"Nah," Heath Miller said with a laugh. "Those are big shoes to fill, and I'm not sure I'm prepared to do that."
It will be strange not to see Hubbard on the sidelines next season, barking orders, making adjustments, letting referees know if he didn't agree with a call and doing his job in what he refers to as the kid business.
The records show that Doug Hubbard has compiled a record of 237-149-1 in 39 seasons.
His impact will go well beyond just the numbers.
"People don't realize how many lives he has changed over the years," Jordan Stout said.