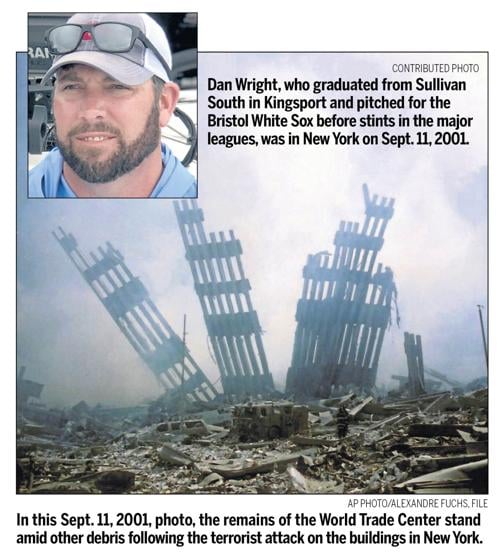 To understand Dan Wright's mood that Monday night 20 years ago, it is perhaps an adage uttered years before by legendary Major League Baseball pitcher/pitching coach/philosopher Johnny Sain that sums it up best.
"He used to say a pitcher had a kind of special feeling after he did really well in a ballgame," former New York Yankees hurler Jim Bouton wrote of Sain in his 1970 book "Ball Four." "John called it the cool of the evening, when you could sit and relax and not worry about being in there for three or four days; the job done, a good job, and now it was up to somebody else to go out there the next day and do the slogging. The cool of the evening."
Wright was indeed enjoying the proverbial cool of the evening, well, in the real cool of the evening on Sept. 10, 2001.
Poor weather drifted into Northeast Ohio as late Monday bled into the wee hours of Tuesday, with rain falling and fog rolling in from Lake Eerie, hampering the scheduled departure from Cleveland Hopkins International Airport for the chartered jet carrying the Chicago White Sox.
No delays were going to bother Dan Wright, however, as life continued to be good for Chicago's 23-year-old rookie pitcher who had graduated from Sullivan South High School in Kingsport, Tennessee, five years prior.
He had been in the big leagues for less than two months, having been promoted from the minor leagues back in July.
His MLB debut had come against the Boston Red Sox at storied Fenway Park.
In just his third game at the highest level, the right-hander had carried a no-hitter into the seventh inning in a victory against the Tampa Bay Devil Rays.
And he had just dominated the Cleveland Indians in front of 38,244 fans at Jacobs Field, yielding one run over seven efficient innings in stifling a loaded lineup that would make the MLB playoffs.
He gave up a second-inning home run to future Hall of Famer Jim Thome, but that was his only blemish on a night when he threw 99 pitches.
Now, he relaxed in the airport as his teammates — guys like Ray Durham, Jose Canseco and Paul Konerko — mulled about, waiting for the weather to clear so they could head to New York City. The following day, a three-game series with the vaunted Yankees would begin.
The team's flight was eventually cleared for takeoff shortly after midnight. The entourage of White Sox arrived at their hotel near Grand Central Station in midtown Manhattan around 2 a.m. on Sept. 11.
"The way it worked, they would bring the suitcases into the hotel in kind of an order," Wright said. "Of course, the veteran players got their bags first, and I was down at the bottom of the pecking order, so I didn't even worry about getting my suitcase that night. I just went up to my room and went to sleep."
Wright's cool of the evening vibe was followed by one of the darkest days in the history of the United States as his first glimpse of the Big Apple came on a fateful day.
"I remember feeling good on the trip to New York," Wright said. "It was a really strong Cleveland lineup I had faced, and I had some success against them. I was really feeling good about it, but at that time, of course, I didn't know what would happen in the next 24 hours."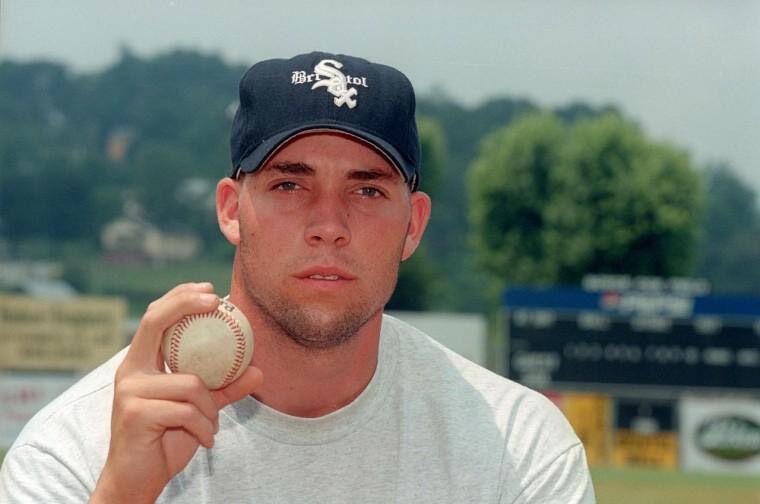 It's accurate to describe Dan Wright as a country boy.
He was born and raised in Arkansas, but moved to Northeast Tennessee prior to his junior year of high school.
Wright emerged as the big man on campus at Sullivan South, starting at quarterback for the Rebels' football team, scoring points in bunches on the basketball court and amassing impressive statistics on the pitcher's mound.
A stellar career at the University of Arkansas came next.
After being a second-round draft pick of the White Sox in 1999, his first minor league assignment came with the Appalachian League's Bristol White Sox as his professional career began not far from his old high school.
Burlington, Iowa, Winston-Salem, North Carolina, and Birmingham, Alabama, were the next map dots on his baseball journey.
"I remember Dan just being a good guy and getting along with him," said Bob Howry, a relief pitcher for the Chicago White Sox in 2001.
Wright was still adjusting to big-city life in 2001, getting acquainted with Chicago and enjoying MLB road trips to such places as Anaheim, Seattle, Detroit and Kansas City.
Sept. 11 happened to be his first day in NYC.
"I was looking forward to it," Wright said.
However, that Tuesday morning began with a frantic phone call from Matt Ginter, Wright's fellow pitcher and one of his closest friends on the team.
"At first, I thought it was a wake-up call. He said 'Hey, did you see that? They flew a plane into the World Trade Center.' It was early in the morning, and I hung up the phone and rolled back over. I was still asleep where it didn't compute that the building was in the same city I was until I laid there for a minute," Wright said. "I was wondering how far I was from it and was trying to put it all together before I got up and went to the lobby."
Pretty soon, Wright found out what had happened.
Two planes, piloted by terrorists, had flown into the World Trade Center's towers.
Thousands were dead, chaos erupted and questions outnumbered answers.
Wright and his teammates could walk to the corner of the adjacent street where they were staying. From that vantage point, they could see the smoke billowing from Ground Zero.
"It was awful," Wright said. "I just remember the feeling of panic that everybody had for the people that lived there. People were coming back up the street that had been there. Their cars were covered in ash or whatever it was."
Wright's parents — his father, Roger, and mother, Jo — were vacationing in Colorado when they saw what had transpired.
"I was going to turn on SportsCenter and see if they had any report on Dan's game against Cleveland," Jo Wright said. "Dan had given up a home run, so I figured I'll at least see him turn his back and watch the ball go out if nothing else.
"As I turned on the TV to look for ESPN, the plane had just flown into one of the towers in New York City, and they were first reporting on it. I told Roger to come look at it. …We began to watch the news coverage and then we looked at each other and said, 'Dan's supposed to be in New York.' We didn't know where they were staying, and all we had was his cell phone number. We tried calling and couldn't get through."
That produced some tense moments for those family members of the White Sox players.
"I probably hadn't even had a cell phone very long," Dan Wright said. "The cell phones were jammed up. I kept getting a busy tone."
Eventually, Wright got in touch with his aunt and later that night talked to his parents.
"We felt better once we heard his voice," Jo Wright said. "I remember him telling Roger, 'Dad, I'm scared,' and Roger said, 'I am, too.'"
In a state of shock, Wright was able to take solace in a scene he saw overhead.
"I was uneasy for quite some time," Wright said. "I really didn't know how to compare it to a normal day to New York City since I hadn't been there before, but the streets were empty that night, and nobody was really outside. … There were military planes doing laps around the city at some point, and that was comforting because I remember thinking, 'Those are our planes, I feel safer now.' "
Major League Baseball Commissioner Bud Selig postponed all the league's games indefinitely in the aftermath as Wright and his teammates quarantined in a hotel, most glued to the television.
Chicago White Sox manager Jerry Manuel had played for the Appalachian League's Bristol Tigers in 1972, while outfielder Carlos Lee had been a star slugger for the Bristol White Sox in 1995.
Mike Gellinger was Chicago's computer scouting analyst at the time and would become the manager of the Bristol White Sox a dozen years later.
Wright shared a field and clubhouse and wore the same uniform as those guys, but their bond grew tighter as they leaned on each other during a time of uncertainty.
"Initially, we just didn't know what to do," Wright said. "Typically, it's a very routine-oriented job — get up, go to the park, play a game. All that was off the table."
The group from Chicago would eventually be cleared to leave the city via a 57-seat bus around 9 a.m. on Sept. 12.
"We loaded it down," Wright said. "Some people had their families, and we got as many people as we could on the bus and went straight through. We got a police escort that led us. We got to leave before some other people."
The departure would provide one of the most vivid — and surreal — scenes for Wright as the White Sox left the chaos behind and embarked on a 12-hour, 820-mile journey to Chicago.
"I remember driving across the bridge, leaving New York," Wright said. "Not one person on the bus said one word for about an hour-and-a-half. … As you looked back toward the city, you just couldn't believe it. The skyline was changed and it was still smoking. You're just thinking about all the people who lost somebody. It's terrible."
Wright and the White Sox returned to New York a few weeks later to make up the games that had been postponed in the aftermath of the 9/11 attacks.
"We actually stayed at a different hotel that time," Wright recalled.
Wright started against the Yankees on Oct. 2 at famed Yankee Stadium. The buzz at the ballpark was a little different in what would be Wright's final start of the 2001 season.
A rookie year that began with personal glory, now ended in a city that was still recovering.
"Everybody at that time was on alert still, and there was increased security," Wright said. "It was a weird feeling going back."
Shoulder injuries led to the end of Wright's playing career as he threw his last pitch in 2006.
He appeared in 70 career big league games, going 20-26 with a 5.65 ERA over his time as a major leaguer.
Wright's a scout with the Philadelphia Phillies these days, traveling to ballparks across the country.
The 43-year-old will be with his wife and 17-year-old son Saturday at their home in Bentonville, Arkansas, before departing for a scouting mission to Minneapolis the next day.
As occurs every year during the anniversary of the tragedy, those hours in the immediate aftermath will enter his thoughts.
From the cool of the evening to scenes forever burned in his memory 20 years later.
"Absolutely," Wright said. "I try not to fly on that day. I know it doesn't matter with that, but I can't forget it."