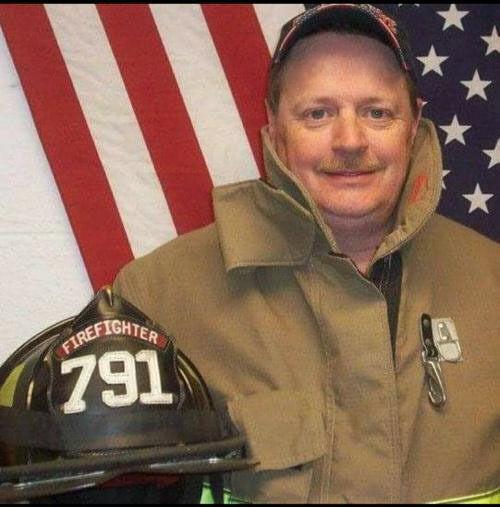 ADWOLFE, Va. — Firefighters and emergency medical service workers across Smyth County were mourning the loss of a fallen comrade Wednesday.
Adwolfe volunteer firefighter Charles "Dog" Woods died Tuesday morning while helping battle flames at a house fire. Woods, 58, is believed to have gone into cardiac arrest.
Adwolfe Volunteer Fire Department spokesman Charlie Moser said the department, along with Marion Fire & EMS, responded to a heavily engulfed structure fire on North Overlook Drive just after 2 a.m. At around 3:30 a.m., Woods was waiting in a freshly filled tanker, ready to help douse the flames with another load of water, when he is believed to have gone into cardiac arrest brought on by overexertion, Moser said.
A Marion native and Adwolfe resident, Woods began his stint as a volunteer firefighter 34 years ago when he joined the department. Later, he became an emergency medical technician (EMT) and began volunteering alongside his wife, Missy, with the Marion Life Saving Crew, where they served many years before the agency merged with the Marion Fire Department in 2015.
"If he wasn't running fire calls, he and his wife were running EMS calls," Moser said. "So, they have, for years, dedicated a lot of their time serving their community and serving folks in Marion and Smyth County."
During his time with the Life Saving Crew, Woods had an impact on more than just the individuals whose lives he saved.
"I never had to worry about if my partner had my back because I knew he did 100 percent," said April Keesling.
Keesling met the couple when she began volunteering with the Life Saving Crew.
"Me, Dog and his wife, Missy, would run EMS calls together," Keesling said. "When I got my EMT, we hit it off and they just kind of took me under their wing and made me part of the family here."
Keesling described Woods as a dedicated person who could make anyone laugh and quickly ease tense situations.
"Dog was loved by everybody," she said.
It was with Woods' encouragement that Keesling decided to step into a firefighter's suit herself.
"He told me I would love it and he wasn't wrong," she said.
Keesling later became Marion's first paid female firefighter.
Of Woods' drive to serve his community, Woods' brother-in-law and Adwolfe's fire chief, Steve Widener, said, "He's just always wanted to help people."
Keesling recalled, "He'd say, 'It's in my blood; I can't let it go.'"
Moser said serving as a first-responder must, indeed, be in the family's blood. Woods' sons, Jimmy Sheets and Zac Woods, grew up running around the Fire Department and later carried on serving their communities. Sheets now volunteers with the Atkins Volunteer Fire Department and Zac, who also volunteered in Adwolfe, recently took on a paid position with the Chilhowie Fire Department.
"It's just in their family; it's in their blood," Moser said.
Beyond battling flames, Woods served as vice president of the department's board of directors, often organized fundraisers to help support the department and was active in just about every community event held at the station.
"He was always here, he was always at the building, he was always answering calls," Moser said.
Volunteers at the department often wear many hats, Moser said.
"And he wore multiple," Widener chimed in.
On several occasions, Woods also put his skills as a contractor to use to help with the department's upkeep. He laid tile and helped other members build the department's addition years ago.
Moser said Woods was frequently recognized as one of the department's top responders.
"He's always been the first one to jump in. He was dedicated to that stuff and he enjoyed it, he loved it, and he felt like that was what he was here for," Moser said.
Last December, Woods and another member were recognized for saving the life of a woman who had a heart attack during one of the department's weekly bingo games. Widener said the woman was dead, but the pair performed CPR and used a defibrillator to revive her.
"By the time the lifesaving crew got here out of Marion, when they put her in the ambulance, she was sitting up and talking to them," Widener said.
"Three weeks later, she was back playing bingo," Widener added.
Moser said the loss of Woods will have a tremendous impact on the department.
"We've lost a dedicated volunteer," Moser said. "We've lost a member of the board of directors, we've lost a dedicated fireman and EMT that, it didn't matter day or night, time of day, time of night, he was coming to calls. We've just lost a dedicated volunteer."
The loss will also long be felt by those in other departments who often worked alongside Woods when the departments assisted one another on calls.
"It breaks my heart," Keesling said. "I'm going to miss him. I'm going to miss him bad, but as a fire department, we're going to have to make sure that we help Adwolfe and Dog's blood family get through this. That's all we can do right now."
Woods' death is believed to be the first line-of-duty firefighter death in Smyth County in memory. He will be honored with a full firefighter's funeral, Moser said. Services will be held at Bradley's Funeral Home on Saturday at 3 p.m. The family will receive friends beginning at 1 p.m.
Get local news delivered to your inbox!
Subscribe to our Daily Headlines newsletter.