New cases of COVID-19 rose 41% across Southwest Virginia during the past week after weeks of steady declines.
There were 872 new cases of COVID-19 diagnosed in the 10 counties and two cities of far Southwest Virginia during the past seven days, according to the Virginia Department of Health. That is up from 616 the week before and 594 the week before that.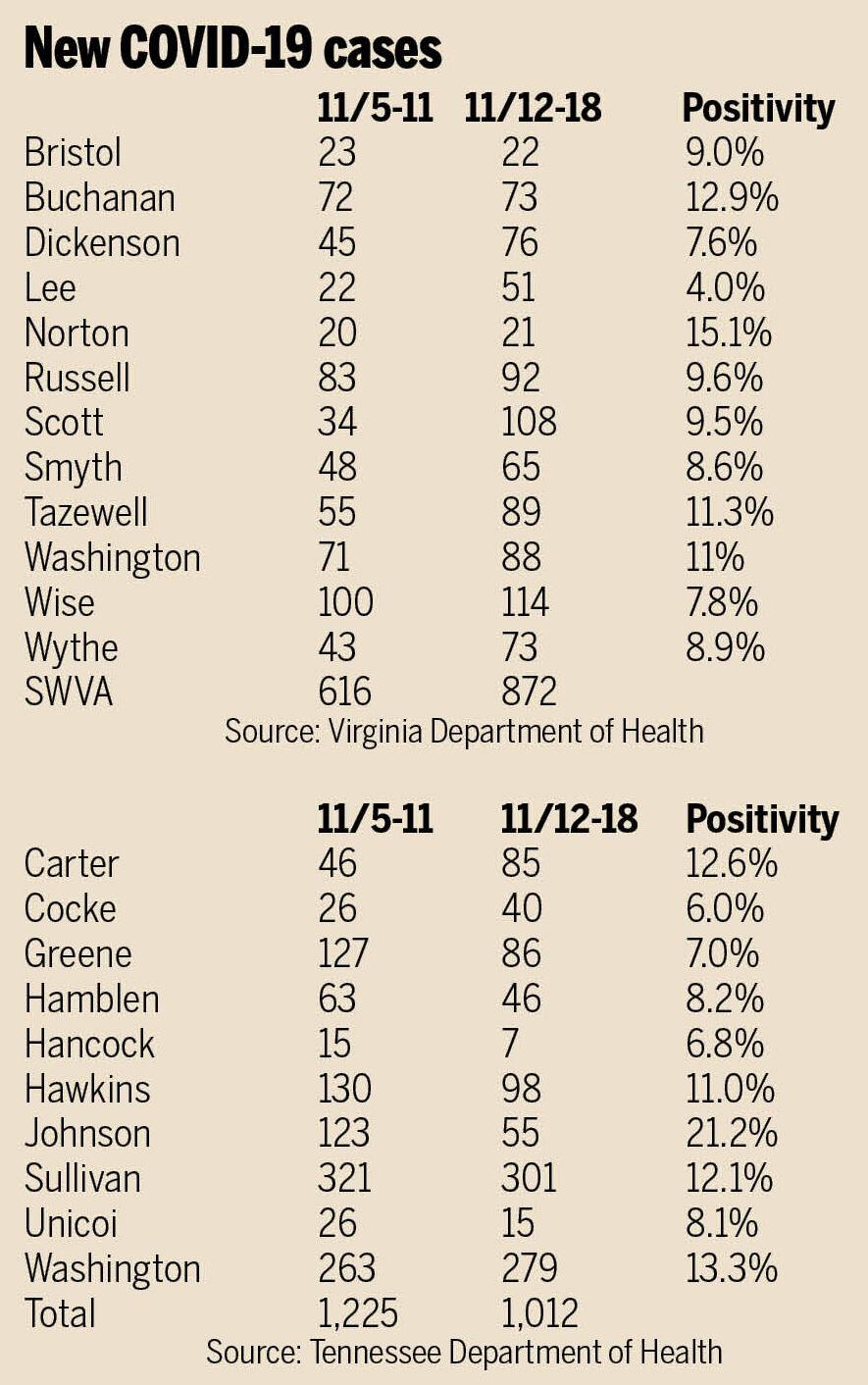 While new cases in Bristol remained flat, Washington County reported 88 new cases, an increase of 17 compared to the prior week. The sharpest increase occurred in Scott County, which had 108 new cases over the past seven days compared to 34 new cases the week prior.
Dickenson County reported 76 new cases, up from 45 the week prior, Tazewell County reported a 44-case increase, and Wythe County had 30 more new cases than the week before, state figures show.
Additionally, the seven-day average testing positivity rate rose several percentage points in many localities. The city of Norton's test rate was 15.1% on Thursday. Buchanan County was at 12.9% on Thursday, and Tazewell County was at 11.3%. Scott County's prior testing percentage was 13.7%, but it declined to 9.5% during the past week.
"We know that as the weather turns cooler, people are spending more time indoors, which can lead to increased likelihood of disease transmission. I suspect that part of the rise in cases is because everyone is sick of COVID — I get it; we are sick of it, too — and they're letting go of mitigation strategies before cases are low enough to indicate that this is a good idea," Breanne Forbes Hubbard, population health manager of the Mount Rogers Health District, said.
"As ready as we all are to be done with masks, it is important to continue wearing them indoors, and it is also important that people continue to practice good hand hygiene and stay home when sick," she said.

Fourteen Southwest Virginia residents were hospitalized during the past week for treatment of COVID-19, according to the Virginia Department of Health.
That number could grow depending on the severity of the cases.
"Typically, we see that hospitalizations begin to pick up a few weeks after cases rise and that deaths increase a few weeks after hospitalizations. So, time will tell," Forbes Hubbard said. "If people who are getting COVID are vaccinated, we will likely not see as many hospitalizations or deaths, but if the disease transmission is happening amongst unvaccinated people, we will likely see that time-lapse increase in hospitalizations."
New cases declined 17.3% across 10 Northeast Tennessee counties during the past week with slightly more than 1,000 new cases compared to over 1,200 new cases the week before, according to the Tennessee Department of Health.
Sullivan County had 301 new cases during the past week while Washington County reported 279. A recent spike in Johnson County slowed, with 55 new cases compared to 123 the week before. However, new cases nearly doubled in Carter County, from 46 to 85 this past week.
There are more than 1,800 active cases across Northeast Tennessee.
Positivity rates generally increased across Northeast Tennessee led by Johnson County at 21.2%.
Ballad Health reported 145 inpatients being treated for COVID-19 in its hospitals on Thursday, compared to 148 last Thursday. Two weeks ago, Ballad reported 166 inpatients. Over the past week Ballad reported an average of 22 new COVID admissions per day.
Of those 145, 90% are unvaccinated against COVID-19, and 100% of the 42 patients in intensive care units, including all 32 being treated on ventilators, are unvaccinated, according to the health system.
This region lags behind both state and national rates, with 45.1% of all residents of Southwest Virginia and Northeast Tennessee fully vaccinated against the novel coronavirus. However, that rate is 64.2% for Virginia, 49% across all of Tennessee and 58.9% for the United States.
This region's fully vaccinated rate has risen 0.4 of 1 percentage point during the past seven days and 0.6 of 1 percentage point since Nov. 1.
"Vaccination rates in our region are still too low, which means many people are still vulnerable to preventable disease, hospitalization and death. The most important thing everyone can do to prevent cases from rising is to get vaccinated," Forbes Hubbard said.