CHEROKEE, N.C. — Richard Sneed looks at The Pinnacle's vacant Virginia land and sees opportunity.
Principal Chief of the Eastern Band of the Cherokee Indians since 2017, Sneed sat down for an interview with the Bristol Herald Courier last Wednesday at the Tribal Council House in Cherokee.
Sneed is prepared to invest $200 million of the tribe's money to establish a resort casino and hotel overlooking Interstate 81 on the ridge behind Bass Pro Shops. It would become part of a massive proposed expansion on land adjacent to the sprawling commercial center that currently stops at the state border in Bristol, Tennessee.
But two formidable obstacles stand in his way.
First, Virginia lawmakers must be convinced to give Sneed and The Pinnacle developer Steve Johnson a seat at the table. Legislation currently before the General Assembly proposes to allow casino gaming in Virginia, but limits it to five named economically distressed cities — including Bristol. The Pinnacle site lies just outside the city's boundaries in Washington County — which also doesn't qualify as economically distressed.
Their second obstruction is the proposed Hard Rock Bristol Resort and Casino planned for the vacant 49-acre Bristol Mall property — just a mile away but within city limits. Developers Jim McGlothlin and Clyde Stacy have spent the past 17 months working to secure state approval for their project and initiated the preliminary legislation that was approved last year. Hard Rock International came onboard last November to serve as the management partner.
In any duel, there is but one winner, and Southwest Virginia can only support one casino.
Sneed points to the tribe's track record of success. Harrah's Cherokee Casino has operated on the Eastern Band of the Cherokee Indian Qualla Boundary reservation in western North Carolina for 24 years. Sneed and tribal officials continue looking for opportunities to expand commercial operations and opened Harrah's Cherokee Valley River Casino in Murphy, North Carolina, in 2015.
About four months ago, Johnson — developer of The Pinnacle commercial center in Bristol, Tennessee — called to offer an opportunity for the Cherokee to locate a resort casino and hotel on part of the 350 adjoining acres in Washington County, Virginia.
Sneed liked what he saw and secured approval to proceed from his Tribal Council.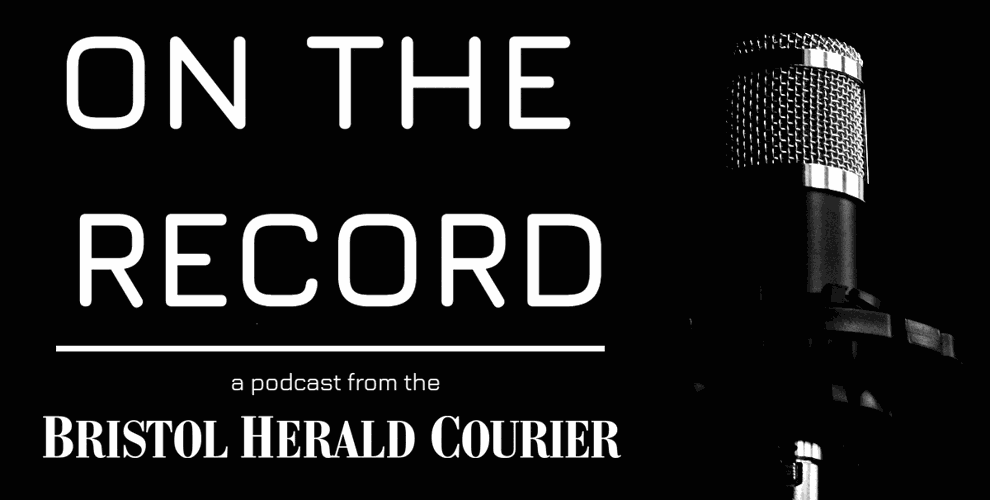 "The analytics on it look good for us; the close proximity to us. But then The Pinnacle development just lends itself to a gaming project," Sneed said. "You have top-notch dining, entertainment and retail offerings, you've got Bass Pro Shop, the new Best Buy just went in and CarMax. … Then talking to Steve about his plans for a water park and hotel, a concert venue, it just makes the most sense. It's a perfect fit and access right off I-81."
They jointly announced plans Jan. 7, a day before the General Assembly convened in Richmond.
Access off a busy interstate highway and proximity to larger cities, including Roanoke, Virginia, and Knoxville, Tennessee, is appealing, Sneed said. Harrah's Cherokee Casino is about 50 miles west of Asheville, North Carolina, but getting there requires traversing a mix of four-lane and curvy, two-lane mountain roads. Once there, amenities like restaurants that serve alcohol and shopping are primarily self-contained within the casino complex, since external choices consist of fast-food eateries or small, locally owned businesses without liquor licenses.
That wouldn't be the case with a Bristol project since The Pinnacle already includes about a million square feet of dining, shopping and entertainment options, with more on the drawing board.
"We don't want to be competitors to the existing tenants at The Pinnacle. For the size of the market, we would probably have a food court on property. If there was a restaurant, it would probably be a smaller restaurant," Sneed said.
What the tribe proposes to build at The Pinnacle site is a smaller scale version of its Cherokee property, but comparable to its Cherokee Valley River Casino. Plans include about 75,000 square feet of gaming space, including slot machines and Class III table games like blackjack, roulette, craps and poker, with a 300-room attached hotel.
Harrah's Cherokee Casino, which presently has 150,000-square feet of gaming space and an 1,100-room hotel on a 56-acre site, generated $393 million in profits for the tribe in 2018 and is forecast to generate more than $400 million in 2020, Sneed said. They estimate that profits from a casino here would be less than half that amount.
"We're looking at anywhere from $150 million to $200 million in gross gaming revenue and a 200- to 300-room hotel," Sneed said. "That could change if we increase the room count on the hotel. You stick a pin in a map and look at about two hours and see what your population density is."
A recent study by the Virginia Joint Legislative Audit and Review Commission projects a Bristol casino would generate between $120 million and $140 million in annual net gaming revenue.
Estimates supplied by Johnson Commercial Development forecast the hotel and casino would be responsible for creating about 2,000 jobs and have a total annual economic impact of $180 million.
It is expected to generate $1.4 million in annual real property tax, $3.4 million in local sales tax, $1.2 million in local lodging tax, $1.5 million in local gaming revenue and $38 million in revenue sharing — based on a calculation of a 19% slice of gaming revenue.
"Looking at the potential customer base and what the market would support, we're estimating about a $200 million investment. The Eastern Band could come in covering the full cost of the investment as an owner operator," Sneed said. "We have the ability to operate on our own. If you look at our property over here, there is only one Caesar's employee, and that's the general manager. Everybody else — the VPs and executive staff — those are all tribal members."
Presently, the tribe has no agreement with a potential outside operator, but Sneed said it's still very early in the process. Longtime Cherokee casino operator Harrah's has publicly expressed interest in a possible casino project in Danville, Virginia.
"What we recognize is the value of a brand," Sneed said. "We do not have a management agreement for Virginia going forward … but getting a management agreement isn't a difficult thing to do. At the end of the day, the Eastern Band is bearing the financial burden — we're assuming all the risk — because we will likely be the sole equity holder in this thing. For a management company, there is no risk. They bring their brand; they bring their management team for a percentage of the profit. If the whole thing falls apart, they're out nothing."
Sneed intends to have a branded operator.
"We want to bring a brand with us, but we're just trying to get through maneuvering the politics of all this to try and even have a seat at the table," he said.
Asked if there have been discussions with potential operators since news of The Pinnacle project broke, Sneed said yes.
"I have, but I can't disclose those," he said. "I have had conversations with two separate industry players."
The Pinnacle Virginia plans
The proposed casino and hotel are a crucial piece of the $500 million vision for The Pinnacle's 350 undeveloped acres in Virginia. Developer Johnson has announced plans for a $150 million water park with a hotel, a $20 million, 15,000-seat concert amphitheater, a $20 million golf venue, a $10 million mountain roller coaster and 100,000 square feet of additional retail and dining.
Collectively, all those attractions are forecast to generate 3,300 jobs with more than $250 million in annual payroll and a total annual financial impact — including the casino — of $305 million.
If the casino isn't approved, Johnson said Thursday the amphitheater "could still happen," but other attractions like the water park would be "tough."
"It's [casino] the honey that draws the bees," Johnson said. "It's the Bass Pro to The Pinnacle. You get Bass Pro, The Pinnacle happens. If you don't, maybe it doesn't," he said.
If the casino gets the green light, Johnson said he intends to fund an access road connecting Pinnacle Parkway to Gate City Highway near Exit 1 in Virginia. The county was unsuccessful in its effort to secure state funding for that road last year.
In addition, Johnson said Bristol, Tennessee has agreed to accept sewer from Virginia businesses. The Virginia portion of the property currently has neither water nor sewer service, but that area is served by the Washington County Service Authority.
Bristol Tennessee City Manager Bill Sorah said the city "has both water and sanitary sewer infrastructure at The Pinnacle and could provide this service for a proposed development on the Virginia portion of the property."
Johnson added the project would likely take three to five years.
"A lot depends on what they decide in Richmond and what the process — by virtue of the final bill — looks like," he said.
All in on competitive bidding
Chief Sneed said the sole way a local Cherokee casino could occur is if the General Assembly alters current legislation — which names five cities, including Bristol — to allow competitive bidding for a casino license.
"The story is framed as, 'You guys are Johnny-come-latelys.' 'You're late-comers to the game.' At this point, it's a political issue and, politics being what they are, nothing is final until the governor signs off on it," Sneed said. "Whether The Pinnacle and the Eastern Band end up as a [casino] license-holder, at the end of the day the citizens of Virginia should want the best options and the best operators possible."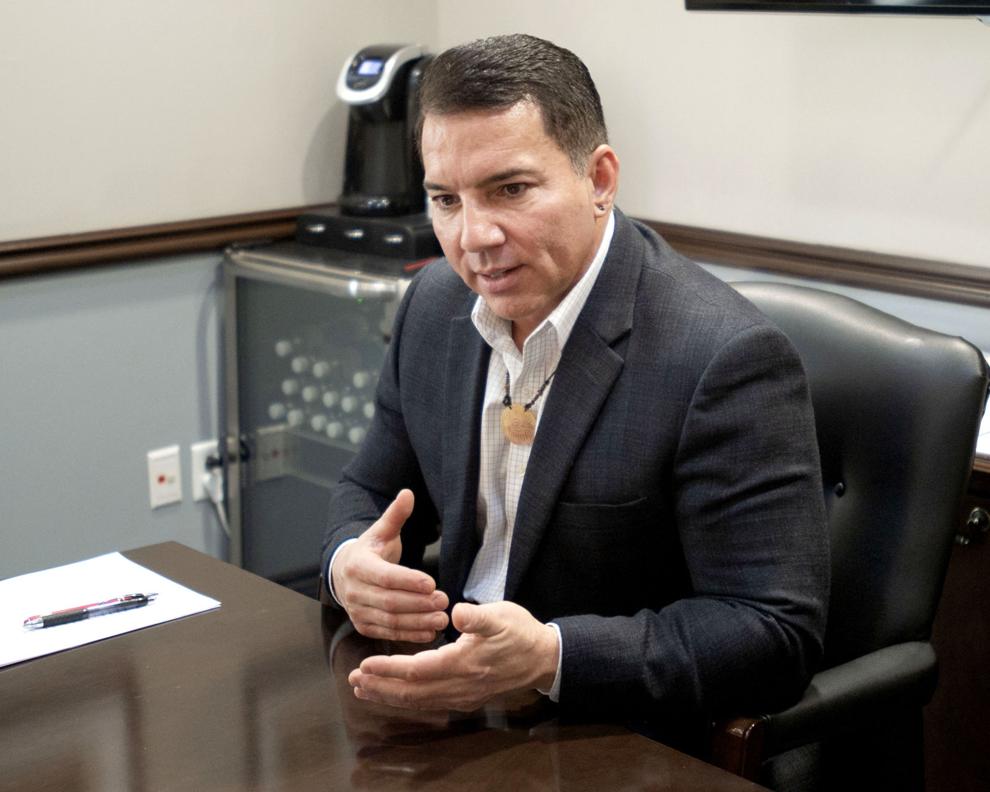 As part of his argument, Sneed cited the state JLARC study findings, which included recommendations for lawmakers to consider using a competitive bidding process to issue casino operator licenses; engage with a non-biased third party to vet license applications; and impose intensive background checks of license-holders and all employees.
"In other markets, it's a standard best practice to have a competitive bid process instead of creating a process in law that says a license will go here, a license will go here. Having the competitive bid process ensures that you get the best possible product for the market," Sneed said.
The chief said they fully support background checks.
"When we were first looking at gaming in the early 1990s, historically, there is the public perception that with gaming there is organized crime — the mob is involved. Those are the rumblings we heard way back in the early '90s," he said.
The federal Indian Gaming Commission and local regulators in North Carolina both require "very intensive" background checks for every employee at Harrah's Cherokee Casino before they can be hired and given a badge to begin work.
"The last box for us, that we thought was a green light leaning to our favor, was a [JLARC] recommendation to look to do business with tribes that are historic to Virginia. Interestingly enough, Washington County is historic Cherokee aboriginal territory," Sneed said.
Sneed said a casino at The Pinnacle would be a "slam dunk."
"I'm hopeful that there is a competitive bid process because that is what's in the best interest of the citizens of the commonwealth," Sneed said. "At the end of the day, it may not be us. But if there is a competitive bid process, and the recommendations of the JLARC study are followed then this independent, unbiased third party is going to vet everything and say this is what's in the best interest of the state, going with this vendor on this particular piece of property. If that's us, outstanding. If it's not, then whoever does win the day, the benefactor in the end will be the citizens of the commonwealth."
Hard Rock Bristol developer Jim McGlothlin recently told the Herald Courier the bidding process is "not needed" because the project is so far along, city voters will have their say through a referendum, and the state will have authority to pull a gaming license if the operator doesn't follow the law.
In addition to Bristol's agreement with Hard Rock, the Pamunkey Indian Tribe has announced agreements with the cities of Norfolk and Richmond, while the city of Portsmouth has an agreement with a Chicago casino operator. All oppose competitive bidding.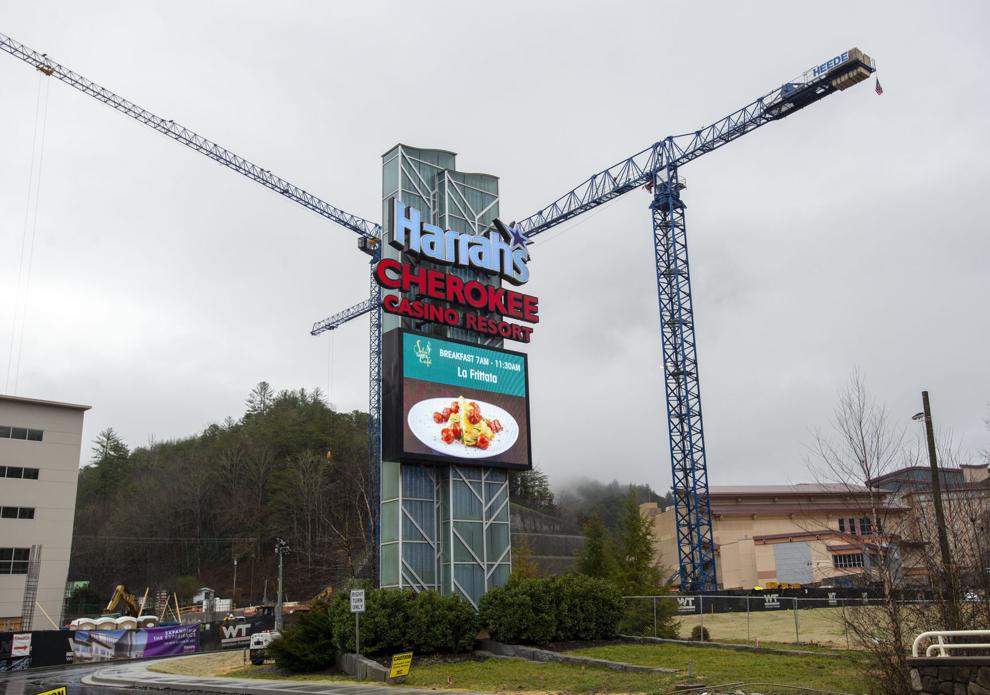 Lobbying efforts underway
The tribe has retained four lobbyists — Greg Habeeb and Matthew Moran of the Gentry Locke firm, Robert Christian Rickers and David "Mudcat" Saunders — to promote their message of competitive bidding to Virginia lawmakers. Sneed described their initial feedback as "hopeful."
"Obviously, you have folks that have their interests for their particular constituents, and I respect that. They're standing their ground with the bill as it's written and [saying] 'that's what we need to go with; that's the plan so that's what we're going with.' But they're [lobbyists] hopeful because they're talking to other lawmakers who are saying they agree with the JLARC study; it's probably better to have a competitive bid process. I think, at this point, that's the best we can hope for," Sneed said.
To that end, Senate bill 743 — introduced last week by Sen. Jeremy McPike, D-Dale City — would create a Casino Gaming Establishment Location Commission as an adviser to the executive branch. It would evaluate and select proposals through a competitive bidding process, as prescribed by the state's procurement laws.
The 14-member commission would include 12 citizen members appointed by the Senate, House and governor, plus two ex-officio members. It would be empowered to award licenses for each city named in the current legislation, including Bristol, Danville, Norfolk, Portsmouth and Richmond but doesn't include anything beyond a city's territorial boundaries.
That could be changed, according to lobbyist Greg Habeeb.
"Sen. McPike's bill goes a long ways toward codifying JLARC. It simply leaves out the regional competition," Habeeb said. "There are two suggestions we've made to Sen. McPike and he received them very, very well. They were to include in the definition of locality, 'adjoining locality' and require one of the elements of the proposal to lay out the revenue share you propose for surrounding jurisdictions.
"I think if you make those two very small additions to Sen. McPike's bill, I think you have a process where Virginia could have some world-class casinos, and one would be sitting at The Pinnacle in a couple of years," Habeeb said.
McPike is head of a special subcommittee for the Senate General Laws and Technology Committee, which will consider the full range of options for allowing and regulating casinos, electronic gaming devices, sports and online betting.
McPike told the Richmond Times-Dispatch last week that his subcommittee is willing to consider broader regional competition for licenses.
Habeeb predicted more dramatic changes.
"You're going to see totally different legislation this year," Habeeb said. "I know some people are pushing last year's bill, but it's going to look totally different. The General Assembly isn't about putting casinos in Bristol, necessarily. They're about helping Bristol and helping Southwest Virginia. We can revenue-share off this [Pinnacle] project and get Bristol more [money] than they could ever get off a 30-acre mall project."
Habeeb said open competition would attract the best, most impactful projects to the table.
"It should send red flags up for people that the folks advocating for the Bristol casino are trying to put a process in place where nobody else even hears from another casino because they know they can only win if the door is closed to competition," Habeeb said. "When government closes doors to competition, citizens should be really, really concerned."
Habeeb said the public may perceive this current situation as two casinos competing or Washington County trying to steal a project from Bristol.
"This is unequivocally not that," he said. "This is Washington County using its resources to lift all boats in Southwest Virginia, to serve all citizens of Southwest Virginia."
The Bristol casino group released the following statement Friday: "In talking about an RFP (request for proposals) process, JLARC discussed three goals — identifying an owner and operator who is 1) qualified, 2) financially stable and 3) experienced. We share these goals, which is one reason why we selected a well-respected international operator."
The statement goes on to say that the group places its trust in elected officials and the wisdom and judgment of voters in Bristol, Virginia, who will have the final say in approving the project.
"We are rather surprised that this developer is promoting his version of competition as it relates to one part of his development, while simultaneously arguing against competition for the other part of his development," according to the statement. "We are concerned that his eleventh hour attempt will jeopardize bringing meaningful economic development opportunities to this region and much needed tax revenue to Bristol."
No interest in federal process
Asked if seeking federal approval might be a backup if gaming in Virginia is approved, but the tribe's project isn't selected, Sneed emphatically said there is no such interest. He characterized the federal process as "very arduous" and not a route the tribe would pursue.
Since 1988, only about a dozen tribes have even attempted to secure gaming approval through the federal process, which can take 10 or more years to complete and cost between $10 million and $30 million to secure, he said.
"The sad part is, at the end of the entire process, the governor of that state has the ability to say, 'I don't concur.' He or she won't sign off on it, and that's the end of it," Sneed said. "From an investment standpoint … it's just not a viable path. Why invest 10 to 15 years of time and $20 million to $30 million and — at the end — there is a pretty good chance the answer would be no?"
Washington County's perspective
Washington County officials have heretofore avoided comment on this project. Saul Hernandez, chairman of the county's Board of Supervisors, said Thursday the proposed development is attractive, but he expects a lengthy legislative process lies ahead.
"It's hard to take a position when you don't know what this thing is going to look like," Hernandez said. "We haven't taken any formal action. … He [Johnson] has asked us for a resolution of support, and we're working through that right now."
Hernandez predicted the board would pass a resolution of support at its Jan. 28 meeting. Last year, the board passed resolutions of support for unspecified further development of The Pinnacle in Virginia and a resolution voicing support for the Bristol Mall casino project.
Hernandez said the county has no role in what is occurring in the General Assembly, isn't talking with lawmakers regarding this issue and is not "in the loop" about the legislation.
Asked if the county is aware that Johnson is proposing a sweeping revenue-sharing agreement, Hernandez said county officials have scant information.
"We don't know the specifics, but with revenue sharing, I think he'll find a very hearty reception amongst the board," Hernandez said. "This is such a large project, and it will be so impactful. It will have an impact on the neighboring localities, so I think a revenue-share agreement of some kind is a really good idea. I don't know what those numbers look like."
Personally, Hernandez said he favors a competitive process for selecting casino sites and believes whatever legislation is approved should include a referendum to allow the public to voice its opinion. He also expects most of this will unfold at the state level — outside of the control or influence of a locality — be it county or city.
"I don't think we know how this will change our community," Hernandez said. "I don't know there is any way we can."