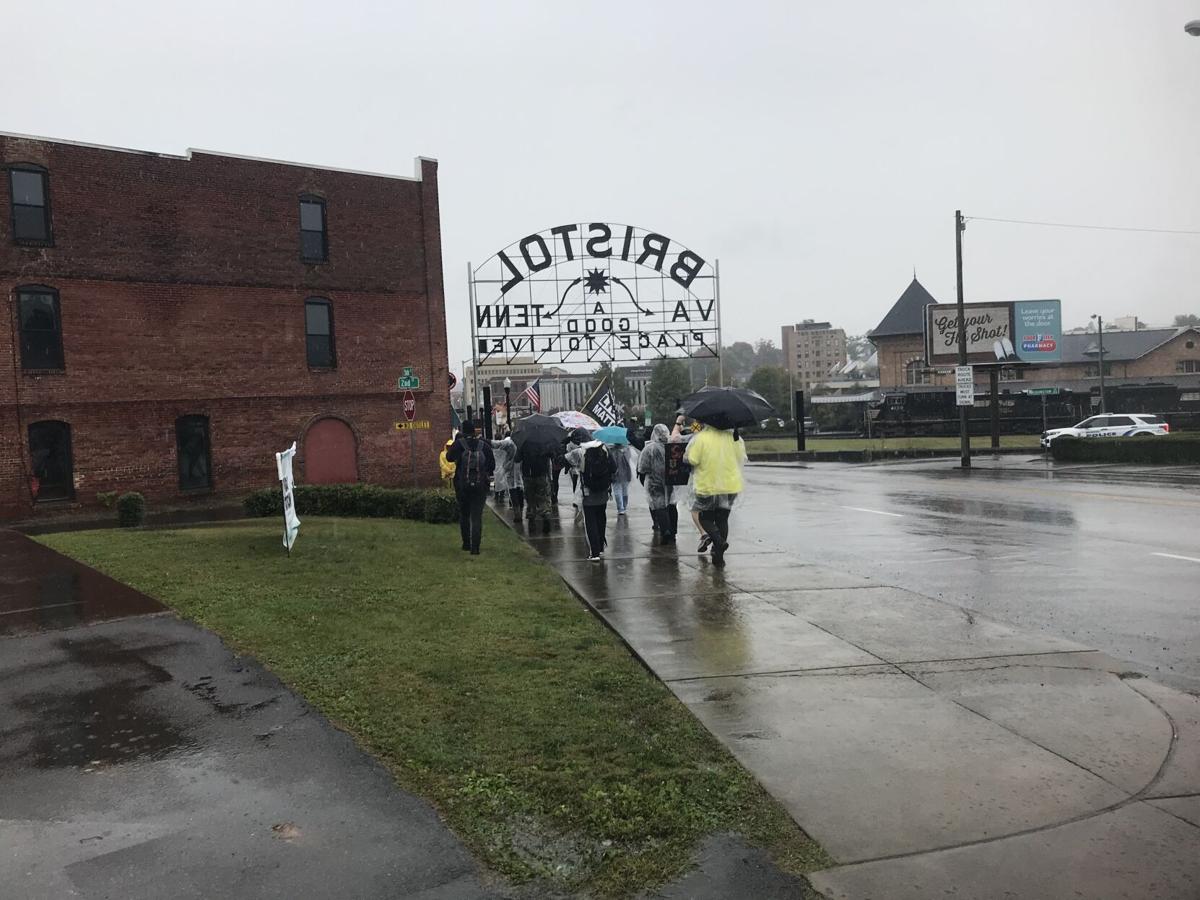 BRISTOL, Tenn. - Rain poured down Saturday afternoon as roughly 40 protestors, wearing plastic rain ponchos, holding umbrellas or carrying signs with messages like "Black Lives Matter" or "White Silence = Violence" marched peacefully along State Street.
Bristol Tennessee Police and Bristol Virginia Police officers stationed themselves along their respective sides of Bristol's main downtown corridor watching as, protesters walked by shouting chants like "no justice, no peace, no racist police," and "this is what democracy looks like."
The New Panthers Initiative, a Johnson City-based organization affiliated with the Black Lives Matter movement, held a peaceful march through downtown Bristol, Tennessee Saturday afternoon to protest against racism and police violence. The protest started around 2:10 p.m. in the parking lot of the YWCA of Northeast Tennessee and Southwest Virginia and participants marched down State Street to the Bristol Chamber Chamber of Commerce and then turned around and returned to the YWCA parking lot around 3:15 p.m.
According to a post on the Reddit page r/tricities, the event titled "Blue Lives Do Not Exist: A Protest on Police Brutality" was originally planned as a counter protest to a pro-police rally organized by the Bristol Virginia Republican Committee. However, the Bristol Virginia Republican Committee announced on Wednesday in a Facebook post that organizers decided to cancel the event because of concerns about potential violence from counter protestors.
However, no violence broke out throughout the course of the roughly hour long march. And rather than cars hitting protestors, some drivers honked their horns in support as they passed by.
"We are one race, the human race, we cannot be divided by color," a man who declined to give his name shouted through a megaphone when the marchers briefly stopped at the corner of State Street and M.L.K. Jr. Boulevard.
When protestors weren't chanting slogans like "No Trump, no KKK, no racist USA" many laughed and joked among each other.
Though police mostly stayed back, there were moments when protestors and officers bridged the gap. Toward the beginning of the event, a protestor made a statement about the importance of mental health and told attendees to say "I love you," to someone standing nearby, whether they were a protestor or a police officer. Immediately afterward a BTPD officer approached that protestor and shook his hand. On another occasion a BTPD officer stood and listened while a protester explained his viewpoint on policing.
Get local news delivered to your inbox!
Subscribe to our Daily Headlines newsletter.