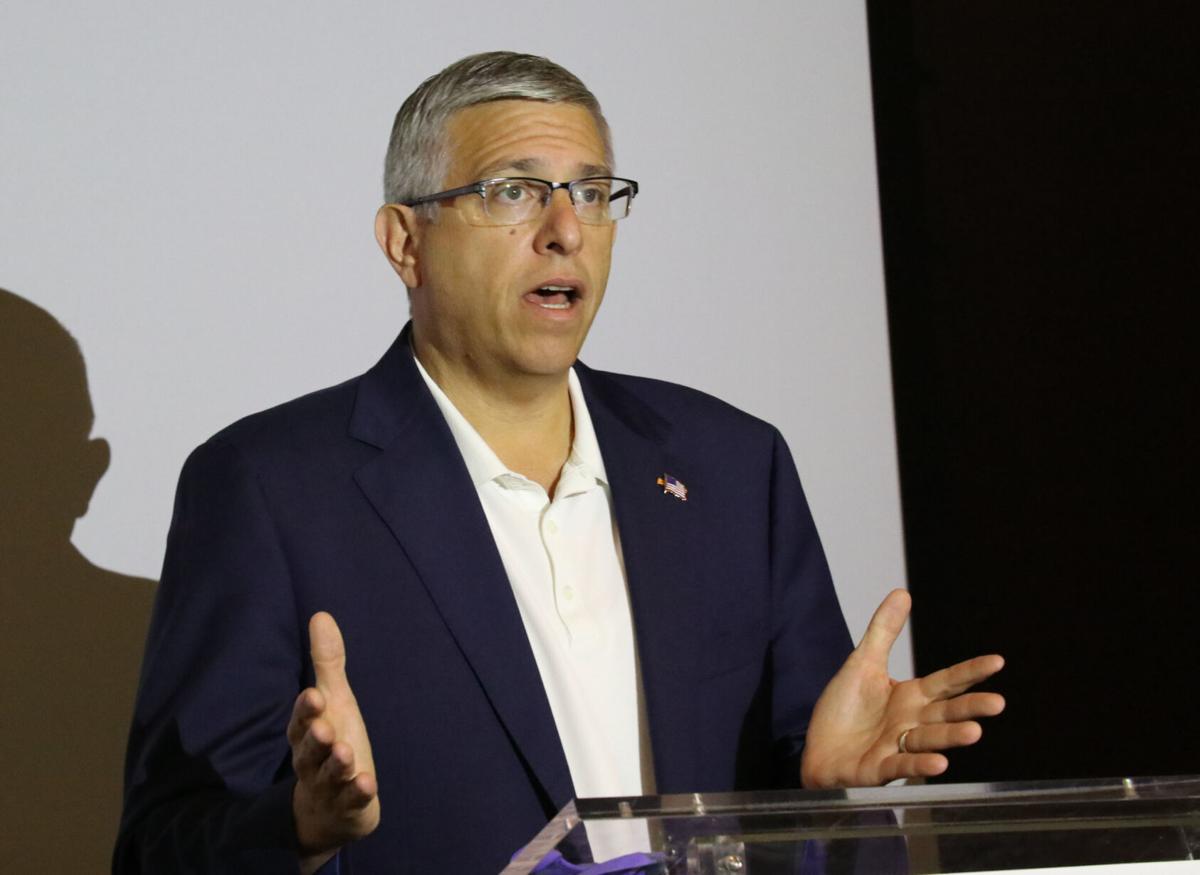 JOHNSON CITY, Tenn. — As Ballad Health officials continue pleading with the public to get vaccinated against COVID-19, they acknowledge there are instances that messaging falls on deaf ears.
On Wednesday, the region's hospital system held its first media briefing in nearly two months after cases and hospitalizations increased sharply due to the novel coronavirus and its delta variant.
Much of their message was urging people to learn about and take the vaccine. Only about 37% of residents of Northeast Tennessee and Southwest Virginia are fully vaccinated against the virus — a figure that is significantly lower than the national average of nearly 50%.
"I can't tell people what to do for themselves. People have to make the choice for themselves," Ballad Health President and CEO Alan Levine said. "The most important thing you can do is go to a trusted source of data and information. We would not advise you to get the vaccine if we felt the vaccine was unsafe. We believe the best way to protect yourself and not end up in the hospital struggling for your breath is to get vaccinated."
Since last December, more than 160 million Americans have been vaccinated. Levine said there remain many sources publicly challenging the usefulness, efficacy and safety of the vaccines.
"Those claims are wrong. The vaccine works," Levine said. "If 99% of the patients who are dying are people who are not vaccinated and north of 96% of the people being hospitalized are not vaccinated, that is a very powerful data point that people should look at and ask themselves, 'Does it make sense not to get vaccinated?'"
Levine said anyone with a medical concern about the vaccine should consult their doctor.
Asked by a reporter, Levine acknowledged there are people who don't believe what Ballad and other health officials are saying.
"People are trying to make important decisions about putting a substance into their body. That is a very personal, very serious decision, and I understand that," Levine said. "We have been trying very hard to be respectful. No. 1, it's true that vaccines also come with some risk. But the data showing the risk with the vaccine is very, very minimal."
The Centers for Disease Control has confirmed reports of less than 3,000 instances of various side effects possibly related to vaccines after more than 340 million doses have been given, according to its website.
"When you say the vaccine can cause harm, yes, that is true, it can potentially. The data shows that; we respect that. But weigh that against the risk of getting this disease. We believe the risk of getting COVID and the possible consequences — both short-term and long-term — are worse than what we're seeing with the vaccines," he said.
Since the pandemic began last March, more than 100,000 people in this region have contracted COVID-19. Ballad has treated thousands in its hospitals, and more than 1,000 of the region's 2,100 COVID deaths have occurred in Ballad hospitals.
All of this has strained the health care system and taken a physical and emotional toll on nurses and doctors.
"We're not here to shame people. We're not here to point fingers or tell people you're bad because you have a different opinion. But if you are someone that other people look to for advice, it's important to recognize the weight your voice carries with those people. And it's important to make sure what you're telling them is really supported by the facts," Levine said.
Throughout 2020, the virus was a central issue in a polarizing presidential campaign, and disputes over treatments and mitigations became highly politicized, often playing out nightly on TV news shows. Last December — as local cases and deaths climbed to critical levels — Ballad Health officials tried to address misinformation during a live press conference.
Confusion and concern remains.
"I've been amazed at the number of folks who have said to me, 'I don't trust the science of the vaccine, but why don't you give them Ivermectin [drug used to treat parasitic worms]? That's a difficult conversation to have because they philosophically believe that particular course of drugs is the way people should be treated when the FDA says there is no known benefit to that; it's potentially harmful, and the manufacturer said that," Levine said. "Yet you've got the science of 160 million people that have already been vaccinated, and the data shows the people who are getting hospitalized and dying are the people who are not vaccinated."
Ivermectin is a drug that has been in the news for over a year. The Food and Drug Administration and World Health Organization issued warnings against using it to treat COVID-19 except in clinical trials, and several are underway. A report published Wednesday found "no evidence to support the use of Ivermectin for treating or preventing COVID‐19 infection" but noted those trials will provide additional results. A major study that showed positive outcomes was retracted earlier this month amid concerns about plagiarism and the data.
Levine said Ballad is listening to the community and respects the views of those who disagree with its vaccination message.
"People have very strong opinions on this, but make no mistake about it, the No. 1 thing Ballad Health cares about is making sure people don't die unnecessarily or expose themselves or their families to unnecessary risk," Levine said. "The deaths that we're seeing now are preventable. That's what we're concerned about more than anything. That's why our nurses and doctors come to work every day — to save lives. And it breaks their hearts when they see people on a ventilator gasping for their last breath knowing it could have been prevented."