BRISTOL, Va. — Authentically Bristol.
From details about songs from the 1927 Bristol Sessions recordings that accompany the room numbers, to the microphone-infused lighting to dozens of other details, The Sessions Hotel complex helps tell the story of those recordings — dubbed the "big bang" of commercial country music — to the guests who have and will stay there.
Hotel developers held a grand opening and ribbon-cutting ceremony Friday, nearly a year after the unique 70-room boutique hotel opened downtown, but the first time the public could gather after COVID-19 restrictions were eased.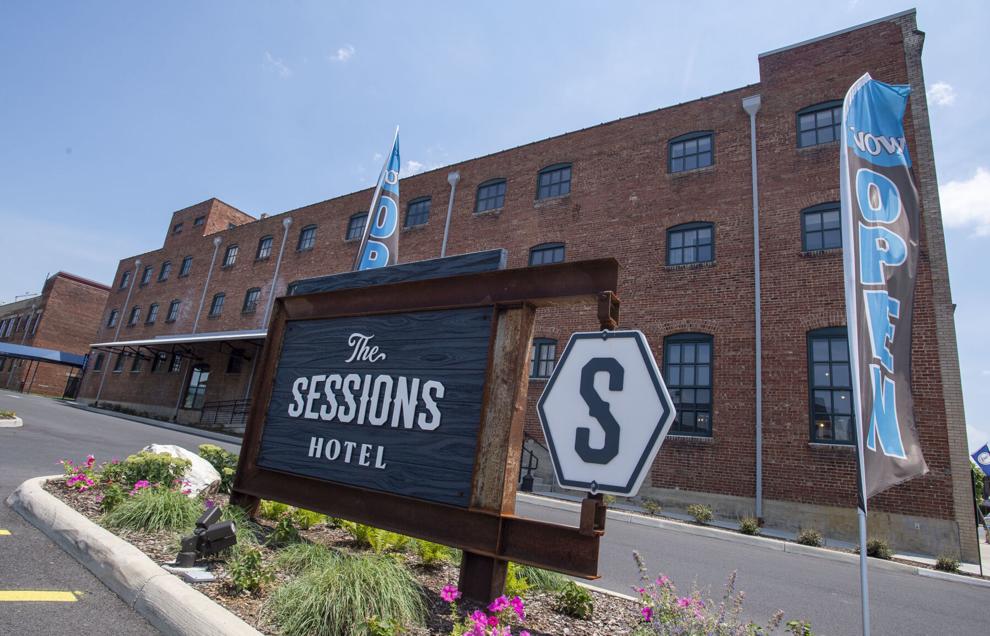 The $23 million project has been eight years in the making. The hotel features the adaptive reuse of three century-old structures — the 1920s Jobbers Candy Factory, the 1915 Bristol Grocery building and the 1922 Service Granary Mill — into a complex that also includes the Southern Craft restaurant and bar.
It was developed by Creative Boutique Hotels and is part of the Marriott Tribute Portfolio group.
"Every little thing has been carefully crafted to add to the experience and to ensure it's a unique experience and that it is authentically Bristol," said Kimberly Christner, project partner and president and CEO of Cornerstone Hospitality. "For experience enthusiasts, for dreamers, the makers and all who want to be a part of something special. We have so much in store for Bristol and the guests that stay here. We're excited to finally start to bring it to life."
Among those on stage during Friday's celebration was Grammy Award-winning musician Jim Lauderdale, who has a special connection to The Sessions — the new outdoor bandstand bears his name.
"We're going to slowly get things going here with music," Lauderdale said. The first concert is this weekend and tickets are already sold out. He is scheduled to perform there in July.
Lauderdale revealed he stayed at the hotel this spring, and he wrote and recorded four songs on the second floor atop the Southern Craft restaurant.
"There is an event space, and we're going to have more and more music as time goes by and make that dream become real," Lauderdale said, adding that he expects The Sessions to become a music destination for artists and fans.
Todd Morgan, developer and president of MB Contractors, called the project a "marathon."
"We're here. It's done. We are so happy to be able to deliver this asset to the city and for the region. We think it's going to be a great asset for a long time," Morgan said. "This was a marathon — with hurdles. You have those 100-meter races with hurdles, but we had a marathon with the hurdles but the result is this phenomenal project."
Despite opening during a pandemic, Christner said public response has been good.
"From the very beginning, we exceeded what we thought we would actually do in 2020. We ran high occupancies given the events that were happening, and our average rate was good. So we feel really confident about going forward from here. We did well during the pandemic so imagine how it's going to be when we're through it all.
"We're seeing groups start to book and the public is back to traveling. The drive markets like Bristol are picking up faster and we're thrilled about that. It's been great, and it's only going to get better."
Wirt Confroy of the Virginia Tourism Corp. said now that the pandemic and restrictions are easing, travel and tourism is expected to be a vital part of local economies.
"I feel like this project is really indicative of our work together to maximize Bristol's potential to the nth degree," he said.
The complex funding package, which finally allowed the developers to proceed, included gap financing from the state Tourism Development Financing Program. It was just the eighth such project approved under the program, Confroy said.
"This reflects our community and our historic downtown," Mayor Bill Hartley said. "I remember when I first came on council I took a tour of these buildings that looked nothing like they do now. … They've presented the character and the fabric of our downtown in a physical way, but also our musical and cultural heritage that we celebrate as a community. Most importantly, it is a place that welcomes people into our community into probably one of the most unique places you could stay."