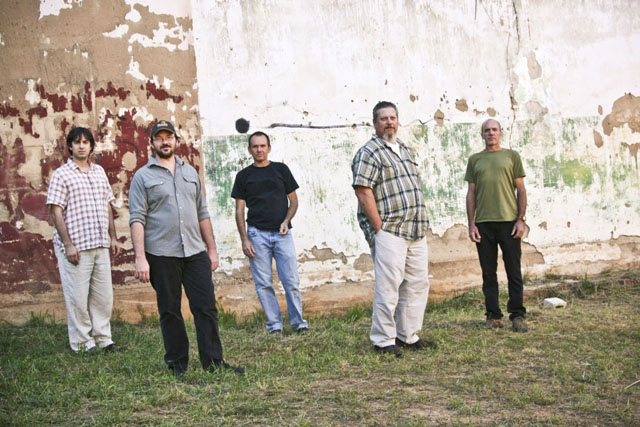 Music abounds in the new year.
From among the wealth emerges January Jams. As part of the Abingdon Music Experience, the month-long live music series at Barter Theatre in Abingdon debuts Jan. 5 with Acoustic Syndicate and The New Familiars.
Subsequent January Jams performers include Guy Clark and If Birds Could Fly on Jan. 12. A week later on Jan. 19 brings the Black Lillies and Steep Canyon Rangers. The series concludes Jan. 26 with Rock and Roll Hall of Fame member Leon Russell and Wise Old River.
"Lively," said Steve McMurry, co-founder of North Carolina-based Acoustic Syndicate. "We try to make sure that everybody knows they've been a part of something positive. Happy."
McMurry (vocals, guitar) and his cousins Fitz (vocals, drums) and Bryon McMurry (vocals, banjo) along with Jay Sanders on upright bass and Billy Cardine on the dobro leave pyrotechnic performances to others. Don't look for them to jump, run or act the fool on stage, either.
"We just play our songs," McMurry said. "We're not very showy. We play our music, sing our songs and get our messages across."
The power of positive music reverberates through the six albums and 20 years of Acoustic Syndicate. It's planted like the crops on the McMurrys' farm, with care and intent. Taken root, such messages carry on within their forthcoming seventh album, "Rooftop Garden."
"'Rooftop Garden' is coming out May 7," McMurry said. "It's all original material that Bryon and I wrote. Ten tracks. Bryon wrote five and I wrote five. We put the music together as a band."
Musically, Acoustic Syndicate long ago stamped their brand as gathered from an abundance of styles.
"It's difficult to label," McMurry said. "It's part folk-rock. I guess it's Americana. It's part bluegrass, which is becoming less and less prevalent in the mix. It's got some country. It's folk-rock."
It's Acoustic Syndicate music. Remnants of the Grateful Dead commingle with the Police and Peter Gabriel, Pete Townshend and the Who – but folks would be hard pressed to recognize those influences. It's a sound that began when as kids the McMurry trio formed as the Maple Creek Three.
"You nailed it! When we were kids, 10, 12, (our family) bought us instruments for Christmas one year," McMurry said. "Uncle Fitz named us the Maple Creek Three."
So began the seed that grew into Acoustic Syndicate.
"It's a natural evolution," McMurry said. "Music, it's a part of who we are. Love music. All kinds of music. It all came together by the early '90s."
And now with "Rooftop Garden," McMurry said that Acoustic Syndicate's sound has reached an apex.
"It's my favorite by a long way," McMurry said. "It's a big sound for us."
Road tested for more than a year, listen for the new songs when Acoustic Syndicate headlines the initial round of January Jams.
"It's not a stretch in terms of sound, but it is a little bit of a departure from the last record," McMurry said. "We've landed where we were supposed to land."
What: January Jams as part of the Abingdon Music Experience
Who: Acoustic Syndicate and The New Familiars
Where: Barter Theatre Main Stage, 127 W. Main St., Abingdon