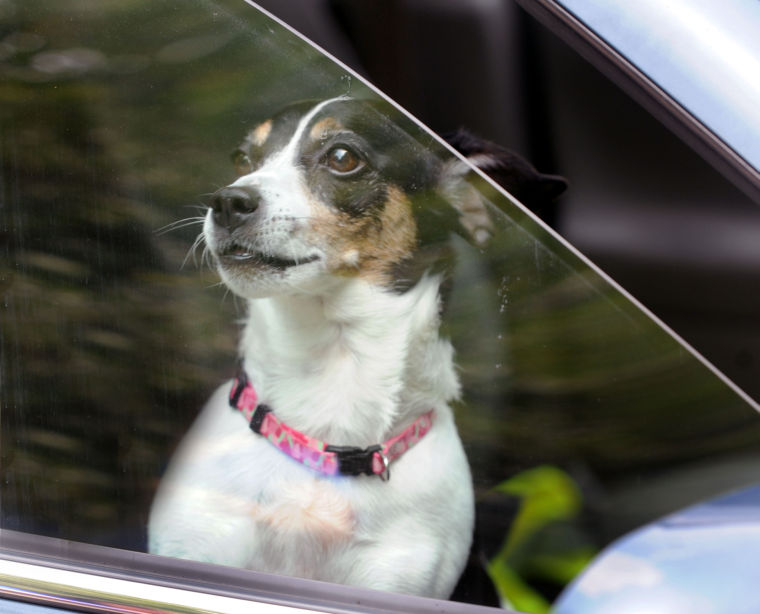 BRISTOL , Tenn. — In a matter of minutes under the blistering rays of the sun, the confines of a car can become a deadly sauna – for children and pets.
So far this year, 15 vehicular heatstroke deaths of children have occurred in nine states, including two siblings left in a hot car in Northern Virginia last month. Annually, a national study shows the U.S. has 37 heat-related deaths among children confined in heat-filled cars, and the number is drastically higher for dogs.
Henrico County police are saying that Jade and Jalani Browning, ages 2 and 20 months, were left alone in the car owned by their mother, Britney Browning, while she completed a seven-hour shift at a hotel, and likely died from heatstroke. The mother has been charged with felony child neglect.
Temperatures in cars, trucks and SUVs can substantially rise with rising heat, according to studies conducted by the Department of Geosciences at San Francisco State University (SFSU), even when the mercury rises into the seemingly comfortable mid-60s.
Shortwave energy disbursed by the sun strikes items inside the car like dashboards, steering wheels and child safety seats, causing the interior to go from 80 degrees to 140 degrees in 60 minutes, according to data from a study of a mid-size dark blue sedan with a grey interior and cracked windows.
Tennessee Department of Health Division of Family Health and Wellness' Dr. Michael Warren says five heatstroke deaths of children in the state last year shows the state has more work to do in improving awareness and prevention.
"Even the most well-intentioned parent can have a disruption in their routine and throws them off-track, and quite frankly, they forget the baby is back there," Warren said. "These are not new deaths in that we see them from year to year. This can really happen to anyone."
Locally, two cases of children being left in hot cars have resulted in parents being charged by police for neglect. In June 2009, a Tazewell County woman was cited for leaving her toddler in her car, where temperatures reached 105 degrees, according to an emergency worker. In June 2012, a Piney Flats, Tenn., mother of two was charged with child abuse and neglect after police said she left her children in a car for four hours while she went fishing.
Tennessee and neighboring Kentucky are two of only 20 states that have laws under which a parent or guardian can be charged with leaving a child unattended.
Imagine you are out on a scorching summer day wearing a fur coat. Those are the conditions that your pet is experiencing and the timetable for disaster in hot conditions is shorter.
Dr. Ned Allen of Jones Animal Hospital in Bristol, Tenn., said the base temperature for a dog is already above 101 degrees and with rising temperatures in a car taking only minutes to reach well above that point, the onset of a heatstroke can happen in as little as 15 minutes.
Allen says those symptoms could include drooling, disorientation or stumbling, heavy panting, diarrhea or vomiting and redness in the gum line, eventually resulting in a possible seizure.
"The first reaction might be to drench them in water, but that may provide a harming shock to the system and bring down their temperature too quickly. That can cause more problems," Allen said.
The veterinarian says the first point of contact needs to be the pads on their paws, one part of their bodies where cooling is natural.
"Apply some rubbing alcohol and that can help in a gradual drop in getting the temperature back to normal," he said.
Dogs with pushed-in noses such as a pug and canines with thicker coats like a Siberian husky are more susceptible to heat-related illnesses because of their physical makeup, according to SPCA Animal Rescue International.
Allen says the rules of awareness for a child in a hot car apply to a dog, as well.
"Be aware if you decide to take your pet out of the house for a drive. Keep the pet at a safe distance in the front seat or keep a reminder like its leash or its favorite toy in the seat beside you," he said.
The Red Rover organization, which touts a national "My Dog Is Cool" campaign to keep dogs out of cars in the summer, says anyone who sees a dog in a hot car needs to call 911 or local animal control as soon as possible.
Other steps can include going into the store with a description of the car and the license plate and having it announced over the store's intercom system or finding a security guard who can possibly help. The group also encourages staying at the location where the dog is at until help arrives.
Only 14 states currently have legislation that can punish a dog owner for leaving a pet in a vehicle under heat conditions, although some localities can charge the owner for animal cruelty in some cases, according to the Animal Legal and Historical Center.
Be the first to know
Get local news delivered to your inbox!