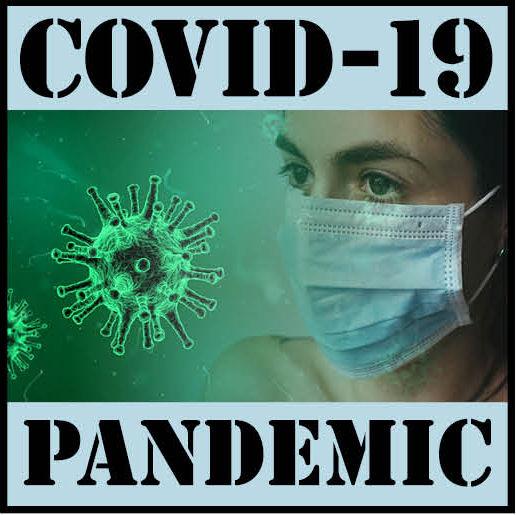 Editor's note: This is the first story in a two-part series about the psychological impacts of the COVID-19 pandemic. Coming Monday: The pandemic's impacts on people struggling with substance abuse.
In mid-April, Bluff City resident Cathy Overstreet posted a simple graphic to the wall of "Coronavirus Info Northeast Tennessee and Surrounding Area," a public Facebook group she'd created to share information about the coronavirus pandemic.
The visual, a pink chart titled "Mental Health Check-In," asked group members to share how they were feeling that day by posting a heart emoji in the comments: red for "great," orange for "pretty good," yellow for "okay, I guess," green for "starting to struggle," blue for "having a really hard time," and purple for "I need to reach out for support."
Sixteen people replied. A few chose red and orange hearts. Two people marked themselves as green or "starting to struggle." And half of the respondents posted yellow hearts — including Overstreet.
Overstreet — who is 49 and works as the behavioral health network manager for Northeast Tennessee with BlueCross BlueShield of Tennessee — said she picked the yellow heart because she was "feeling overwhelmed." By that point in April, she'd been working from home for more than a month. She was also laboring to help Scotty, her 8-year-old grandson, with remote learning while his school was closed and his mother had to work.
"I'm getting tons of calls [from health care providers]. I'm having to school. I'm having to make sure we have groceries. Do we have toilet paper, do we have all our resources?" she said during a May 26 Zoom call, describing how she felt that day in April.
One respondent posted a purple heart, the lowest mood level in the graphic. Overstreet said she reached out to that person privately to ask more about how they were doing.
"The reason why I [posted that graphic] was because I know that being at home, people have a risk of depression, people that may have substance abuse disorder have a risk of relapse," Overstreet said. "It's just a matter of checking on people, saying, 'Hey, how are you doing? I care about you.'"
A PSYCHOLOGICAL HEALTH CRISIS
Overstreet isn't alone in her concern about people's mental health. Over the past few months, the COVID-19 pandemic has upended ordinary life and its many rhythms: commutes and bus rides, school days and workdays, religious services and social gatherings, even fitness classes and grocery runs.
In place of their usual routines, people across the country and around the world have faced long periods of time at home during a crisis with no defined end date. Many have also faced job losses or furloughs, work challenges and — like Overstreet — struggles with remote schooling and child care.
Mental health researchers have begun to investigate the psychological impacts of those challenges. A poll from the Kaiser Family Foundation published in April found that 45 percent of adults in the U.S. said that "worry and stress over the virus" has hurt their psychological health. And in May, Dr. Danny Horesh and Dr. Adam Brown wrote in the journal Psychological Trauma: Theory, Research, Practice, and Policy that "the COVID-19 crisis can and should be viewed from the perspective of trauma."
"Although large numbers of people throughout the world will show resilience to the profound loss, stress, and fear associated with COVID-19, the virus will likely exacerbate existing mental health disorders and contribute to the onset of new stress-related disorders for many," Horesh and Brown said in their article.
'JUST SO MUCH UNCERTAINTY'
Kaylee Murphy said she's seen that stress firsthand. Murphy, a licensed professional counselor, works at the Bristol Tennessee branch of Thriveworks, a mental health and well-being group.
"I've definitely seen people have very high levels of anxiety during this pandemic, and I've seen an increase in depression [among my clients]," Murphy said by phone June 2.
She said she began noticing those changes around the end of March, when COVID-19 first reached the region and triggered a slew of business and school closures and stay-at-home orders. (Her own office began seeing clients remotely, through video chats, she said.)
"There was just so much uncertainty. People didn't know what to think or how long this was going to last," Murphy said. "There was a lot of fear."
"I think that the anxiety has [had] a lot to do with not only the concerns of the virus itself, because there's so [many] unknowns with it, but I think it also stems from changes in people's daily routines," she said. She added that many of her clients have struggled with "not being able to socialize and make connections that they're used to being able to [access] at any time."
Some of Murphy's clients have started to do better at this point, especially those in Tennessee once the state began reopening, she said.
"[Those] clients are able to get out more and be more social right now," Murphy explained. "They have this hope that things may go back to normal."
In contrast, she said, she's still seeing higher levels of depression and anxiety than normal among clients who can't get out as much — either because they live in Virginia, which has been reopening more slowly, or because they're unable to or trying to protect themselves.