BRISTOL, Va. — American Merchant's initial commercial order of towels — enough boxes to fill a 53-foot tractor-trailer — left the Old Abingdon Highway factory on Friday, bound for a national retailer with 700 stores.  Others are being made, and some will appear on Tri-Cities retail store shelves in early 2020.
The historic order represents the first of what company officials anticipate will be an ever-expanding list of clients and offerings as they try to accomplish something nearly unheard of in today's times — produce towel products in a U.S. factory using U.S. materials, U.S. power and U.S. labor — to compete with Asian and other foreign providers that currently dominate the home textile market.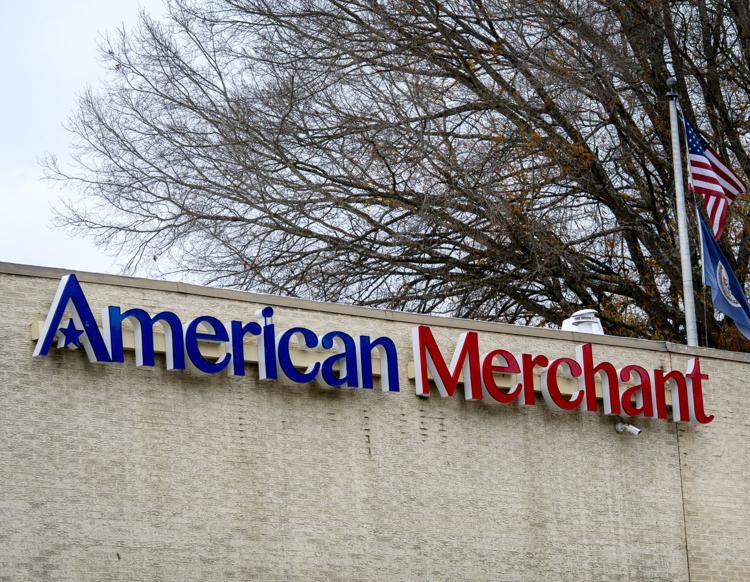 The ultimate irony is that American Merchant is owned by just such a provider — Hong Kong-based Merchant House International Limited — a textile and boot-making firm operated by Executive Chairwoman Loretta Lee and traded on the Australian Stock Exchange.
The Bristol facility is the company's $20 million science project to see if a U.S.-based facility can turn a profit and meet the demands of often fickle U.S. consumers.
It landed in Bristol in 2017 after Lee worked with state economic development officials to find an existing building, inexpensive yet plentiful power and
water and an able labor force. Bristol and Virginia landed the plant after competing with seven other states for the project, including Arkansas, Florida, Georgia, Mississippi, North Carolina, Rhode Island and South Carolina.
The company previously established Footwear Industries of Tennessee in 2013, manufacturing boots in its Jefferson City plant.
American Merchant occupies the former Ball Corp. plant, which produced can lids for nearly 50 years before closing in 2016 and idling 230 workers.
"We came back to America because of the vision of our chair, Mrs. Lee. She had the vision and the courage and the fortitude to say, 'I want to do a near-shore manufacturing facility in the United States,'" American Merchant Director Robert Burton said last week. "We have cotton in the USA, we're using only cotton made in America and some that is made in Mountain City, Tennessee. We have cotton, we have yarn, we have energy; what we're missing is a trained workforce."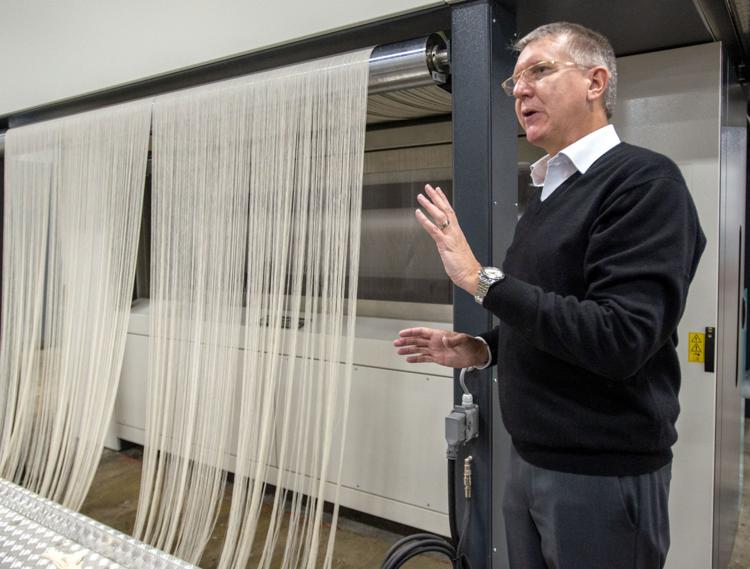 When American Merchant was initially announced in December 2017, then-Gov. Terry McAuliffe said a fully built-out factory with three shifts working six days per week was expected to employ about 400. About 50 presently work there, and Burton expects that number to reach 120 by late 2020. Future hiring will depend on additional sustained product demand.
Burton said company officials are pleased with the workforce they have but are training most of them on the job because the technology is advanced. Initial hiring began back in the spring, and initial training occurred primarily in September and October.
"The fact of the matter is there are no workers in this area that have ever worked in textiles. So we can only go as fast as we can train the workers, and there is a lot to learn," Burton said. "We have about 50 workers in the factory right now. By the middle of next year, we'll be closer to 80 and by the end of the year around 120."
Last week, a technician from German manufacturer TEXPA worked with individual employees to show them the nuances of running some of its machines.
"We've run technicians in here from Germany, the Middle East, Japan, all over, to train the trainers. We know we're not going to find workers with the skill sets we need; we're looking for people that have the right work ethic, the ability to learn and work smart," Burton said.
The company is also beginning to speak with area schools about its needs.
"We'd love to get some student interns in here. We'd love to create jobs for those people in the workplace already and those coming into the workplace — people who will be here for a long time so we're not training someone and two years later they're retiring," Burton said.
He added that the Bristol facility is a significant investment for the company, and they anticipate operating for decades.
"The textile industry in the past didn't have a great reputation. People thought of it as workshops, sweatshops, people laboring over a sewing machine. I think our facility gives a completely different image of what a modern textile factory is today," he said.
While the plant is operational, it is far from finished. Some of the gleaming new machinery waits to be installed, including some of the looms and two large dye tanks, but it has the capacity to fill all of its current orders.
The plant's landmark first order was actually part of its pilot production. There are currently 24 computerized Toyota air-jet looms in place, but not all are hooked up. As demand increases, the plan is to order and install more capacity, Burton said.
Problems with one segment of the massive 200,000-square-foot, 50-year-old building slowed progress by months.
"We're about three months behind in our dye house," Burton said. "When we first installed the equipment, we didn't have this concrete pad. We thought the floor would be level enough, but we had about a quarter-inch to half-inch discrepancy, and it did some torquing of the pipes. We took the machines out, had to dig a trench and put in rebar and put in the [concrete] pad so everything was very, very level."
Already heavy, the massive tanks weigh even more when filled with 800 pounds of fabric and massive amounts of hot water.
"I could have lived with it, but that could have affected my dye formulas so we decided to do it right. We had to pull them out, cut the concrete, lay the rebar, pour cement, let it set then move everything back in again," Burton said.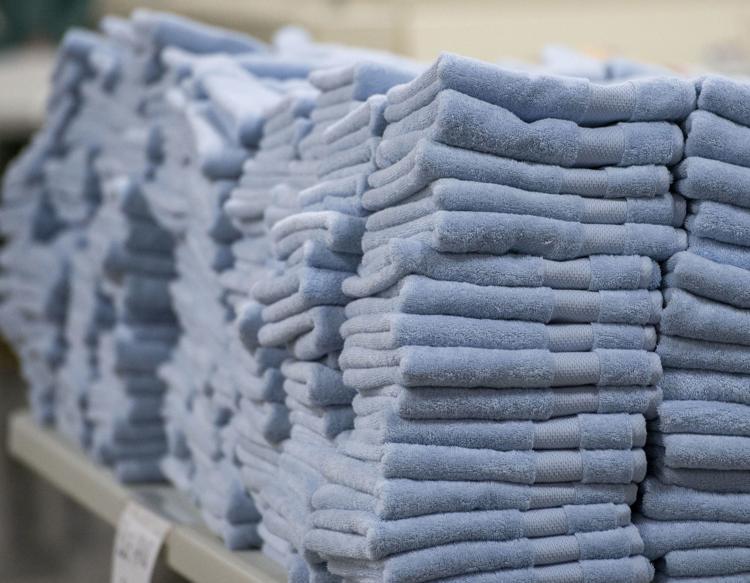 White is the most popular color for bath towels and washcloths, Plant Manager Allen Oakley said, followed closely by gray and tan. But towel makers need much more color on their pallet — sky blue, cranberry red, royal purple, lemon yellow and dozens of other options — to meet the somewhat fickle demand of consumers who may base their color choice purchases on a scene from a TV show or movie.
If a well known celebrity recommends a minimalistic white or gray or urges followers to deploy bold shades or patterns for whimsy, sales can follow any trend, and producers must be able to meet those demands.
During a plant tour last week, Burton showed off a wide assortment of colors, weights and three different styles of towels made in the Bristol factory that were taken to a major retail show in New York in September. That show generated the initial orders that are now being filled.
"We were very well received by a lot of people. We've proven we could do it. The products we made were every bit as good as any towel from any factory anywhere in the world. The proof is in the pudding, and this is the pudding," he said.
American Merchant wasn't able to take advantage of this Christmas season since retailers order and stock months ahead, but company officials expect a bright future. One national retailer reported selling 1.5 million towels just on Black Friday, he said.
Burton declined to reveal which stores would stock them, saying "I prefer for the retailers to announce it. I don't want to get ahead of my customer. There will be several retail outlets in this area that will be selling towels made here in Bristol, Virginia."
The factory has orders to fill during the first three months of next year, and the towels will rely on brand names, beyond just American Merchant.
"There are several iconic American brands once made in America that will, once again, be manufactured in the USA," Burton said.
American Merchant has committed to purchasing and using only cotton grown in the U.S. At full production, the plant is expected to use about 200 tons of that cotton yarn per month, and all that American cotton is in for a workout. Much like a fully equipped gym, the plant features row after row of sophisticated state-of-the-art machines designed to convert the naturally tan-colored strands of yarn into pile after pile of soft, fluffy towels.
To begin with, 600 strands of cotton yarn are painstakingly wound together on massive spools called beams. Those 600 strands will be rolled onto the beam at 1,000 meters per minute. In case a strand breaks, the machine will sense that and stop within one rotation with a braking system, Burton said.
"We typically would have very few breaks in the yarn. If we do, there is a problem, and we would contact our supplier," Burton said.
After that, a substance called sizing is added to the yarn to make it stronger.
"We want to add more strength to the yarn, because we weave at very fast speeds. Sizing, or slashing, is all about making the yarn stronger, by pressing a starch-type liquid into the yarn, and then we're cooking it," Burton said. "I like to say we're making pasta except in reverse. We're taking a wet noodle and putting the starch back into it to make it firm again, but we don't want it to be brittle and break."
Starch makes the yarn strands stick together, so another process separates them.
From there, the filled beams are lifted by crane onto a steel structure until ready for use.
"We're basically making two types of beams here — a pile beam and a ground beam. In a bath towel, about 70% of the yarn is on the pile, that's the soft loop. The rest is the ground. You want as much yarn as possible on the pile beam," he said.
One pile beam of yarn weighs about 5,000 pounds, while one ground beam weighs more than 3,500 pounds. Once on the loom, the pile beam runs faster to get more into the product. To keep the yarn supple enough to run at those speeds, the loom room is climate-controlled at about 80% humidity and 65 degrees. For its initial runs, the company is making three different sizes and weights of bath towels, hand towels and washcloths — essentially good, better and best quality, Burton said.
To accomplish the color palate, the newly woven towel segments are transported to the "dye house," to receive their new identity.
First, the fabric is soaked in hot water to rinse out the starch and then bleached to remove the natural shade before color can be added. The fully automated batch dyeing cycle lasts about seven hours.
"We're cooking color at very high temperature and very high pressure into the yarn. One hundred and fifty to 190 degrees depending on the dye formulation," Burton said. "Every formulation is a little bit different. The important thing for us — if a retailer has our towel on their shelf — is we have to keep it the same white or the same color, time and time again. It may live on the shelf for three years. When a consumer shops, they take the towel at the top. When they restock, it isn't always first in, first out. We have to make sure we have color consistency across the line."
Once used, all water is directed into the water treatment system.
At this point, the fabric is 114 inches wide, so it must then be trimmed into individual bath towels, hand towels or washcloths. The splitter that separates them runs at 100 meters per minute, Burton said.
"I'm drying it and resetting the dimensions. I'm stretching it wider than I need it to be and shrinking it back down to a standard size. When I go to my cut and sew, I need everything lined up so I can automatically cut and sew it," Burton said.
Other machines sew the side and end hems while adding labels or price tags, at the discretion of the customer.
Burton estimated that about half of the current workforce will inspect, fold and pack products, but there is automation here, too.
Towels are hand-fed into an automated folding machine that can fold 550 towels per hour, many times the rate of a single human. Washcloths are hand-folded because they are too small for the machine.
The plant warehouse is still being set up, and storage areas have been determined for the various components used in the processes.
The primary substance stored in quantity there is sodium carbonate, which is essentially salt, Burton said. However, they have notified local, state and federal authorities of what will be stored there and where it is located.
"We've worked very closely with the city, the police department and the fire department. We've probably had 60 firemen through this facility, because we want them to know what we have in here, where it's going to be, if there's an issue how do you get in, and how do you get out," Burton said. "We try to take that extra step to not only be a good corporate citizen, but a responsible citizen. Hopefully, they won't have to be in here, but at least we've gone through that process."
After a sluggish start, the plant is expected to more than double its current employment level in the coming year as more orders arrive and the rest of the equipment is brought online. Burton forecasts a bright future.
"This is a continuing work in progress. We'll continue to evolve, progress and do everything we can to make this the best operating textile facility in the world," he said. But that "doesn't mean as much to us as being the best that we can be."
Get local news delivered to your inbox!
Subscribe to our Daily Headlines newsletter.