For at least five Virginia cities, investments totaling hundreds of millions of dollars, thousands of new jobs and millions in potential tax revenues are at stake this winter as the General Assembly determines if and how to legalize casino gaming.
More than 20 gambling-related bills have been filed regarding casinos and their regulation, taxing games of skill, charitable gaming, pari-mutuel wagering, addressing problem gambling and the lottery. None have yet emerged from a committee.
House bills 374 and 1661 along with Senate bills 102 and 348 — which mirror legislation approved last year — propose that one casino be permitted to operate within the borders of five cities: Bristol, Danville, Norfolk, Portsmouth and Richmond.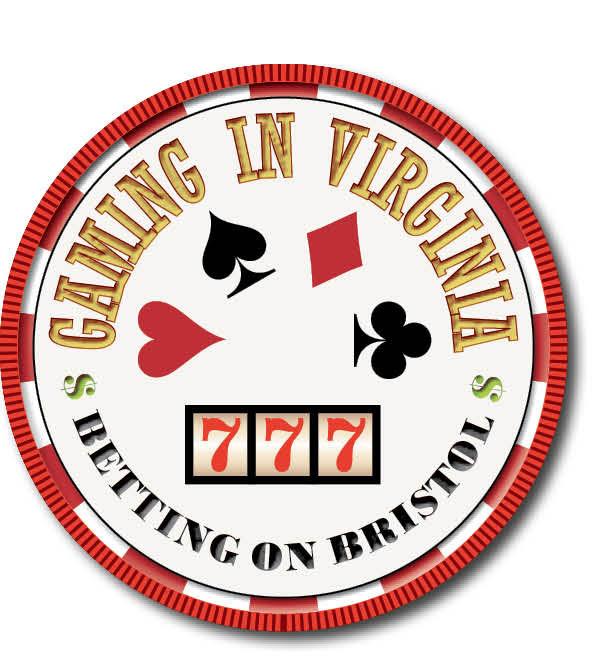 A Virginia Joint Legislative and Audit Review Commission (JLARC) study conservatively estimates the five proposed casinos would generate nearly $1 billion in combined annual net gaming revenue for operators and more than $260 million annually in state gaming tax — with each requiring a minimum of a $200 million initial investment. Localities would also reap gaming tax, real estate and other tax benefits. Collectively, the study forecasts they would create more than 7,000 jobs.
Four of those five cities have already identified casino projects and sites and have various forms of signed agreements with committed backers. The fifth — Danville — looks to select a casino operator through a request-for-proposals process.
In every case, the ultimate choice to allow casino gaming lies with residents, as each city would stage a referendum under the current legislation.
Jim McGlothlin, one of two local business leaders seeking a license for the proposed Hard Rock Bristol Resort and Casino, said there is strength in numbers versus calls for competitive bidding — which is one of more than 20 suggestions to emerge from the JLARC study.
"I think that strengthens our hand in the legislature to have an organized effort that seems to make business sense in the state, and I believe the citizens and legislators — it should give them some confidence that bigger business/industry casinos believe in this kind of thing," McGlothlin said last week. "We should be able to see it is going to lead to some success businesswise in the various cities who need this help."
But others want to enter the game.
Locally, The Pinnacle in Washington County and the Eastern Band of Cherokee Indians are lobbying for a seat at the table after unveiling their proposed $200 million casino as part of a larger $500 million expansion including a water park and hotel, mountain coaster, golf venue and expanded shopping and dining options.
Across the state, Colonial Downs — which operates four Rosie's Gaming Emporiums featuring hundreds of slots-like historic horse racing games — also wants consideration, especially in Richmond.
The Cherokee project — which would be outside the city's boundaries — would require that the legislation be modified to include competitive bidding or to allow an "adjoining" locality before it could be considered. Senate bill 743, carried by Sen. Jeremy McPike, D-Dale City, proposes a competitive bidding process but only for the five named cities.
Colonial Downs would also require that the legislation be modified and House Bill 1661 proposes to do just that, allowing an entity with a pari-mutuel wagering license to be included in cities where a federally certified Indian tribe proposes a project — which just happens to be Richmond.
Here is an update on the status of Virginia's proposed casino projects within those five cities.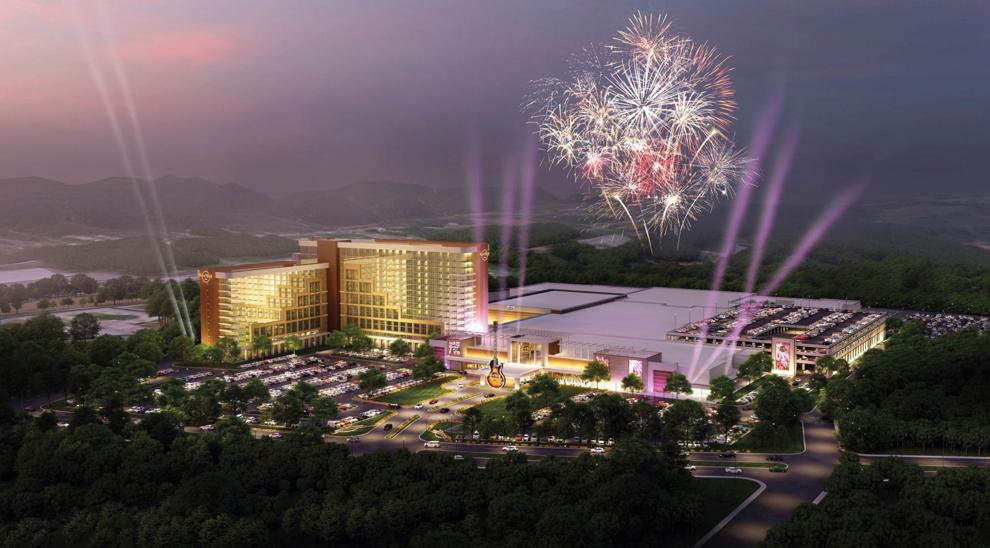 In the 17 months since Twin City businessmen Jim McGlothlin and Clyde Stacy announced plans to seek state approval for casino gaming so they could establish a resort casino at the vacant Bristol Mall, Senate Bill 1126 was approved last March by the General Assembly and signed by Gov. Ralph Northam. It authorized the comprehensive 2019 JLARC study and opened the door for gaming, if reauthorized during the 2020 legislative session and approved by city voters.
Last November, Hard Rock International announced its intent to manage the casino and hotel operations, and last week it was revealed HRI will invest in the now $400 million project as an equity partner.
Both men said their conversations with state lawmakers are favorable.
"Everyone I talked to seems to be in favor of our project," Stacy said.
McGlothlin said, despite a change in Senate and House leadership, "Our story has begun to gel and take on some statistical numbers and facts after JLARC that makes some sense and they can believe in."
That study forecasts a Bristol casino would create more than 1,000 direct casino jobs, generate nearly $130 million annually in net gaming revenue and between $16 million and $50 million in gaming tax, depending on what rate the General Assembly approves.
The same report forecasts an investment of $226 million to $310 million and a hotel of between 100 and 400 rooms.
However, with the private investment now projected to top $400 million and a 600-room hotel to accommodate visitors, those projections may be low, as McGlothlin previously said.
That report was completed before the Hard Rock affiliation was announced.
In addition, the study predicts a lower tax rate on gaming revenue would result in a larger investment in the casino and related amenities, since the operators could retain more profits. McGlothlin and Stacy agree, favoring the 15% rate proposed last year versus the higher 27% and 40% rates mentioned in the JLARC report.
McGlothlin said he agrees the casino would likely employ more than 1,000, but the entire complex — including the hotel, conference center, shopping, dining and entertainment options — would likely employ well over 2,000 people with average annual wages greater than $40,000.
JLARC consultants The Innovation Group estimates that a Bristol casino — based on market size — would need between 1,500 and 1,900 gaming positions — slot machines, table games or sports betting. McGlothlin said that has yet to be determined but will be a Hard Rock decision.
JLARC also projects hat a Bristol casino would attract gamblers from a more than two-hour driving radius, but McGlothlin said the attraction of Hard Rock and the entertainment options it is expected to bring would greatly expand that.
The Bristol City Council and School Board voted unanimous support for the project early on, as it is forecast to generate millions in new tax revenues for the city, region and state without seeking any tax breaks or government assistance.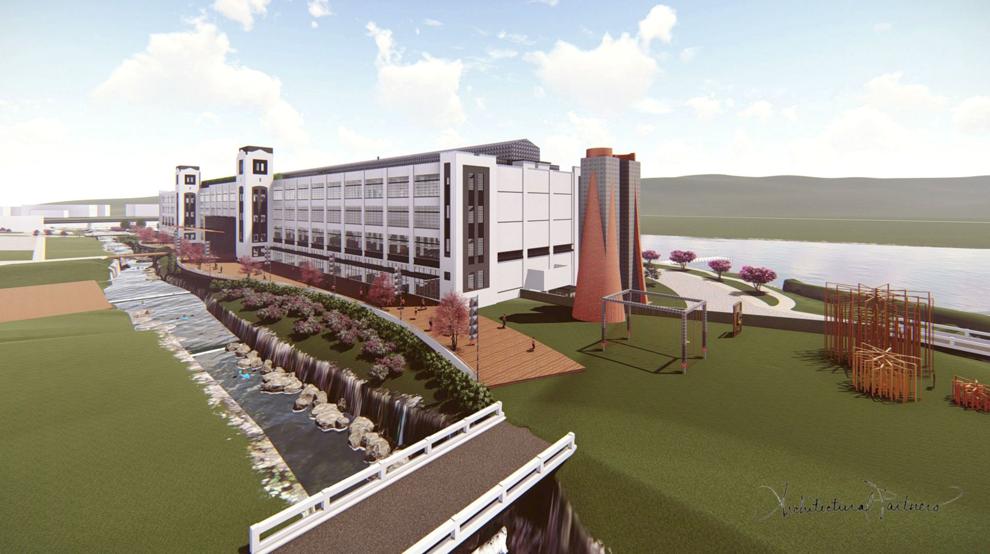 The Danville City Council hasn't taken an official position yet regarding a casino, but on Dec. 2 the city manager issued a request for proposals from companies interested in developing and operating a casino.
The deadline was Jan. 13 and a city review committee is scheduled to meet Jan. 27 to conduct an "initial review," according to City Manager Ken Larking. The names of all applicants are being withheld pending a full review of all proposals.
"We received multiple proposals that included all sites identified in the city's casino study," Larking wrote in a Thursday email, but he declined to cite a specific number. "We received excellent proposals from very strong operators and developers."
He also declined comment on media reports that Harrah's, a division of Caesar's International, is interested in the Danville market.
"We will announce our preferred developer following our review process. We have not identified a deadline for a decision. We want to be thoughtful in our evaluation of the proposals and there is a lot of information to consider," Larking wrote.
He added that city officials chose the RFP route as the best way to evaluate proposals.
"We wanted a standardized, competitive process that would allow us to compare all proposals looking at a number of key criteria," Larking wrote. "We developed our own process using many of the aspects of [state] procurement as a model."
The city identified four likely locations for a casino and appears to prefer two former manufacturing sites.
"As they compete to do the business here, we will be evaluating several criteria, including their experience, the number of jobs their project would create and other amenities it would include," Larking said in the statement.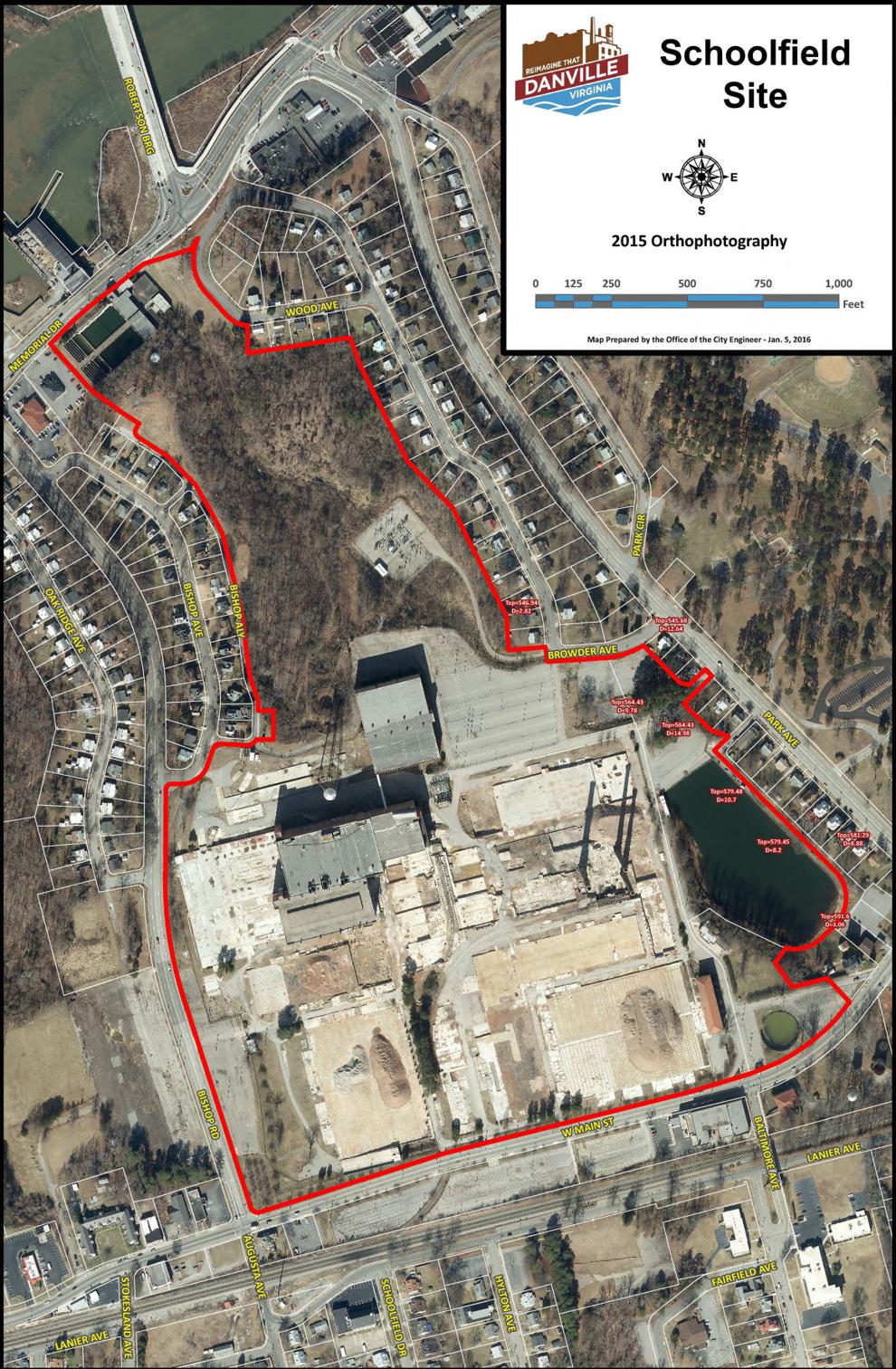 Companies could submit up to two proposed sites. If submitting two proposals, one of the proposals must use either the White Mill or Schoolfield site — both owned by the city's Industrial Development Authority. A second proposal could be for a site of the company's choosing.
A November 2019 study forecasts that a Danville casino could generate more than 2,000 jobs and up to $363 million in annual net gaming revenue, depending on size. Conducted by Convergence Strategy Group of New Orleans, the study projects two scenarios — a destination resort casino with 2,500 slot machines, 100 table games and about 325 hotel rooms and a smaller scale facility with 1,200 slot machines, 60 table games and 225 hotel rooms. It also applied those options to four proposed sites.
The resort facility is forecast to generate between $322 million and $363 million in gaming revenue and between $387 million and $436 million in total property revenues annually, including a hotel and related dining and retail. It is also forecast to generate between 2,100 and 2,400 jobs with payroll between $67 million and $75 million.
The more moderate Danville casino is forecast to generate between $233 million and $280 million in annual gaming revenue and between $275 million and $329 million in total revenues while creating between 1,400 and nearly 1,800 jobs with payroll expected to range between $47 million and $57 million.
That same study forecasts that the city of Danville would reap more than $4 million annually in gaming taxes with a resort casino and between $2.9 million and $3.5 million from a moderately sized casino.
Those numbers are substantially higher than estimates included in the JLARC study. It predicts a Danville casino would employ between 1,500 and 1,700 and generate $221 million in annual gaming revenue.
A third study, by The Innovation Group for JLARC, forecasts that a Danville casino's net gaming revenue would range from $184 million to $205 million, depending on the state tax rate and employ between 1,300 and 1,700 people.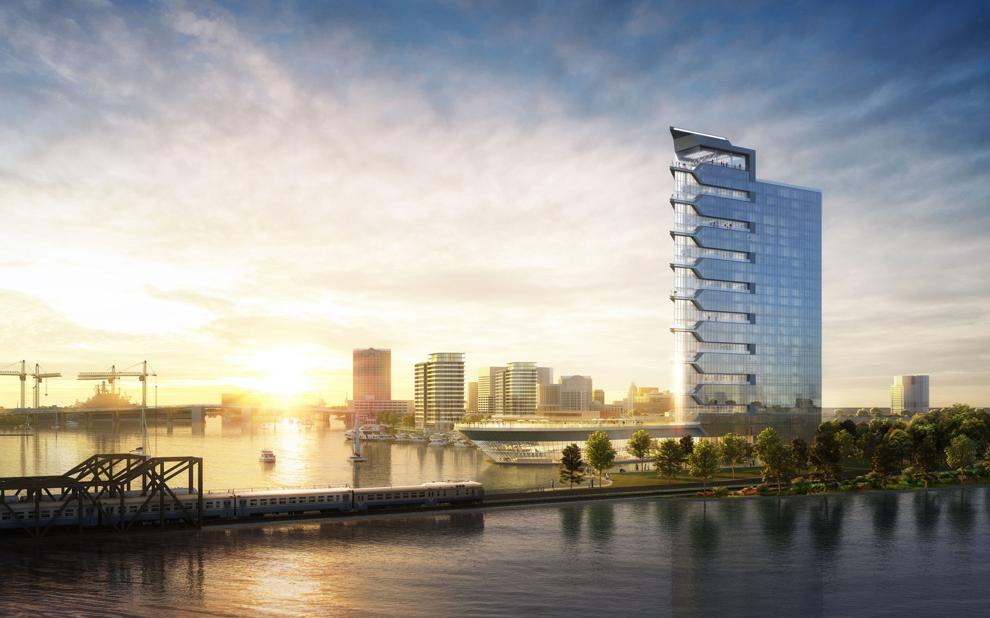 On Jan. 13, the Pamunkey Indian Tribe and Golden Eagle Consulting signed an option-to-purchase agreement with the city of Norfolk to acquire 13.4 acres of undeveloped city-owned property along the Elizabeth River, adjacent to Harbor Park. Under the $10 million agreement, the option would only be exercised if the state permits casino gaming.
The city and tribe also signed a development agreement to regulate the relationship between the tribe and city for the development of a commercial casino resort.
No commercial gaming operator has been named.
The 83-page purchase agreement spells out the project must be "consistent in quality and design with other recently constructed casino resort destination," such as the MGM National Harbor in Maryland or Mohegan Sun in Connecticut.
It further requires a minimum of 750 electronic gaming machines, 25 gaming tables and 150 hotel guest rooms.
However, the tribe proposes to develop a project with more than 4,000 gaming positions with slot machines and table games including blackjack, poker, craps and baccarat, plus a high-limit gaming area. Plans also include multiple food and beverage venues, two fine dining restaurants, a sports bar, 500-room convention hotel, 2,500-seat multi-purpose event center, spa and fitness center, pool, retail and entertainment corridor including a cinema and bowling complex and an attached multi-level parking garage with 2,000 spaces, according to the agreement.
City officials estimate the minimum standard casino would generate more than $120 million in annual net gaming revenue and $4.8 million in gaming tax monies while the proposed larger scale resort casino could generate $765 million in net gaming revenue each year and a city share of $30 million in state gaming tax revenue, based on 5%.
The city issued an analysis stating that a modestly sized resort casino could create 1,224 direct jobs and more than 1,700 total jobs.
The state JLARC study estimates a Norfolk casino would generate $185 million in annual net gaming revenue and $50 million annually in state gaming tax, based on the 27% tax rate.
The agreements follow more than a year of negotiations between the tribe and city, according to a written statement.
The Norfolk City Council voted 7-1 last September to grant the city manager authority to execute the agreements, which prompted additional months of due diligence by both sides before both were signed earlier this month, according to the statement.
This project includes no government subsidies and is to be privately funded by the tribe and GEC.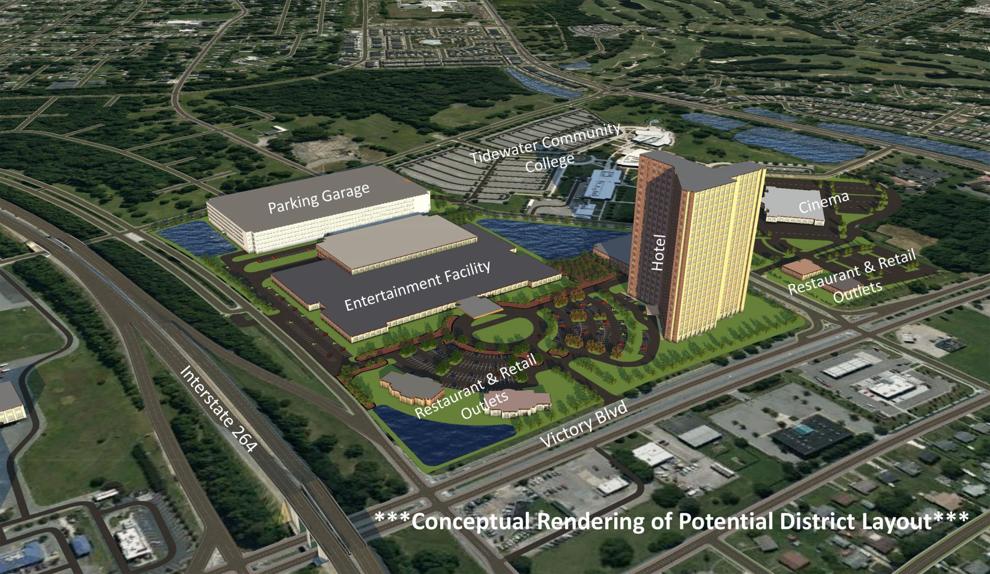 On Nov. 18, Rush Street Gaming of Chicago signed a memorandum of understanding to develop and operate a casino in the city of Portsmouth, pending state legislative approval.
The proposed site includes more than 50 acres off Victory Boulevard adjacent to Tidewater Community College, which is about seven miles from the proposed Norfolk casino site. Portsmouth officials originally discussed building the casino on the waterfront, in close proximity to the Norfolk site.
"First and foremost, we're real estate developers with a strong track record of successfully collaborating with our host communities," Neil Bluhm, chairman and co-founder of Rush Street Gaming, said in a written statement announcing the project.
Rush Street Gaming and its affiliated companies have invested more than $3 billion to establish and operate destination casinos under the Rivers Casino brand in Philadelphia and Pittsburgh, Pennsylvania, Des Plaines, Illinois, and Schenectady, New York, according to the company's website.
They also conduct internet gaming and sports betting, operate restaurants, hotels, entertainment venues and a television production company and have created more than 6,000 jobs, according to a statement.
"We choose our projects very carefully, and we knew right away the Victory Boulevard location would be ideal. Portsmouth is central to the region and the site itself is large with the potential to include a multitude of hospitality and entertainment uses, is well-positioned in a development corridor with retail, superior infrastructure, and immediate highway access from multiple directions," Bluhm said in the statement.
Portsmouth leaders have not released projected economic impact figures, relying instead on the JLARC study. It forecasts that a Portsmouth casino would generate $167 million annually in net gaming revenues and $45 million in state gaming tax revenue, based on a 27% rate.
The Innovation Group report — on which JLARC based its figures — projects a Portsmouth casino would generate between $162 million and $172.5 million in annual net gaming revenue, employ between 1,300 and 1,600 people and offer about 2,000 machines and table games. The variables are based on different tax rates, with the larger profits and bigger facility projected at a 12% tax rate versus 27%.
"I've always believed that Portsmouth is the ideal location for a destination casino," Sen. Louise Lucas, D-Portsmouth, said in the statement. "Virginia has a rich tourism industry and gaming is a natural fit. I'm excited for Rush Street Gaming to bring their community-centered model to my hometown and look forward to seeing the partnership grow."
On Jan. 17, the Pamunkey Indian Tribe announced details of its second proposed Virginia casino, acquiring or agreeing to purchase four parcels totaling 49 acres and developing a $350 million commercial casino and other businesses in the city of Richmond.
The tribe purchased 36 acres along Ingram Avenue near Commerce Road — the proposed casino site — which lies between a largely industrial area and residential neighborhood south of the city's capital district.
The proposed $350 million destination resort and casino would include a four-diamond, 275-room hotel tower with views of the James River and downtown. Planned amenities include a spa, fitness center and pool, restaurants, sports bar and grill and food court, plus a parking garage with 1,000 spaces.
The tribe estimates it would attract 4 million annual visitors and create more than 1,500 full-time jobs.
"We are very excited about our plans to bring a great resort and casino to Richmond," Robert Gray, chief of the Pamunkey Indian Tribe, said in a written statement. "Not only does this help fulfill the government's intent to use gaming to help us secure our future, but it will also be a great economic boost for the city of Richmond and its citizens."
The tribe is committed to providing extensive job training, a living wage, health care for employees and excellent career opportunities, according to the statement. The hiring program would include special outreach to members of Virginia tribes and other minority communities. Once open, the plan is to reinvest money into the local community.
The tribe also agreed to buy a 13-acre parcel on Jefferson Davis Highway near Walmsley Boulevard, according to the statement.
The property on Jefferson Davis is to be used as a workforce training facility for the resort and then converted into other uses, according to the statement.
The Innovation Group report forecasts that a Richmond casino could generate between $292.7 million and $303 million in annual net gaming revenue and between $36 million and $117 million in state gaming tax revenue — again dependent on what tax rate lawmakers impose.
That study predicts such a casino would include a hotel ranging from 250 to 400 rooms, have more than 3,000 games or table games and employ between 1,950 and 2,100 workers.