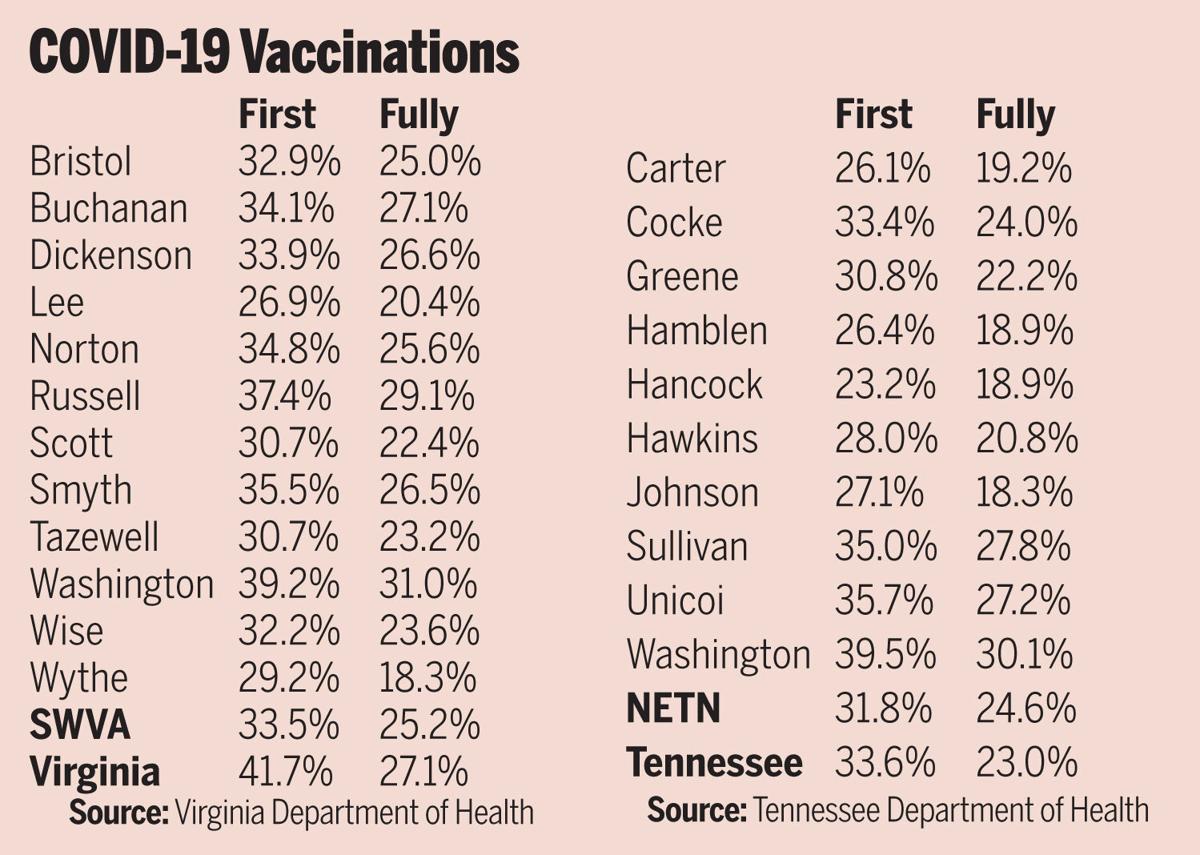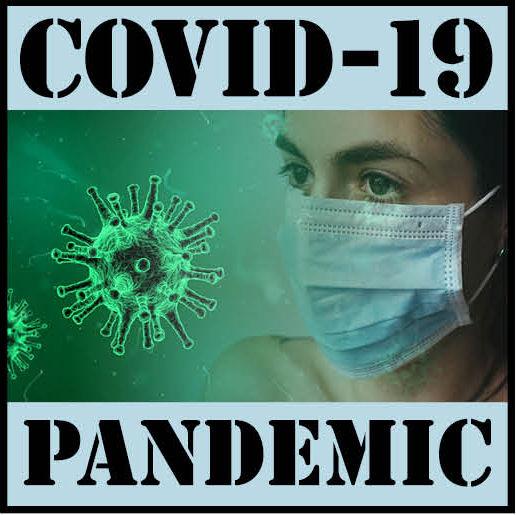 JOHNSON CITY, Tenn. — While this region's vaccination rate remains below state and national averages, those shots are helping lessen the impact of COVID-19 and the B.1.1.7 variant, health officials said last week.
Preliminary wastewater testing again shows widespread community spread of the novel coronavirus and the more highly contagious UK variant — prompting a spike in cases and increased hospitalizations. However, because about a third of the region has received at least one dose of vaccine, that impact is less.
"We are already seeing that folks that have been vaccinated are causing this transmission to be slower than it would have been," said Dr. David Reagan, the former chief medical officer of the Tennessee Department of Health and an advisor to Ballad Health, said during a news briefing. "Last fall, when we had the strain that was active in the region, we saw a really high rate of transmission and infection between Thanksgiving and Christmas.
"Already, this is a more transmittable strain that we're talking about. But the transmission is already blunted to some degree. I think that is an affirmation of how effective this vaccine is going to be in protecting the community, but we're not to the point where it can't be transmitted efficiently and increase our hospitalizations and increase mortality," Reagan said.
On Friday, Ballad Health reported 125 hospitalized COVID-19 patients and more than 60 being treated at home. Ballad has averaged 130 inpatients this week compared to 110 inpatients last week and the number of cases across the region has risen each of the past four weeks.
While much higher than February or March averages, current totals pale when compared to December and early January — when vaccines were first being administered to small groups — and Ballad treated more than 350 inpatients and about 200 at home.
Last week, about 33% of Southwest Virginia residents had received the first dose and about 25% were fully vaccinated. In Northeast Tennessee, about 32% have received first doses and 25% are fully vaccinated, according to each state's health department.
Nationwide Friday, 40.9% of Americans have received at least one dose and 26.9% were fully vaccinated, according to the Centers for Disease Control. In Virginia, 41.7% of adults received the first dose and 27.1% are fully vaccinated. In Tennessee, 33.6% of residents have at least one dose and 23% are fully vaccinated.
Herd immunity — the point where the virus isn't easily transmitted — means getting more than 70% of the population fully vaccinated.
"Herd immunity is not a single number. There is a range that's discussed of 70% to 90%," Reagan said in response to a question. "Herd immunity is not like an on-off switch, it's a continuum from the virus having succinctly slowed transmission in the region because the individual chains of transmission are broken to the virus having such a hard time even getting one step after an individual got infected you simply don't have any kind of substantial transmission in the region at all."
Addressing public concerns regarding the safety and efficacy of COVID-19 vaccines is important to encourage greater uptake, Reagan said.
"We are working with a number of partners right now to help focus efforts, but there are a lot of things out there around vaccines, vaccine efficacy and vaccine side effects that are well known and well answered. But still some of the misconceptions persist," Reagan said. "Some people have more specific concerns and are trying to be able to get more specific answers. For instance, a lot of people had concerns about the effects of vaccines on fertility. Much more is known about that now than there was six months ago and 200 million doses have been given in the U.S. And there are specific studies underway looking at that issue."
The Food and Drug Administration suspended the new Johnson & Johnson vaccine after seven recipients reported blood clots and one person died. About seven million doses of J&J have been administered in this country. On Friday, the FDA lifted its recommended pause.
The AstraZenica vaccine, which is authorized in Europe but not yet in the U.S., was also found to cause clots.
The two-shot Pfizer and Moderna vaccines haven't seen similar problems.
"The vaccines have a really remarkable track record of safety. I cannot say that loudly and clearly enough. Anytime you get 200 million doses of vaccine — especially when you start at the older and sicker population level — and you're doing this at drive-thru vaccination clinics — that really speaks volumes to the overall safety of the vaccine," Reagan said.
"It's totally appropriate when something comes up, like the potential clotting issues, that it gets a pause and a very, very careful look. At the same time, the frequency of that is about one in a million — what we know right now — so these are rare side effects. Unfortunately, in our area, COVID infection is not a rare occurrence," Reagan said.
Dr. Clay Runnels, Ballad Health's chief physician executive, said the hospital system is working with health departments to answer questions and increase the number of residents getting vaccinated.
"Just as we have throughout the entire pandemic, we continue to have conversations with our health departments. Everything we're doing is in coordination with them. We're talking to our public health officials and local community leaders," Runnels said. "We're having a variety of conversations about how to reach those people with the right message and we'll continue to do that. It's key, making sure we take them a message to their specific concerns."
Runnels also said Ballad is reviewing variables for its long-term modeling, including the variant, adherence to safety guidelines and the speed and volume with which vaccines are taken.
"We feel confident, within a few weeks, we could see a permanent decline in our numbers if we can get people to adhere for a period of time to smaller gatherings, masks and really key is the vaccine," Runnels said. "The vaccine is effective. If we can get enough people to get the vaccine we believe we'll see this decline and maybe start to get back to normal."