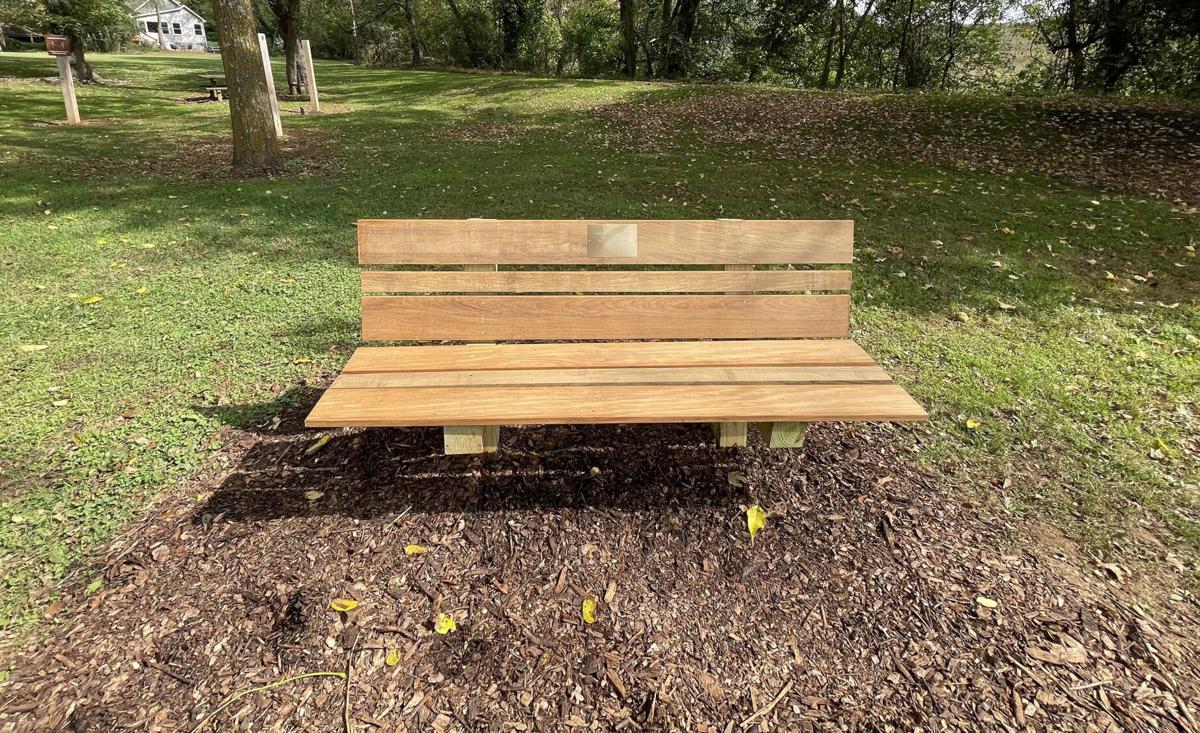 ABINGDON, Va. — "Race the Race."
That notation is on the newest bench at the Creeper Trail, a dedication to a longtime cross country coach who spent much of his final 45 years watching his Abingdon Falcons compete in practice and competition.
According to Abingdon Mayor Derek Webb, who ran cross country for the Falcons in both middle school and high school, the primary motivation for Don Cumbow was a job well done.
"Obviously he wanted kids to win state, he wanted all-state athletes, but at the end of the day what he truly wanted was to just motivate these kids to do the very, very best that they can," said Webb, who earned all-state recognition at Abingdon, and later ran at what was then King College. "I can't think of a single example in which he was disappointed in me personally, which just speaks testaments to his character. It was always just about doing the very best you can."
Cumbow, who died at age 74 in July of 2019, had a favorite spot on the Creeper Trail, just below the gazebo about a quarter-mile from the Abingdon trailhead, where he liked to watch his cross country runners going in either direction.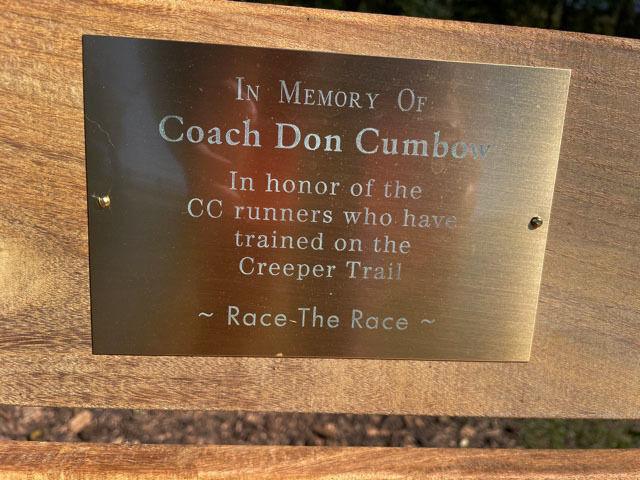 What better place to honor the beloved coach. Webb worked with Cumbow's wife, Sandy, to pick the perfect location. A commemorative plaque on the bench reads, "In memory of Coach Don Cumbow. In honor of the CC runners who have trained on the Creeper Trail. Race the Race."
"The way we positioned that bench, it is in a space where he would frequently sit and stand while he was coaching because he could see the kids coming down the trail toward the trailhead and he could also see going out," Webb said. "You got kind of a good view of the trail going toward Damascus and back toward Abingdon so it is just a special location, a great location for his bench."
A bench dedication service to Cumbow's memory was held Oct. 14. His wife, two sons, and other members of the community came together for the ceremony presided over by Webb.
"He has a strong following as of today," Webb said. "It was special for me to be able to look and see coaches that coached with and alongside Coach Cumbow like Mike Hagy. He was always the assistant with Coach Cumbow and he was there.
"Then we had other coaches from different high schools locally that were coaches while Coach was my coach. It was kind of cool seeing 20 to 25 years of aging on everybody, but we were all still there for the same purpose, to celebrate his legacy."
Cumbow started the cross country program at Abingdon High School in 1974, and was still in charge at the time of his death. He built one of the top boys and girls teams in all of Virginia, producing numerous all-state runners, while leading the Abingdon girls to the 1988 Class AA title, and the Falcons shared the girls crown with Harrisonburg in 1994.
"Coach Cumbow had a special ability to channel the kids, and just get every drop, every ounce of effort out of them," Webb said. "One of the things that made him special is he just had a way with words that could just motivate kids to do the best they could do."
Few sports are as difficult and physically grueling than cross country, which doesn't get near the attention it deserves. Yet, Webb said Cumbow's manner of motivation made his athletes want to perform to the best of their ability despite the physical exertion it took.
"It is a lot of hard work, and he was all about consistency and long term durability," Webb said. "That was another thing that always struck me about Coach is he had a lot of wisdom about training kids in a way that they could be successful lifelong.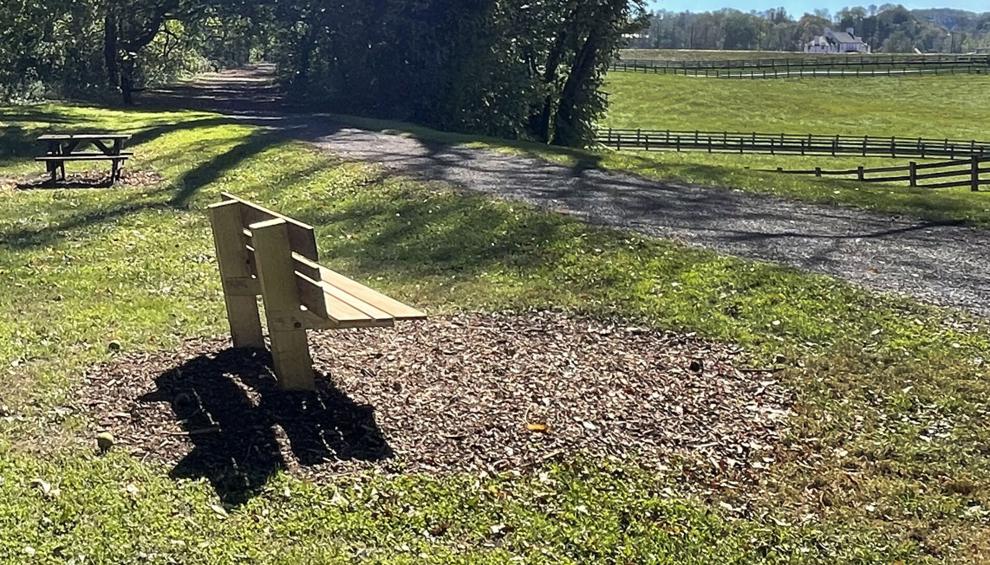 "I found myself running in college competitively, and then after I graduated from college, my wife and I did a stint of road racing competitively, and I am still a runner at 38 years old. It is truly is a lifelong sort of passion if you have the type of coach that Coach Cumbow was and really knows how to make it a lifestyle."
Cumbow's race is over. Yet, his legacy, his passion for his sport will live on far into the future.
Webb, who was elected mayor in Abingdon in July 2020 and is also the pharmacy manager at Food City, credits Cumbow with much of what he has achieved in life.
"I remember talking with Coach many times about when you are running a marathon, it is not about the start, it is about the finish. It is about getting there," he said. "Life is kind of the same. For me it is not about the start, you have got to start strong, but you have got to maintain and be consistent and try to finish as strong as you started."