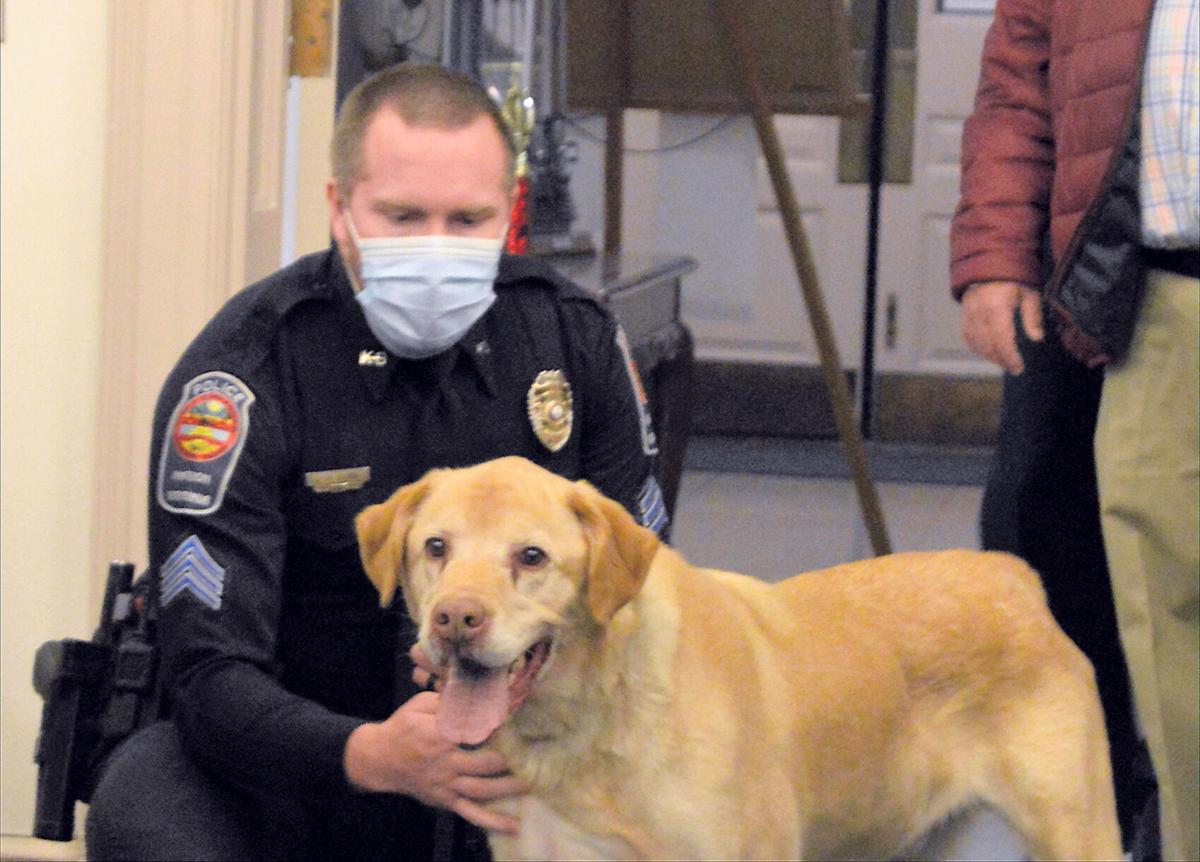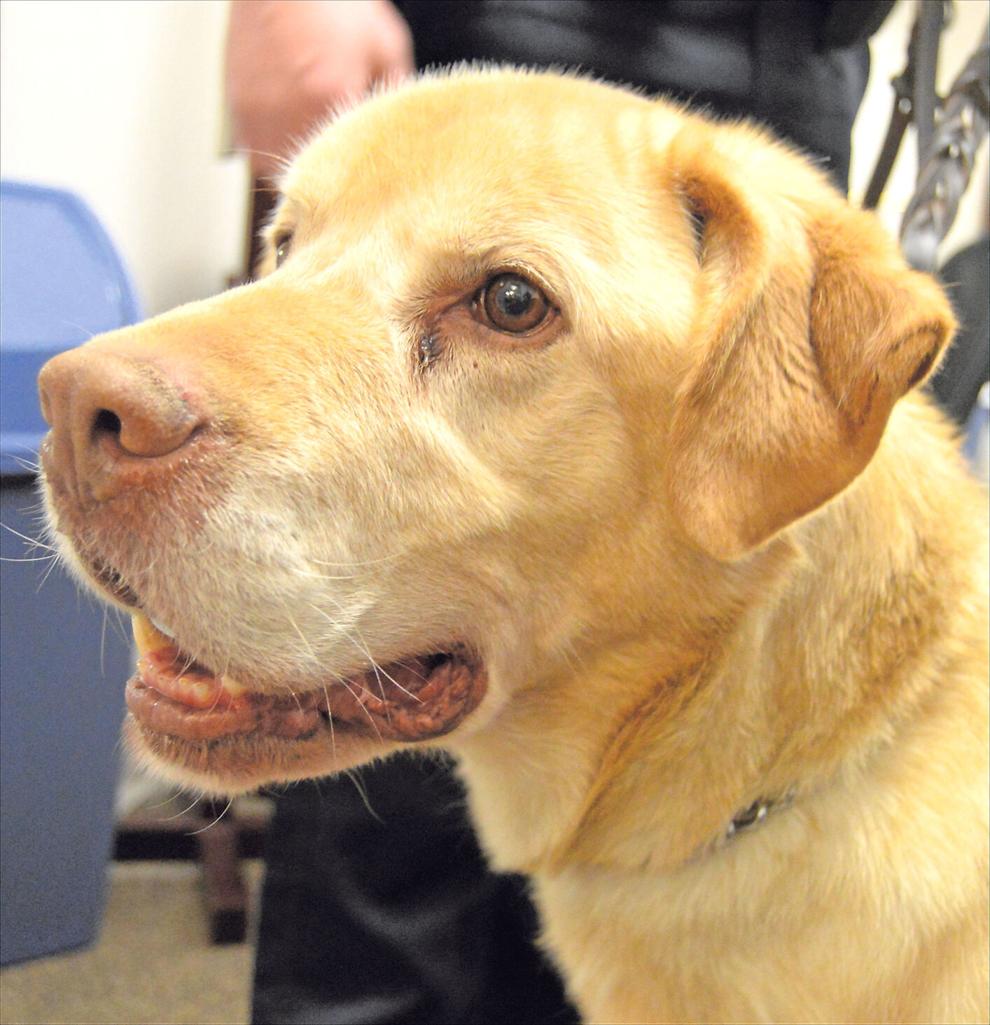 MARION, Va. — This retiring Marion Police Department officer has 120 arrests under his collar and was recognized last week for the lifesaving work of his career. While he may be slowing down now, retirement didn't stop K-9 Cooper from continuing to serve as an MPD ambassador during his recognition.
Last week, the Marion Town Council honored the MPD's first K-9 officer, an 8-year-old yellow lab, who came to the department as a gift from the Virginia Department of Corrections. Cooper has won numerous hearts as he's performed demonstrations for schools, churches and other organizations.
According to MPD Chief John Clair, Cooper "provided emotional support for children in our community during their most difficult times. Cooper interacted with children countless times and helped our department to provide a more positive interaction with the youngest of our community, in addition to his record of fighting crime."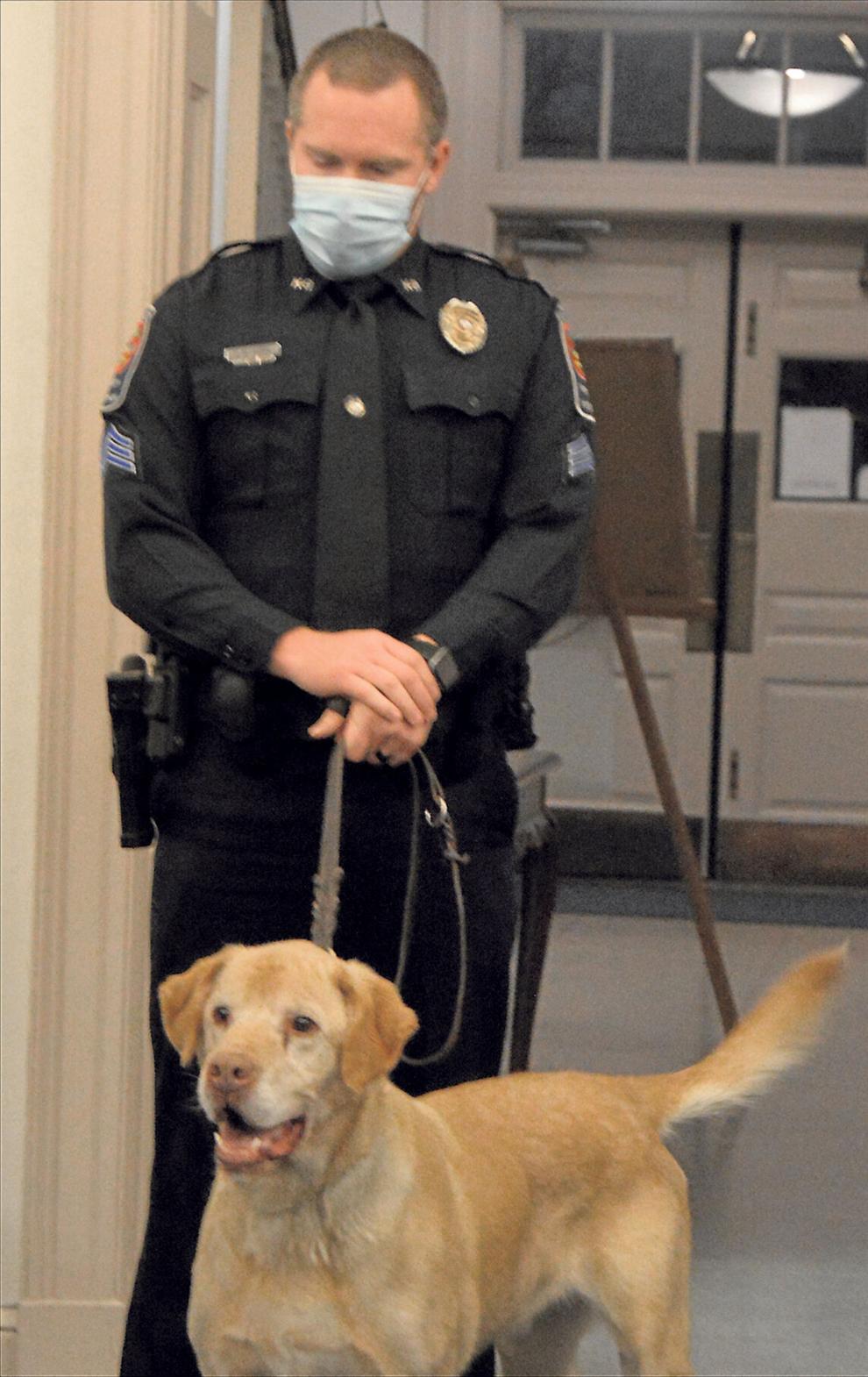 In July, when Cooper's impending retirement was announced, Clair said Cooper was the MPD's "most popular officer bar none."
He lived up to that reputation last week, winning head scratches from council members and giving dog kisses on occasion.
Cooper is now taking life easy at the home of his partner-handler, Sgt. Jeff Horn.
It was fitting for the council to honor Cooper's service at a December meeting. He was first introduced to the governing body in December 2016 when he broke new ground for the law enforcement agency when the about 80-pound lab and Horn became the MPD's first full-time K-9 team.
Last week, Horn remembered how challenging the initial training was with Cooper. With a hint of sadness in his voice, the sergeant noted that many K-9 teams achieve their best working relationship just as the dog is ready to retire. Work as a service dog is demanding, and Cooper has developed hip dysplasia. Running his hand down Cooper's spine Monday evening, Horn said the condition causes Cooper pain.
"He's a great dog, but we all get to the point where we're better meant for a slower pace," said Horn last summer. "As much as I'll miss having him at work, I'll look forward to seeing him at home at the end of my shift." At home, Cooper enjoys canine companions.
A resolution unanimously adopted by the town council last week noted that Cooper was credited with arrests that ranged from drug violations to illegal firearms possessions. He assisted in searches across Smyth, Washington, and Russell counties and providing service to several departments, including the Smyth County Sheriff's Office, the Chilhowie and Saltville police departments, and the Virginia State Police. In his MPD tenure, the K-9 officer took part in more than 200 service deployments.
Presenting the resolution to Horn and Cooper, Mayor David Helms observed, "Countless lives have probably been saved through the work of this dog."
Horn told the gathering, "Cooper is successful because of the officers he's surrounded by."