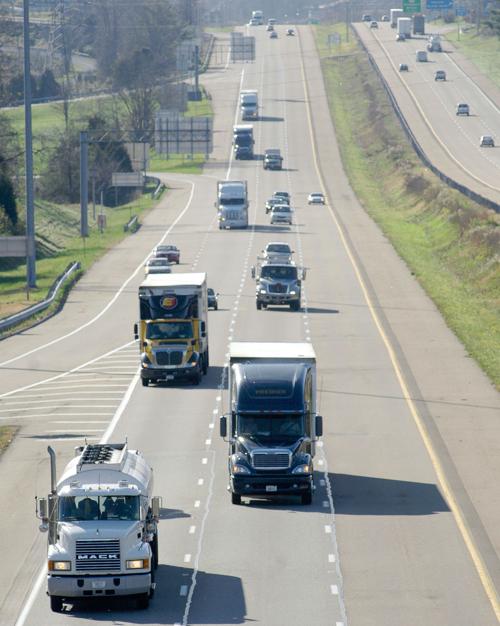 Legislation to impose tolls on vehicles traveling Interstate 81 has been introduced in the Virginia General Assembly.
Senate Bill 1716 and House Bill 2718 would establish an independent corridor improvement fund within the state treasury and require installation of overhead tolling gantries along the 325-mile route between Bristol and Winchester. Monies collected would be assigned to fund an estimated $2.2 billion in improvements identified in a 2018 study.
The proposed "initial rate" for commercial trucks classified as medium duty [class 6] and higher would be 17 cents per mile, per segment or a total of $55.25 for a one-way trip across Virginia. The initial toll rate imposed on all other vehicles "shall not exceed two-thirds" of the truck rate, or about 11.5 cents per mile, according to the legislation. That would cost other motorists about $37 for the same one-way trip.
Tolls may vary by time of day to reduce congestion, minimize growth of future congestion and encourage more efficient use of I-81.
The bill also specifies that signs be erected prior to all tolling facilities that "clearly state how the majority of toll revenue is being spent to benefit the users."
If the Commonwealth Transportation Board opts to impose tolls on certain bridges, those may not exceed $55.25 per vehicle nor two-thirds that rate for all other vehicles, according to the bill.
The legislation also directs that, if tolls are imposed, the board shall establish a "reasonable fee program" for owners of passenger motor vehicles to purchase an annual pass that wouldn't exceed the amount of a full-length round trip, or about $74.
That pass would entitle the owners of passenger vehicles registered in Virginia or other states, a 100 percent discount on all tolls on Interstate 81 for a 12-month period.
Senate Bill 1716 is being carried by Sen. Bill Carrico, R-Galax, and Sen. Mark Obenshain, R-Harrisonburg. The House version is being carried by Del. Steve Landes, R- Verona, and Del. Terry Austin, R-Buchanan.
Last week, Carrico said he understands that tolls are unpopular.
"For the safety of everybody that travels on I-81, there has got to be something done to keep the flow of traffic going," Carrico said. "Legislators that represent areas impacted by 81 just feel that this [tolling] is the direction we're going to have to go in order for us to get money to address these problems, and VDOT has estimated it will take about $2 billion to address it."
The study found that 11.7 million tractor-trailer trucks travel I-81 annually — about a third of all Virginia truck traffic — and that volume is forecast to exceed 20 million trucks by 2040.
On Wednesday, the Alliance for Toll-Free Interstates continued its criticism of this plan.
"Putting tolls on Interstate 81 would have many negative consequences for not only western Virginia, but the whole commonwealth. Imposing tolls on existing lanes of I-81 will increase shipping costs for goods, suppress consumer activity, waste revenues on bureaucratic administration, double-tax businesses, divert traffic onto local roads, and negatively impact residents and communities located around toll facilities," said spokeswoman Stephanie Kane.
"More importantly, while most agree I-81 needs improvements immediately, using tolls to finance improvements requires a lengthy federal approval process that puts improvements to I-81 in the hands of the federal government and will delay any improvements to the interstate for years. On the contrary, a tax increase is completely controlled by the commonwealth, and money can start being collected much sooner to begin improvements this year," Kane said.
Bristol Virginia City Manager Randy Eads said Wednesday that city officials haven't taken a position on the bill but agree "something" needs to be done to improve safety along the route.
The legislation would create the Interstate 81 Corridor Improvement Fund, a special, non-reverting fund within the state treasury, where all revenues from tolling and any other funds from other sources would be dedicated to I-81.
"Moneys in the fund may be used only for capital, operating, tolling operations and maintenance and other improvement costs identified in an Interstate 81 corridor improvement plan adopted by the [Commonwealth Transportation] Board," according to the legislation. "Improvements to any portion of the Interstate 81 corridor shall be deemed to benefit the toll-paying users of Interstate 81."
In Kane's statement, she said money shouldn't be wasted collecting, administering and enforcing tolls.
"According to the Congressional Research Service, 'even with extensive use of electronic tolling, collecting highway tolls costs between 8 percent and 11 percent of the amount collected.' SB 1716 simply props up a fiscally irresponsible government bureaucracy to waste taxpayers' money on toll administration, enforcement and collection," Kane said.
Virginia presently assesses tolls at seven locations around Richmond, Chesapeake and northern Virginia totaling about 70 miles. It also charges user tolls for three managed interstate segments in northern Virginia totaling less than 50 miles.
Seventeen states presently charge some toll on a segment of an interstate highway, interstate highway express lanes in densely populated areas, or city interstate connector routes. However, research could find no state that charges tolls for the length of an interstate highway's full span within its borders.