On Friday, Jan. 24, 2020, Bristol Virginia Public Schools shut down to do a deep cleaning of all of its facilities amid a spike in flu cases and other illnesses among students and staff. At Stonewall Jackson Elementary School, absences surpassed 20% for both kids and employees.
Less than two weeks later, Sullivan County's school system followed suit, closing its buildings for three days to deal with its own surge in cases of flu, strep, stomach bugs and other illnesses common during flu season. About 60 teachers called in sick on Feb. 5 alone.
Today, it might take some effort to remember the flu, thanks to the more dangerous respiratory illness that has gripped the region and world for the past year. COVID-19 triggered roughly two months of area school building closings in the Mountain Empire region just between March and May of last year. And between March 20, 2020, and Feb. 19 of this year, it has killed 1,781 people in the region.
There hasn't even been much flu to speak of during the fall and winter flu season, according to local school leaders and health officials.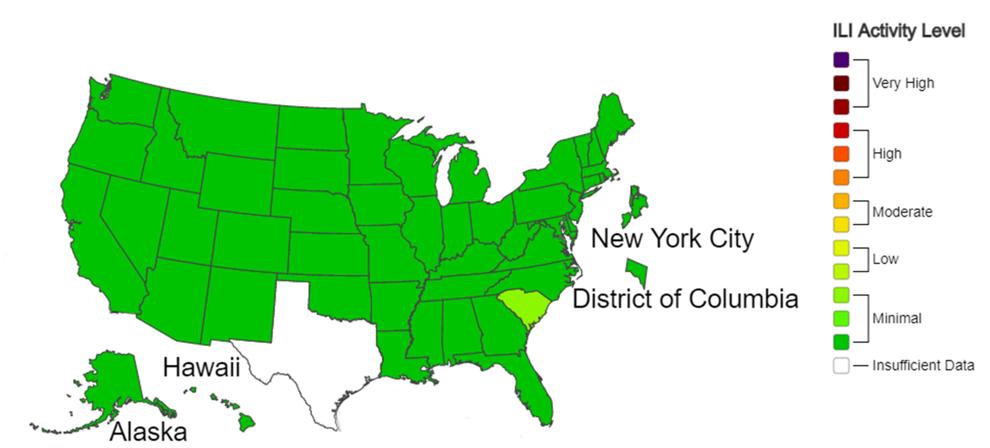 Bristol Virginia Public Schools has had only two reported influenza cases among students and none among staff, Superintendent Keith Perrigan said.
Sullivan County Schools Director David Cox had to pause and think a bit when asked about the illness in his district.
"I'm not aware of any concerns about the flu at this point," Cox said. "I've heard … probably one or two instances where people have had the flu. That's extremely different from previous years."
Dr. Stephen May, medical director of the Sullivan County Regional Health Department, said the county's flu numbers have "basically been flat" since May 2020.
"We did have a very, very low amount of flu above the baseline towards the end of November into December, but it has since flattened out," May said.
For Sullivan County, that baseline — the amount of flu normally seen when it's not flu season — is about 1% of patients being seen in doctor offices and emergency rooms with influenza-like illnesses, May said. The county has stayed at 1% to 1.5% even during the flu season, which he said is "way down" compared to usual. In December 2019, the percentage of patients being seen for flu-like illnesses in doctor offices and ERs peaked at 14.5%, he said.
Dr. Karen Shelton painted a similar picture.
Shelton, who directs Virginia's Mount Rogers Health District, said her office gauges the spread of flu by looking at the percentage of patients visiting emergency departments with flu-like illnesses. Typically, during the flu season, they'll see that percentage hit 5% or 6%, Shelton said. This year, her district has stayed at their 2% baseline throughout the entire flu season so far.
Shelton and May also said their health departments have seen very few cases of people catching both the flu and COVID-19.
"That was one of our concerns coming into the flu season," Shelton said. "We're thankful that the flu is not worse than it is."
The entire country appears to be in the same boat. In a color-coded map of influenza-like illness prevalence by state on the Centers for Disease Control and Prevention's website for the week ending Feb. 13, every state but two was shaded emerald, the color for the lowest possible level of flu activity.
Only South Carolina was a lighter green, to show a level of activity still considered minimal, while data wasn't available for Texas. The CDC noted that those activity levels are "unusually low" for this time of year.
May said he thinks it's likely that Sullivan County's low flu activity stems in part from the social distancing, mask wearing, rigorous handwashing and other guidelines people are following to ward off COVID-19.
"All of these policies that have helped control COVID-19 are effective at controlling the flu," he said.
He said the county had also managed to vaccinate a lot of people this flu season, and thought that probably played a role, too.
But on the other side of the state line, Shelton didn't attribute the lower flu numbers to vaccines: Her district had not managed to give out as many as usual, she said, because "so many people were not going to doctors' offices," and because many K-12 students were learning remotely.
"We were sad about that, but thankfully we are seeing a decrease in flu," she said.
That doesn't mean the numbers will stay that way.
Shelton said that flu cases can tend to spike again in March. And although COVID-19 vaccinations are being rolled out in the region as cases drop, she said that new, more contagious strains of the virus that causes COVID-19 — particularly one from the United Kingdom and one from South Africa — have begun showing up in the U.S.
"If those are found locally, they could cause a real spike in numbers," she said. "People still need to be wearing masks, washing hands, social distancing and staying home [when] sick."
"We don't want people to let down their guard," Shelton added. "The devastation from COVID alone has been enough."