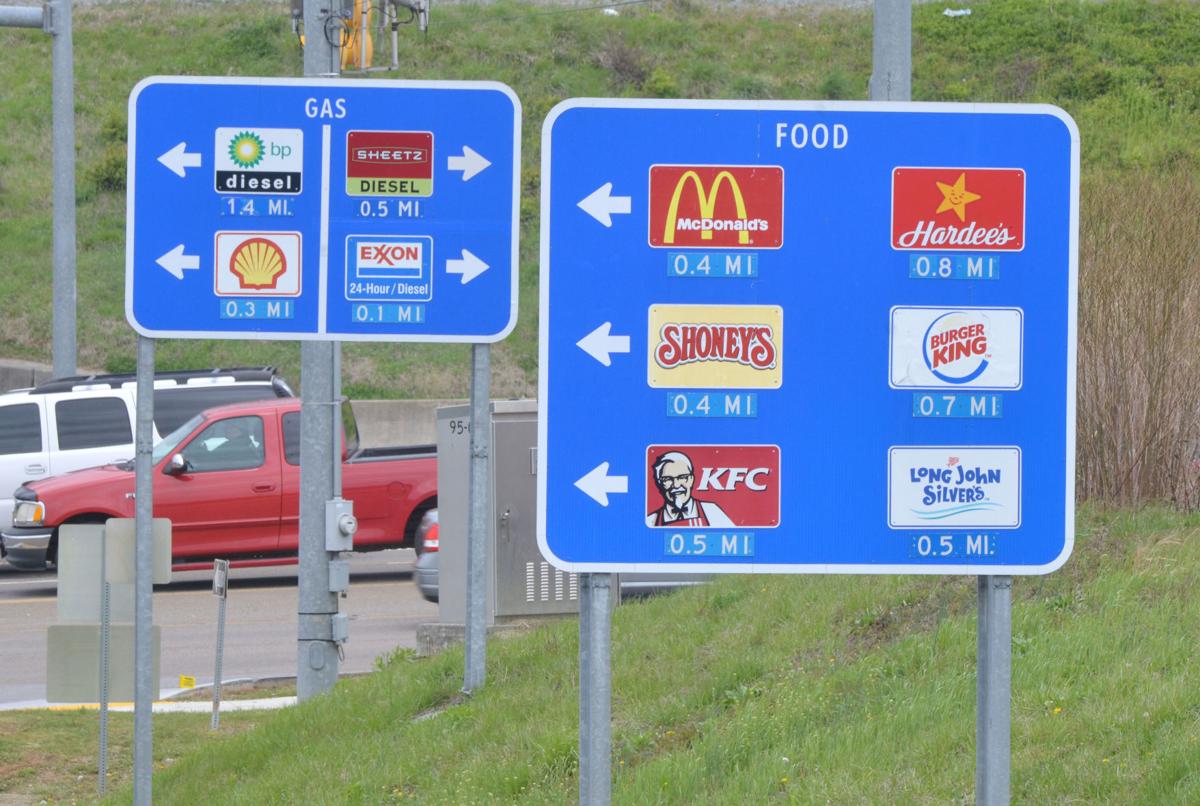 BRISTOL, Va. — Drive down Interstate 81 — or just about any other main highway in the country — and you'll see big blue signs decorated with business logos near most exits.
Called specific service signs or interstate logo signs, they aren't solely there to help motorists find a gas station or a Big Mac. They also financially benefit businesses and the state.
And it's quite a process with a price tag to be featured on them.
The signs appeared on rural interstates in 1965 under the Highway Beautification Act signed by President Lyndon B. Johnson and later expanded to urban interstates in early 2000.
Virginia and Tennessee both handed off a portion of the sign program to private companies, Virginia Logos in 1995, and Tennessee Logos in 2016. Both states still get a portion of the sales and are subsidiaries of Interstate Logos, which handles sign programs in 23 states.
In Virginia, businesses shell out roughly $1,000 annually to be included on the signs. In Tennessee, that cost is higher at $1,600, according to Interstate Logos.
The businesses featured on the signs are determined by a set of rules from the federal government and often modified to some extent in each state, according to Interstate Logos.
In Virginia, a 22-page manual from the Virginia Department of Transportation spells out in detail the criteria that businesses must follow.
"A facility will be eligible to participate [in the program] if it is open to the general public, if a substantial portion of its products or services are of significant interest to tourists and derives a major portion of income during normal business season," the VDOT manual states.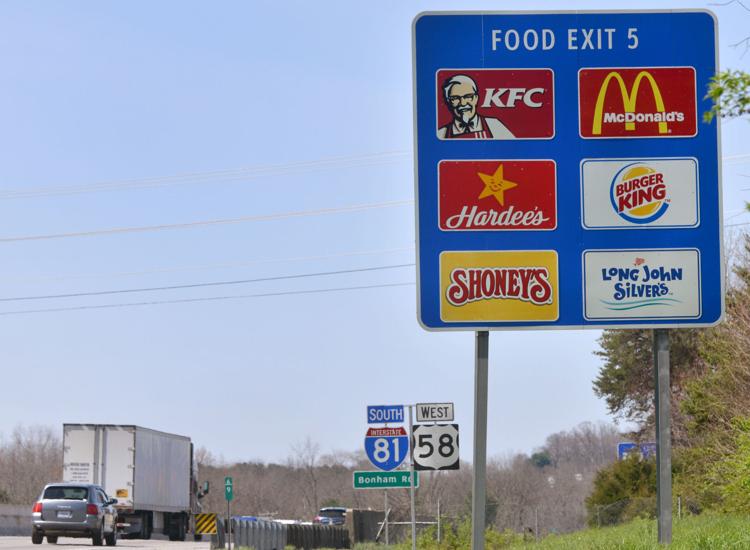 The Statewide Directional Signage Advisory Committee meets twice a year to advise VDOT on policy for the program, such as the criteria that businesses must meet to qualify, said Shannon Marshall, spokeswoman for VDOT's Central Office.
The program complies with criteria established by the Commonwealth Transportation Board as well as all Federal Highway Administration requirements, she said.
In Tennessee, there can be no more than four background sign panels along the approach to any interchange in any direction. All blue logo signs in Tennessee are installed and maintained by a contractor, according to TDOT spokesman Mark Nagi. TDOT states on its website that all applications, questions, missing logos or damage reports be directly reported to Tennessee Logos, based in Nashville.
"Tennessee Logos handles the signs, but we make sure they're up to TDOT and Federal Highway Administration standards," Nagi wrote in an email to the Herald Courier.
For gas stations in both Virginia and Tennessee to be included on a sign, it must have gas, air and public restrooms. They must also be open at least 12 hours a day. Gas stations that are open 24/7 get first priority in Virginia and Tennessee.
"Our research shows that customers have been trained to look for these signs," said Jack Reiner, director of business development for ExxonMobil in a statement to the Herald Courier.
Attractions in both Tennessee and Virginia, like the Birthplace of Country Music Museum, which is listed on a blue sign near Exit 3 in Bristol, Virginia — must be open at least eight hours a day, five days a week, maintain all licensing and be of "regional interest to the community."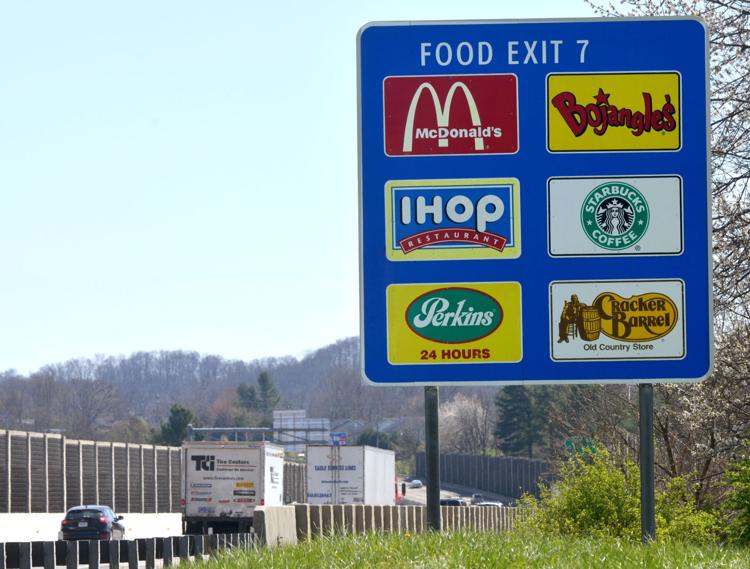 Some businesses are prohibited from the program, including adult entertainment venues, movie theaters and churches, according to Interstate Logos. Others — amusement parks, zoos, museums and agribusinesses such as wineries — are allowed on the signs.
Restaurants can have the most difficulty appearing on the signs, largely due to space issues and the number of restaurants in an area off the interstate.
The food sign near Interstate 81's Exit 7 lists McDonald's, Bojangles, IHOP, Cracker Barrel, Perkins and Starbucks — all chain restaurants — but there are far more restaurants at Exit 7.
Virginia Logos limits the number of restaurants allowed on a sign and notes on its website that "Each service may be displayed on up to 2 signs with a maximum of 24 total logos.
Both states receive a percentage of the money back, which is then used for state-funded programs.
More than $6 million is pumped back annually into Virginia from the interstate logo signs, according to VDOT. In Tennessee, that number is slightly higher at $8 million.
With the hefty price tag, the logo signs typically feature national chain restaurants, gas stations and hotels — however, small businesses can still go through the approval process.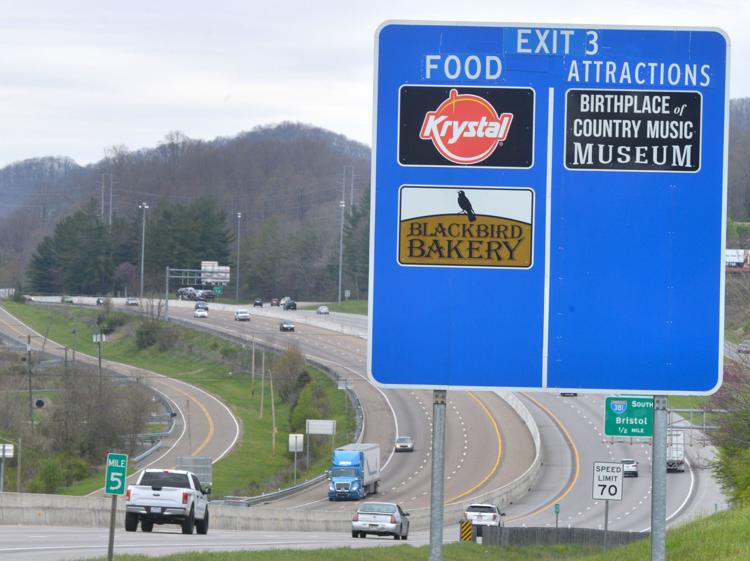 Blackbird Bakery, based in Bristol, Virginia, is one of those small businesses included on a sign.
"It's a costly venture when setting up due to the one time graphics fee, but well worth it," said owner Carla Perkins. "The sign process and renewals are easy. We get so many repeat travelers who discover us via this signage. We just wanted to reach travelers on such a busy corridor as 81."
Businesses can get bumped off a sign if a new business with a similar service opens closer and there isn't enough room for both.
For more than five decades, the signs have helped motorists answer the question: "Should I get off here?"
And while the fast changing world of technology will tell motorists the nearest restaurant or cheapest gas prices, state highway officials say the signs remain useful.
"Even with the development of new technologies, the signs still offer viable information to the traveling public and participating businesses," Marshall said. "Without such signs, drivers may get lost, needlessly expending fuel and adding to congestion. Even worse, without such signs, drivers may become more likely to distract their attention from the road in order to search for services using a smartphone or GPS device."
Be the first to know
Get local news delivered to your inbox!