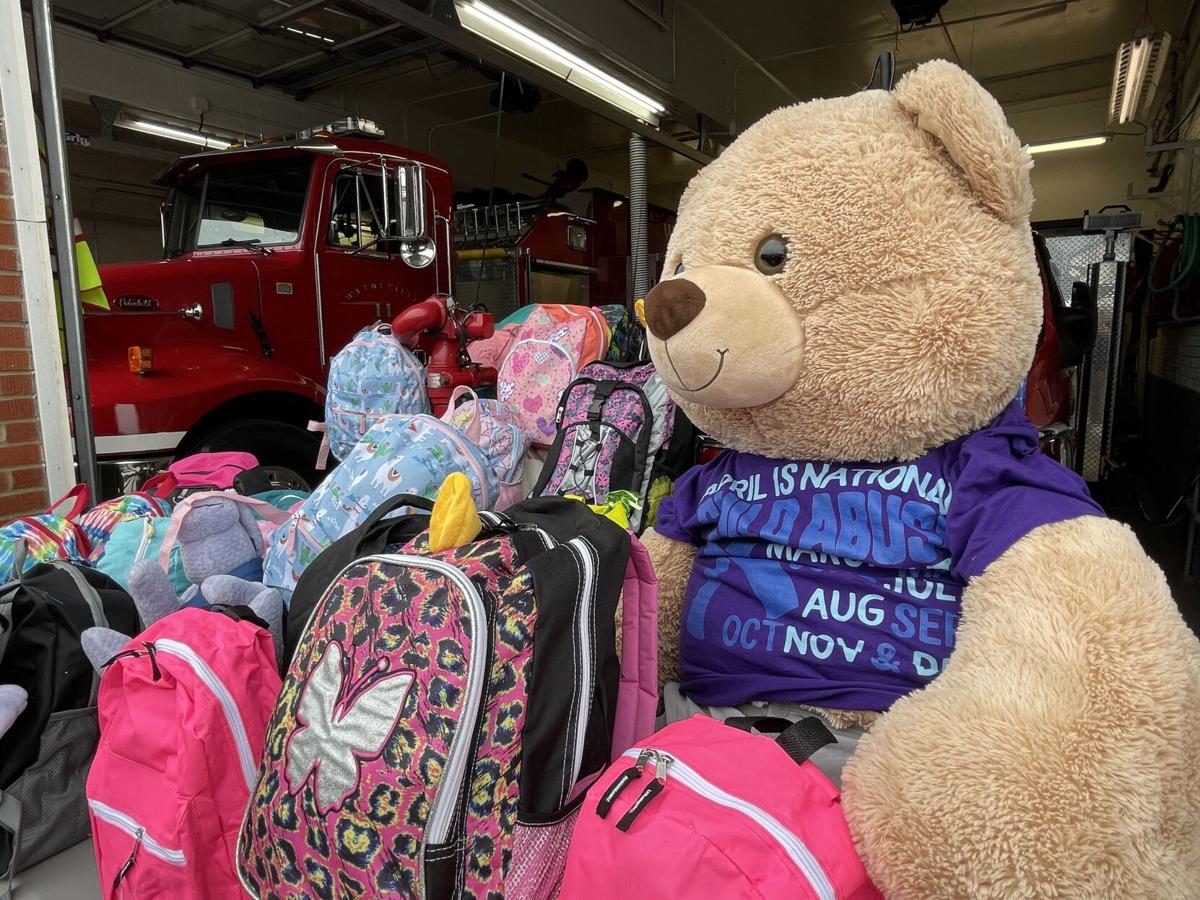 Wythe County law enforcement agencies recently received a special delivery: Love Harper Comfort Bags stuffed full of toys and other items to soothe troubled and abused children.
Shelly and Ron Poston created the bags in memory of their granddaughter, Harper Mitchell, 2, of Rural Retreat, who died in April 2020. Her mother's boyfriend at the time has been charged with murder in the child's death.
The donation kicked off Child Abuse Awareness and Prevention Month in April.
"Today, we are here to be a voice for those that cannot be heard," said Wytheville Police Department Lt. Bryan Bard. He thanked the area law enforcement agencies that attended the kickoff event. In addition to the WPD, officers from the Wythe County Sheriff's Office, the Bland County Sheriff's Office and the Virginia State Police received Love Harper bags.
"Together we stand united to bring awareness for the children that suffer from the maltreatment of their parents and guardians. This is a preventable problem; all adults can play a role in building safe, stable and nurturing homes and environments for the children," Bard said. "We believe that every child has a right to a safe childhood free of violence. April, Child Abuse Awareness and Prevention Month, is an important time to start the conversation in our communities about how we can keep our children safe.
"By rallying our neighbors, business, schools, friends and families, we can make a difference in the lives of children across the country," Bard said. "By promoting safety, awareness and dialogue, we can prevent abuse from happening in the first place and help keep our children safe."
Family members from both sides of Harper's family attended the event.
Shelly Poston said she and her husband made their first bags in May 2020, a month after losing their granddaughter.
"I just wanted to do something positive in Harper's memory because she was such a giving and loving child," Poston said.
At first, the family donated 50 Care Bears and coloring books to the sheriff's offices in Dickinson and Wise counties. Since then, the family has delivered 629 bags, plus the 160 bags they delivered in Wythe County.
"When we lost Harper, our two grandsons were there and basically watched their sister die. Our youngest grandson said he didn't trust police … and me and my husband know it's not a good thing," Poston said.
She said the bags are for law enforcement officers to carry in their cruisers.
"That way, they can work on their rapport with the child, so the child is not afraid of them," Poston said, adding that it helps her grandson to put the bags together.
Harper's father, T.J. Mitchell, said making the bags helps him, too.
"I go and build them and think of Harper; it helps with the bad days," he said.
Wythe County Chief Deputy Charles Foster said there is nothing more important than children.
"If anybody knows of any children suffering from mental, sexual or physical abuse, please notify us," Foster said. "We may never know if they don't tell us about it."
There are three types of Love Harper bags, which are actually backpacks: for toddlers, older children and tweens/teens. Every bag has a stuffed animal, a toothbrush, a Love Harper card with Harper's photo and a silver cross. Other items can include coloring books, bubbles, Play-Doh, Barbies and Matchbox cars.
Bags for the teens have adult coloring books, coloring pencils and personal hygiene items. Some have mini Bluetooth speakers that were donated.
Poston said that 90% of the items are donated by the community.
The response to the Love Harper bags has been overwhelming, she said.
"The community has been so wonderful in helping us," she said. "Some people donate items, others donate money."
Officers have told the Postons that the bags comfort the children to which they are given.
"I really believe it's Harper with them," she said. "We've found we need to need to try to help people become more aware of child abuse and prevention. Hopefully, people will learn through our pain."