Overcrowded jails across the American landscape have adverse effects on prisoners that could even be fatal, psychology experts say.
"Crowded conditions heighten the level of cognitive strain that prisoners experience by introducing social complexity, turnover, and interpersonal instability into an already dangerous prison world in which interpersonal mistakes or errors in social judgments can be fatal," Craig Haney wrote in "The Wages of Prison Overcrowding: Harmful Psychological Consequences and Dysfunctional Correctional Reactions."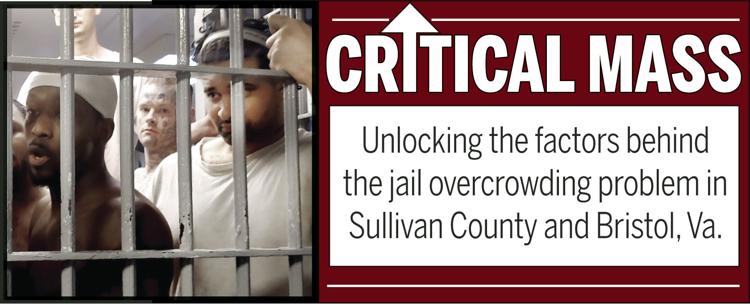 Haney has written about how overcrowded jails affect inmates.
Dr. Kelly E. Moore, a licensed clinical psychologist and assistant professor at East Tennessee State University, said jail overcrowding is a common issue in many states.
Moore operates the ETSU Department of Psychology's Crime, Addiction, Re-Entry (CARE) Lab, which studies the high rates of untreated mental health and substance use problems among people in the criminal justice system.
The professor said she hasn't personally researched the subject of overcrowded jails and psychology of inmates, but she's seen it through her work.
"From my personal experience working with jails, those that are overcrowded typically have issues with being able to offer programs and treatment services to inmates," Moore said. "The waitlists for programs are so long that people get released before they are ever able to attend the program."
Basically, Moore said the more inmates in jail, the fewer who receive the already limited resources offered.
Over the years, research suggests that overcrowding has a negative impact on inmate stress levels as well as their behavior, including disciplinary infractions and violence against other inmates or staff, Moore said.
"Overcrowding, in turn, exacerbates the chronic pains of imprisonment," Haney wrote.
Overcrowding can elevate a prisoner's blood pressure and lead to a greater number of illness complaints, Haney said.
"Not surprisingly, exposure to 'long-term, intense, inescapable crowding' of the sort that now characterizes many prisons results in high levels of stress that 'can lead to physical and psychological impairment,'" Haney wrote.
In addition, he said overcrowding has been associated with higher rates of disciplinary issues. For example, one study concluded that in prisons "where crowded conditions are chronic rather than temporary ... there is a clear association between restrictions on personal space and the occurrence of disciplinary violations."
In an overcrowded facility, prisoners also are affected by the sheer number of social interactions they have that involve "high levels of uncertainty, goal interference, and cognitive load," Haney said.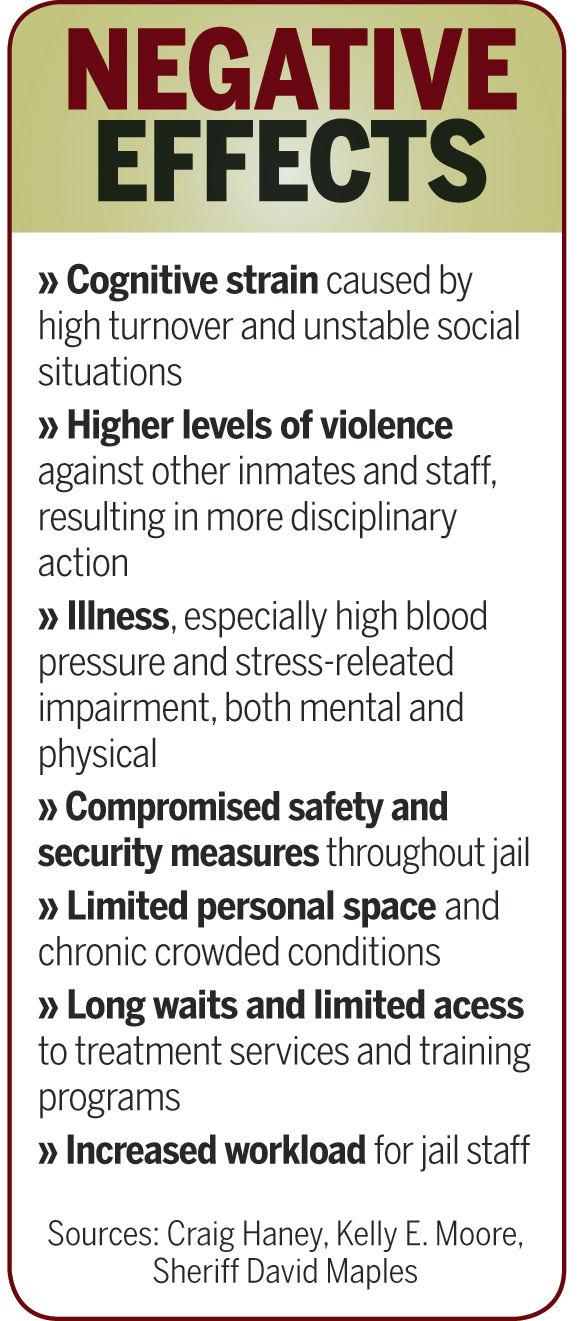 Back in the 1970s and 1980s, when prison populations increased in the United States, Haney said several studies were done on overcrowding and the psychology of inmates.
"Although some of the studies are dated, nothing has changed to alter their troubling implications," Haney said.
The Stanford University professor said the psychological toll of living in a closed environment that houses too many people can be substantial.
Overcrowded jails can also affect staff, Bristol Virginia Sheriff David Maples said.
"It increases the workload," said Maples, noting that staff must handle an increase in travel to court, medical visits and other jail activities. "It increases everything we have to do."
Corrections work is already considered a stressful job.
The sheriff said he's never heard of a corrections officer leaving the job because of overcrowding.
"Working in a jail is not easy," Maples said.
Often, employees leave to work at a local police department for better pay and benefits, the sheriff said. Sometimes, Maples said people also leave to go to other jails, including many that are also overcrowded.
The U.S. Government Accountability Office studied overcrowding in the Bureau of Prisons (BOP) system in 2012.
"According to BOP and our observations, the growth of the federal inmate population and related crowding have negatively affected inmates housed in BOP institutions, institutional staff, and the infrastructure of BOP facilities, and have contributed to inmate misconduct, which affects staff and inmate security and safety," the report states.
Maples noted that safety and security is a concern for all jails, not just those that are overcrowded.
Be the first to know
Get local news delivered to your inbox!