BRISTOL, Tenn. — Meghann Webb's kindergarten class was stunned when the Chick-Fil-A cow walked through the door at Avoca Elementary School Thursday morning — and not because he brought breakfast.
The black and white, 7-foot-tall Holstein was there to interpret the classic Dr. Suess book, "Mr. Brown Can Moo! Can You?" to celebrate the birth of the beloved children's author as part of the annual Read Across America Day.
The roomful of children interacted with Sidney Greatti, the marketing manager for the food chain. As she read, the cow jumped up and down, stomped its feet and brought the pages of the book to life.
Webb said Dr. Suess books are a treasure trove of rhyming words that make learning fun.
"Dr. Suess is such an important part of kindergarten life," Webb said. "Reading his books helps the kids to recognize word families — which is very important at this age — and having the cow interpret really engages them."
Not one of the 22 classes — from pre-K through the sixth-grade — was left out of the morning of reading fun.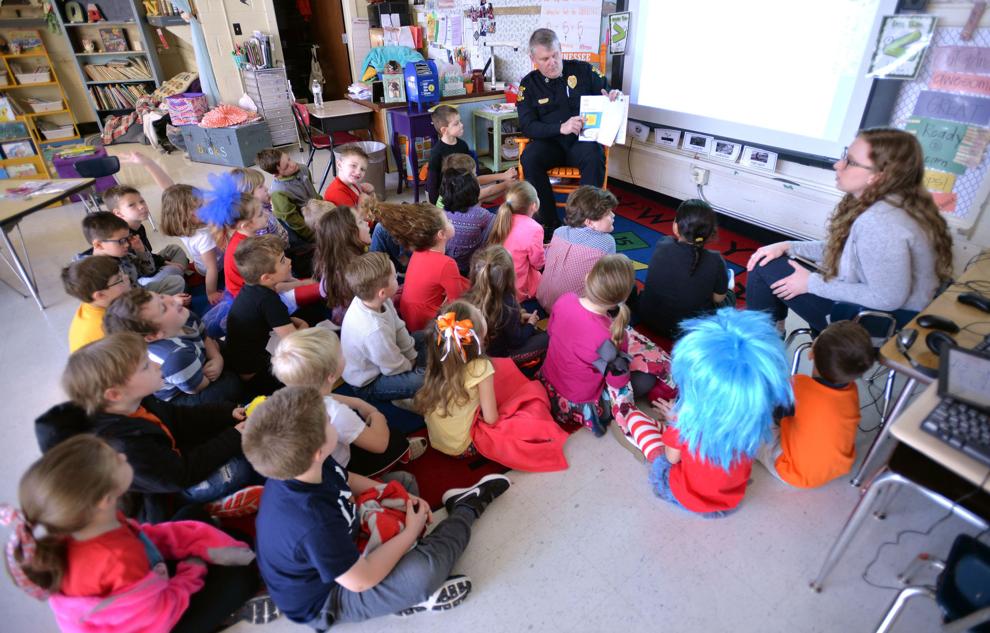 Bristol Tennessee Police Detective Maj. Tim Eads read to the second grade and Jeremy Stout, the manager of the Nature Center at Steele Creek Park, read to a third-grade class.
Stout, who read "The Barn Owls," brought the skull of a bird for an impromptu show and tell.
"I enjoy reading to the kids," he said. "I usually bring a book about a nature and something from the Nature Center for a visual. The kids seem to really enjoy it."
Sixth-grader Briley Price and fifth-grader James Bowling said the day wasn't just for the little kids.
Price said participating in the reading day made her realize just how important reading is.
"Reading isn't always easy," she said. "But life isn't always easy either — we'll always have to do things that are hard. We'll need to read more in college and in any job we have — so we just need to do it."
Bowling said reading is not just important — it's enjoyable.
"We'll be reading our whole life — so sometimes it's fun to have someone else read to you," he said.