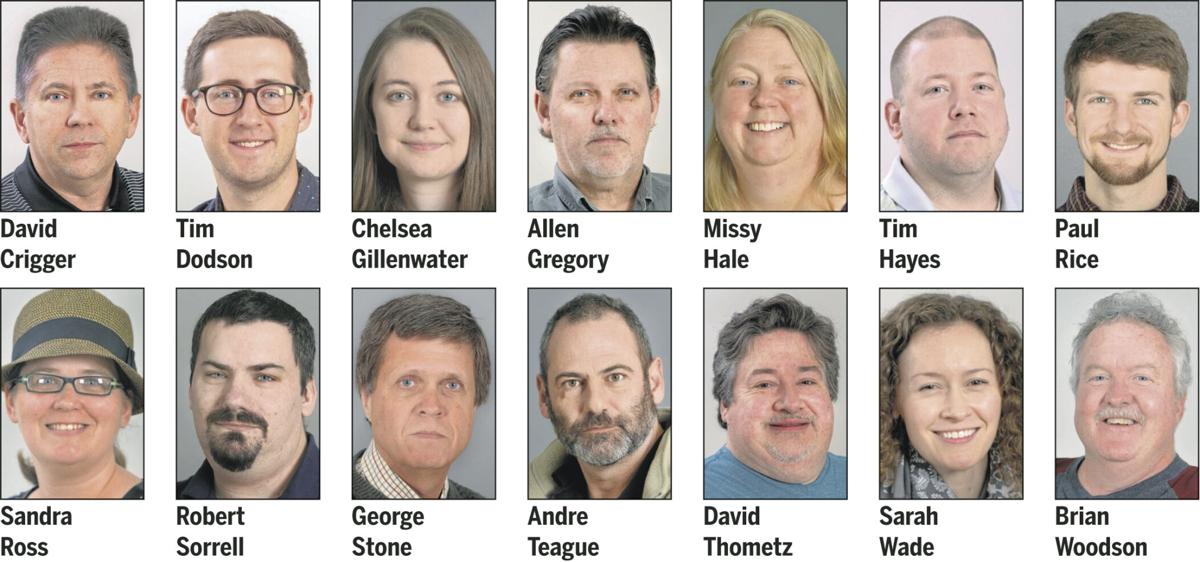 The Bristol Herald Courier received top honors in the 2020 Virginia Press Association News and Advertising Contest, capturing the Grand Sweepstakes Award in its division as well as three best-in-show and 16 first-place awards.
The state organization held its virtual 2020 News and Advertising presentations last week.
The Herald Courier received the top honor in the grand sweepstakes category, beating its competitors in Lynchburg, Charlottesville and Fredericksburg. The paper also won the advertising sweepstakes in its category.
Staff members also received three best-in-show honors, beating out all papers, including those in Richmond and Roanoke.
» Chelsea Gillenwater, Sarah Wade and David Thometz won for the daily graphics, illustration and art category for their work on a graphic related to the Evelyn Boswell case in Sullivan County, Tennessee.
The judges wrote: "A public service to lay out the connections, criminal and otherwise, in case of a missing toddler."
» Wade also won best in show for daily writing for her story about a chaplain serving inside a COVID-19 ward during the height of the pandemic.
"Powerful writing, combined with courageous reporting in uncertain, anxious times. Bristol Herald Courier's readers were taken behind closed doors and shown one of the most tragic aspects of the pandemic," judges wrote.
» In addition, Missy Hale won best in show for daily advertising.
First-place awards went to:
» Sports staff members Brian Woodson, Allen Gregory, Tim Hayes and George Stone in data journalism for their series on local athletic coach stipends.
» Andre Teague in slideshow and gallery for his photography at the rallies and protests in Marion, Virginia, last summer.
» Gillenwater, Wade and Thometz also won in the informational graphics category for entries on the Boswell case, St. Patrick's Day by the Numbers and Valentine's Day by the Numbers.
» Wade and photographer David Crigger for best combination picture and story. Their piece "No COVID patient dies alone" topped the category. In addition, Wade won first place for in-depth or investigative writing for a series on bounty hunters. She also won the feature story writing category and health, science and environmental writing.
» Robert Sorrell in breaking news writing for flooding coverage in Southwest Virginia.
» Paul Rice, editorial writing for entries on the casino, COVID-19 and the town of Floyd, Virginia.
» Hayes, sports column writing for his popular History with Hayes column.
» The staff, special sections for the 2020 Veterans Day Salute to Valor.
» Sandra Ross in the specialty pages or sections for her entries: "For the love of books," "Comic shop in its 35th year," and "Taste test."
» Hale won for her Food Country ad in the food and drug ad category, and in the professional services (medical and health care only) category for an ad on Nu Hearing.
» Carol Sue Repass, for a Moses Law ad in the professional services category, which does not include medical ads. She also won first for a United Country ad in the real estate category.
The newspaper also won six second- and three third-place awards.
"The great work our news and advertising teams continue to produce was recognized by the Virginia Press Association," said Bristol Herald Courier Publisher Jim Maxwell. "To receive the grand sweepstakes award for the Daily Division 2 publications is an honor. The talent of our writers, copy and design editors, graphic artists and multimedia marketing consultants is second to none in our daily publication classification, which includes our sister publications in Charlottesville, Lynchburg, Fredericksburg and many others."
Maxwell said the newspaper's news and advertising editors and managers are "excellent leaders."
"In my tenure here in Bristol, we've never had better talent, and produced better, more important news and advertising content using print, digital, mobile and video mediums," Maxwell said. "To receive this recognition in the midst of a pandemic speaks to the passion, professionalism and tenacity of our team. I'm deeply proud of these efforts that have resulted in this award."