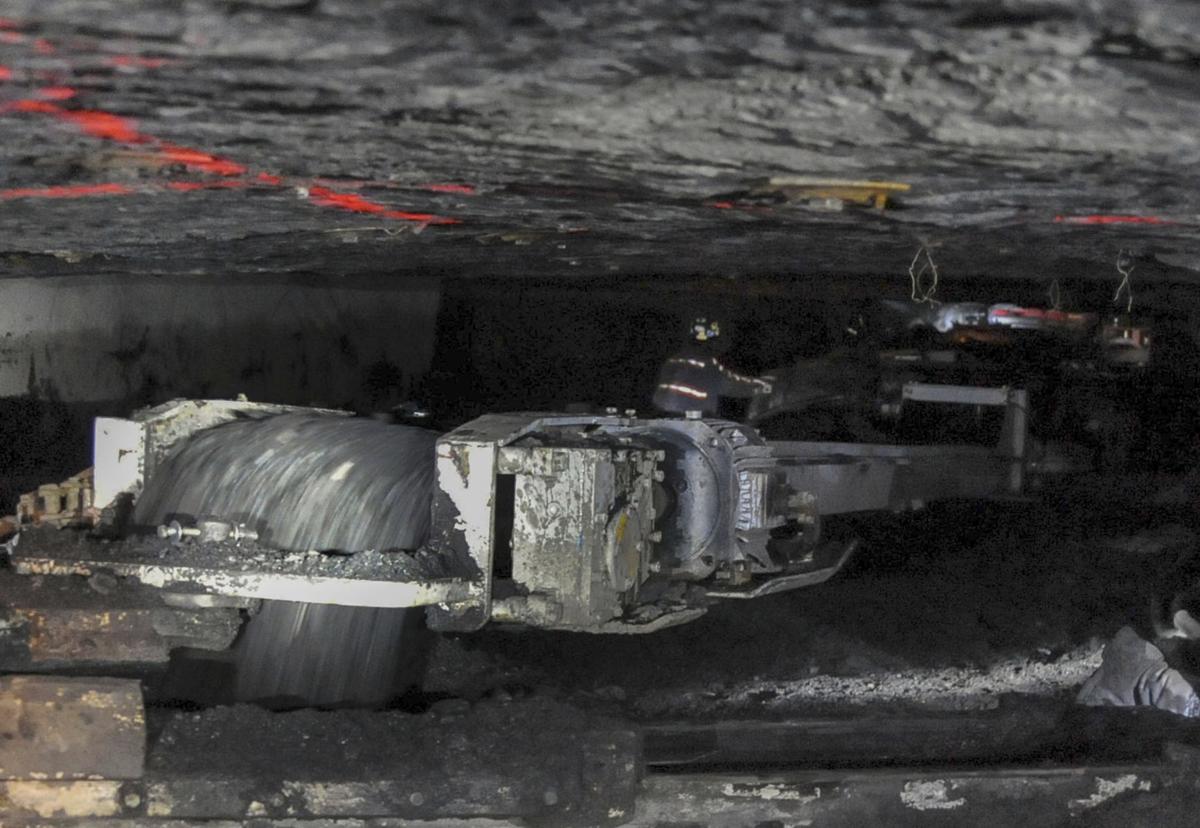 As major coal producer Blackjewel LLC goes through bankruptcy proceedings, employees at some of the company's mines in Southwest Virginia report that work has halted at its facilities and recent paychecks are bouncing.
With unanswered questions surrounding the status of their work and what they feel is a lack of communication from their employer, some said they aren't sure whether they even still have jobs after they were told to stay home from work last week.
"We have not heard anything from the company," said Joe Williamson, 33, who ran shuttle cars at a mine at Jewell Ridge in Tazewell County that is owned by Blackjewel.
On July 1, Blackjewel filed for Chapter 11 bankruptcy in U.S. Bankruptcy Court for the Southern District of West Virginia. Blackjewel — the country's sixth-largest coal producer in 2017, according to the federal government's most recently released annual coal report — operates mines in Kentucky, West Virginia, Wyoming and Virginia.
An attorney for the company did not respond to a request for comment on the employees' concerns Monday.
In a statement dated July 5, the company acknowledged the outstanding payroll checks.
"Payment of these checks is dependent on the company's ability to obtain additional financing that will allow normal operations to resume," it said.
On Monday, Blackjewel said in a statement that 120 employees have been able to return to work "to ensure the safety of our mines and our equipment while we work towards finding a longer-term solution." The company didn't specify how many of these employees are in Virginia but said checks were issued to them for time worked prior to the bankruptcy filing and that funds should be available for these checks.
As for its other employees, the company said Monday, "We fully intend to pay our employees the amounts owed for work completed prior to the Chapter 11 filing as we bring our employees back to work. Securing the funds necessary to bring Blackjewel back to full and profitable production remains the Company's top priority."
In an affidavit filed with the court on July 1, now-former Blackjewel CEO Jeff Hoops said the company needed about $6 million to pay employees' salaries and benefits at the time the bankruptcy proceedings started.
Failing to meet payroll obligations and a lack of funding for day-to-day operations, Hoops said in the affidavit, will "destroy" Blackjewel's "business value" and undermine "any hope for a reorganization."
On July 3, the court authorized Blackjewel to borrow up to $5 million, but court documents state that the loans should be used for security measures, "essential firefighting personnel," "professional fees" and "other essential emergency expenses." The terms detailed in the order do not provide specific authorization to use those funds for past payroll. Hoops resigned from his role as a condition for the emergency financing, according to the terms in the order.
The company's bankruptcy petition listed 10 facilities in Virginia among the company's principal assets. These include the Osaka Mine in Appalachia, Tunnel Mine in St. Charles and multiple mines at Jewell Ridge.
It was unclear Monday whether work has come to a standstill at all 10 facilities, but in interviews, workers from at least two sites in Southwest Virginia said they were blindsided early last week when they heard from supervisors and colleagues that the company declared bankruptcy and their work was being paused.
Williamson, who worked at a Jewell Ridge mine, said he was out of town with his family last week and first heard about the situation Monday night when co-workers started messaging him.
Others said they learned about it on social media.
The problems worsened for some employees when they said recent paychecks failed to clear their banks. Employees said the amounts from their June 28 paychecks were deducted from their accounts, leaving some with negative balances.
"I'm sitting here wondering, how am I going to get my bills paid?" said Bobby Allen, who worked in the Osaka Mine.
Allen, 44, of Pennington Gap, said his checking account wasn't overdrafted, but his account was down to about $30 after his $2,200 check was withdrawn. He's worried about all of his expenses that need to be paid, including car payments and child support. If he isn't able to pay his child support, he fears losing his driver's license and then having no transportation to find a job.
Between the bounced paycheck and time worked that would have gone toward another paycheck, Allen estimated he's about a month behind in his pay.
John Mitcheum, who worked as a scoop man at a mine at Jewell Ridge, said he has four girls and he needs to support his family. The 33-year-old from Grundy said he now has a negative balance of about $500 and is trying to figure out his next steps.
"I can't sit around and wait," he said.
In its bankruptcy petition, the company reported between $100 million and $500 million in estimated assets and at least $500 million in estimated liabilities.
The company's eastern division employs about 1,100 people, according to the court filings. It's unclear how many workers in Virginia have been impacted by the bankruptcy.
In an email Friday, a spokeswoman for the Virginia Department of Mines, Minerals and Energy said the department's 2018 numbers showed that Revelation LLC, a company affiliated with Blackjewel, and its associated companies employed 484 miners in the commonwealth and had 79 sites permitted with the department.
The spokeswoman, Tarah Kesterson, said the department had been told employees were sent home, but she didn't have any other details.
The current status of all of the company's Virginia sites also weren't clear Monday. A Worker Adjustment and Retraining Notification [WARN] Act alert has not been reported to Virginia, Brett Tavel, a rapid response state coordinator, said in an email.
WARN notifications are required when a company that employs 100 or more full-time workers closes a facility with 50 or more workers. Employees are supposed to be given 60 days' notice before termination; however, there are some exceptions to the 60-day notice rule, like "unforeseeable business circumstances."
Employees have created Facebook groups to share information and support each other. A recent post in one of the groups said workers were reaching out to state Del. Terry Kilgore, R-Gate City. Kilgore's district includes the town of St. Charles in Lee County, which the bankruptcy petition document lists as the site of two of Blackjewel's facilities.
On Monday, Kilgore said he started hearing about the issues with the Blackjewel facilities Friday and he has reached out to alert state agencies, namely the Virginia Employment Commission and the Virginia Department of Labor and Industry.
"I would hope that the mines would open back up and they bring these folks back to work, but in the meantime, hopefully, the Virginia Employment Commission can get some benefits out there … that they can bring to the table to help these coal miners during this time," he said.
Employees say they are looking for answers.
"We want to be heard," said Williamson. "We want what's ours — we worked every day for it."
Allen expressed some mixed thoughts about potentially returning to work at the mine.
"If I'm not already working somewhere else and they call back saying we're starting back Monday, I would suck up my pride and go back because I have a family to feed. And I've got bills to pay," he said. "But then again … I'm afraid of if we do go back to work and we get checks regularly, where am I going to get them cashed at? Wonder if they're going to bounce?"