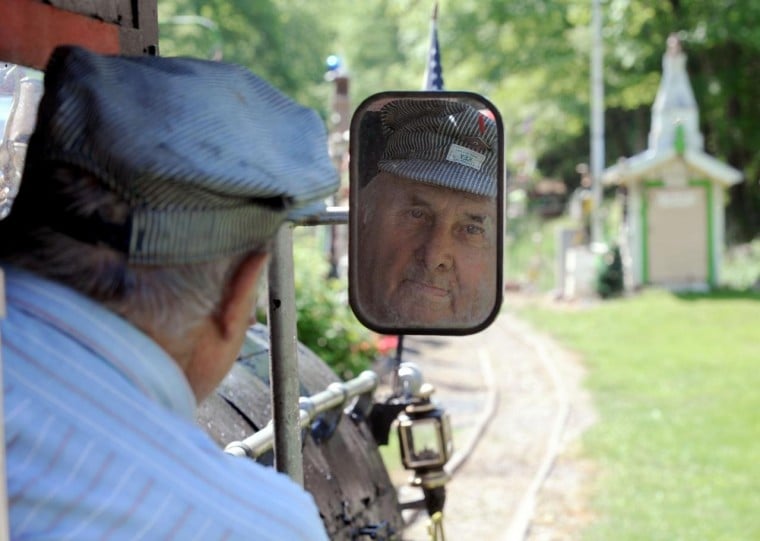 SALTVILLE, Va. – Midgetville is real.
It exists on the bank of Keywood Creek in Washington County: a whole town – and a train – built out of junk.
"I always was fascinated with trains, and I always wanted to build one," said Sam Johnson, who started building Stoney Point Railroad in 1996.
"When I got done with that, I wanted to build a village."
Midgetville has its own courthouse, a library, a general store, a school, a post office, even a jail.
Throughout the display are religious sayings and also bits of the region's history and culture. There are pumps used to pump saltwater brine out of the ground for salt-making in Saltville, rocks from the gypsum mine that once operated here, a waterwheel and an old mill.
A ride along the 1,700 feet of track is free, said Johnson, a 76-year-old retired coal miner who lives beside his train and pastors a church that's also on the property. But he does accept donations.
Complete with a clanging bell, a horn and piercing whistle, the locomotive runs with a 1967 Chevy truck engine, and the rest is built from scrap metal. The wheels on the train cars are rotors from Chevy cars.
"The caboose on there is made of a washer and dryer," he said.
Trains are also part of the display – and, in more than one case, a train sits beside a church, a miniature of Johnson's whole setup.
There's a mule-drawn cart pulling a load of coal past a barbershop outhouse and a pink doll mansion, beside a farm with one fenced cow.
There's a DirecTV satellite dish with a streetlight attached, a series of bicycle wheels that spin in the wind with the help of pop-bottle bottoms, a forest of artificial Christmas trees and, inexplicably, a camel on a pedestal.
"Everything you see here is artwork," Johnson said. "It's built with something you would normally throw away, and I built something out of it."
Passers-by often stop to take pictures with their cell phones, he said. Groups have come to visit from grade schools, from Emory & Henry College and from across the United States.
"There's not another one in the world like it," he said.
As he gets older, it's getting harder and harder to keep up with it, he said. He's not sure how much longer he'll be able to take children for rides up and down the track.
Eventually, his hope is that a historical society, train society or Washington County will take it over and use it for its museum and entertainment value.
There's one condition, he said: that they take good care of it and use it, and let him come down and drive the train every once in a while.
Meanwhile, he said, he'll keep creating.
"It makes my day to do this," he said. "I'm still building."